An auto repair business employs automobile mechanics who provide repairs and vehicle maintenance to consumers and businesses.
The car repair shop might also offer services like custom installation of stereo and alarm systems, window tinting and aftermarket upgrades.
Starting your own car repair shop can give you control over your own hours and allow you to reap the benefits of owning your own business.
Car mechanics are currently experiencing significant profit gains because most of the car owners own cars that are at least 10 years old and this makes the need for an auto-mechanic growing for more consumers.
ways how to start Auto Repair Business from home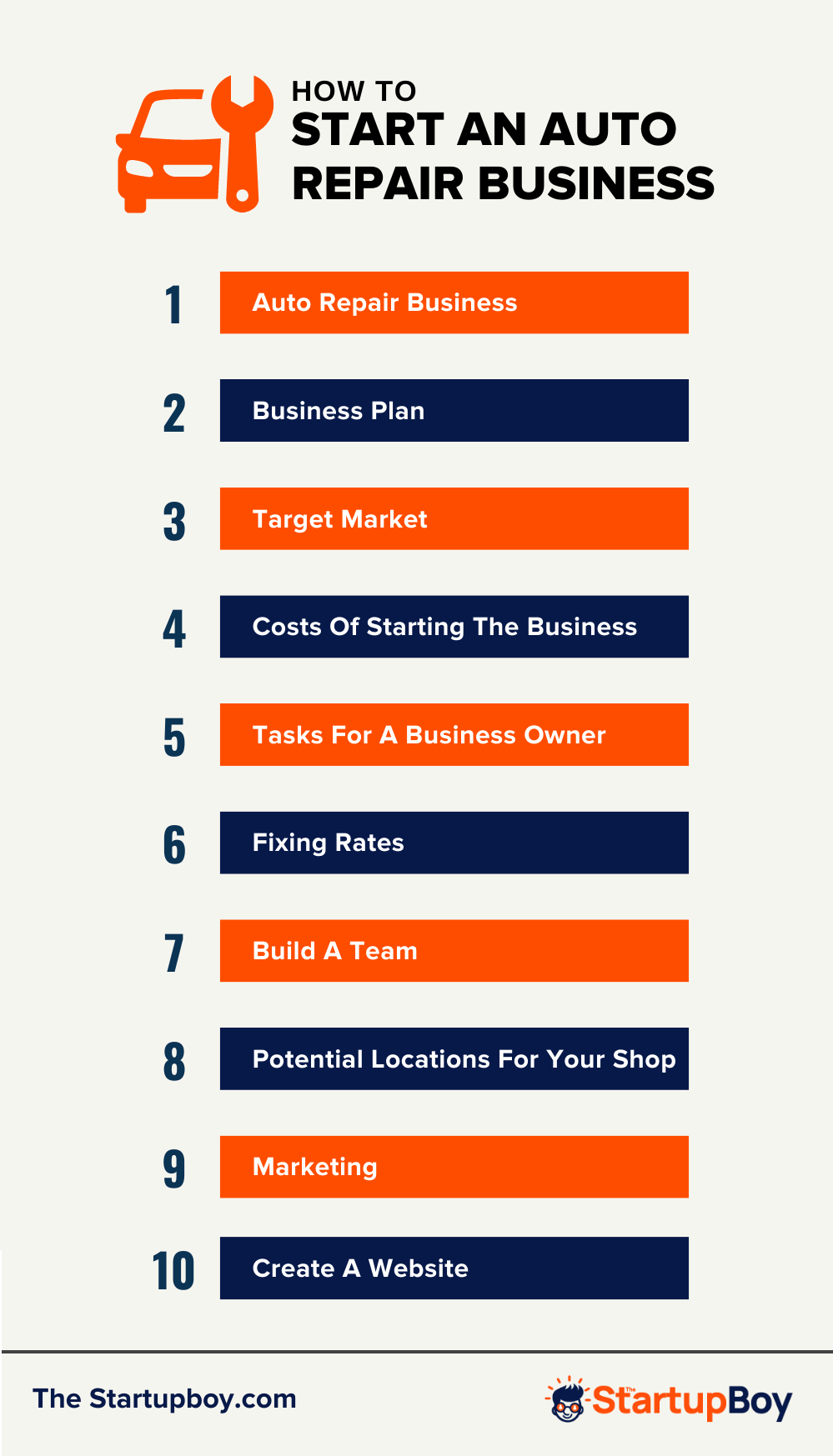 Who is Right for this Business?
The business is ideal for people who are mechanically inclined. In most states, a license is required to work as a mechanic.
Mechanics need special training and certification, experience in an auto repair shop is helpful prior to starting your own shop.
As a business owner, you also need to have good communication skills and knowledge about modern-day automobile engines and spare parts.
Business Plan
You need to have a well-drafted business plan before you start. Open your business plan with its scope to give you a general idea of how many customers you will serve and on what scale you will serve them.
You need to do the necessary cost analysis while planning the business and also fix the advertising and marketing plans.
A well-designed business plan will also help you to apply for loans in banks.
Target Market
There is a uniqueness about clients for auto repair businesses, they all have one thing in common: a broken or serviceable vehicle. The best types of customers will be those with a service contract.
Ongoing service contracts ensure a steady income for your business and reduce the problem of cash flow in both short and long-term.
There will be one-time customers who take special advantage of discounts. This type of customers are price shoppers and may actually cost your business money.
Costs of Starting the Business
The price of equipment will be your largest cost after the cost of location. You can rent your equipment or buy them outright. Leasing a current repair shop is cheaper than buying one or building one from the ground up.
Other costs include a business license, insurance, mechanic's hydraulic lift, diagnostic machine, mechanic's tools etc.
Tasks for a Business Owner
As an owner of an auto repair shop, you have to check maintenance logs as a first thing in the morning, check upcoming appointments and meet with shop managers for various stock and supply needs.
You can also get involved in working on a variety of different vehicles.
You also need to negotiate contracts with local businesses that provide revenue. For example, if a shop partners with a taxi company to provide maintenance services, then the owner needs to negotiate the contract and terms.
Fixing Rates
An auto repair business makes money by charging a flat fee or an hourly rate for service. In some cases, the owner sets routine maintenance fees, charging a set price for simple maintenance like an oil change.
In most of the shops, all work is based on parts and labor cost. The labor rates will vary depending on how the shop is set up.
Mechanics are paid differently at a dealership than at an independent shop. One of the main factors determining labor rates is location.
Mechanics earn more in cities and areas where vehicles are more expensive to maintain and where there is a high concentration of luxury vehicles.
Build a Team
Most auto repair businesses start as a one-man shop or a small team of mechanics. You can hire employees when the current workload exceeds the mechanics' ability to service customers.
You can hire employees immediately or after a few years. One of the first roles to fill will be customer service, it is customer service that keeps the customers coming in the door.
Potential Locations for Your shop
Your business plan will be shaped by the location of your car repair shop. You should look for locations that are convenient to either highway or main road access.
If your shop is situated in an isolated area then it is unlikely that customers will come to you, especially when towing costs are often tallied by the mile.
Your location should also be able to accommodate an office that will help you to take care of your administrative needs and a waiting room area for your customers.
Marketing
Your success as a business owner will depend on how you relate to your customers and potential customers. You need to define your core values as a brand like honesty, loyalty, dependence etc.
Print eye-catching flyers and place them in places where lots of customers might congregate such as gyms, civic centers, office parks, and the parking lots at universities and college campuses.
You can also offer your customers a free oil change after they come to see you for another service.
Advertise your business in newspapers, TV or radio and also use popular social media platforms to reach out to a wider audience and gain new customers.
Create a Website
Create a website dedicated to your business with the help of a professional. The website will help you to reach out to your customers and interact with them easily sitting from your home.
Display the list of services you will offer on the website. The website will also help you in getting valuable feedbacks and reviews.
To sum it up, these are some of the essential steps you need to follow while starting an auto repair shop.
Hire certified and trained employees to work with you. Your services should be of high quality. Research the market before you start and find out the level of competition you will have to face.
You need to be patient in expanding your business slowly, start slow by providing limited services and as soon as you gain a foothold start expanding.
Obtain all the licenses and permits before you start and also ensure your business.
Here is the very useful infographic which gives you more guide on how to successfully run this Auto Repair Business. Read Below
Similar Posts:
Marketing | Branding | Blogging. These Three Words Describe Me in The Best Way. I Am a Self-Taught Marketer with 10 Years of Experience. Helping Startups/ It Companies/ and Small Businesses to Enhance Their Business Through Branding and Marketing Ideas. On A Mission to Help Small Businesses to Be a Brand.