Passive income is when you make money without requiring to trade your time. However it's not a get-rich scheme, you do need to add some time and effort.
It is quite similar to when an artist gets their royalties on their song, but they have to make a song before cashing in on it.
When you look for the ideas for your passive income, you will find a wide range, however not all ideas can be lucrative. And to find the right one that actually delivers, you need to be smart and informed.
Here for that, here is a list of the best passive income ideas to choose for yourself.
Why You Should Think About Passive Income?
There is no secret that passive income is one of the highly talked about, and also an important element of personal finance.
Where your paycheck can cover most of the requirements and lifestyle, passive income can have an extremely positive impact.
But again, why is it that important and why should you think about one for yourself?
And to understand that answer, here are the pointers.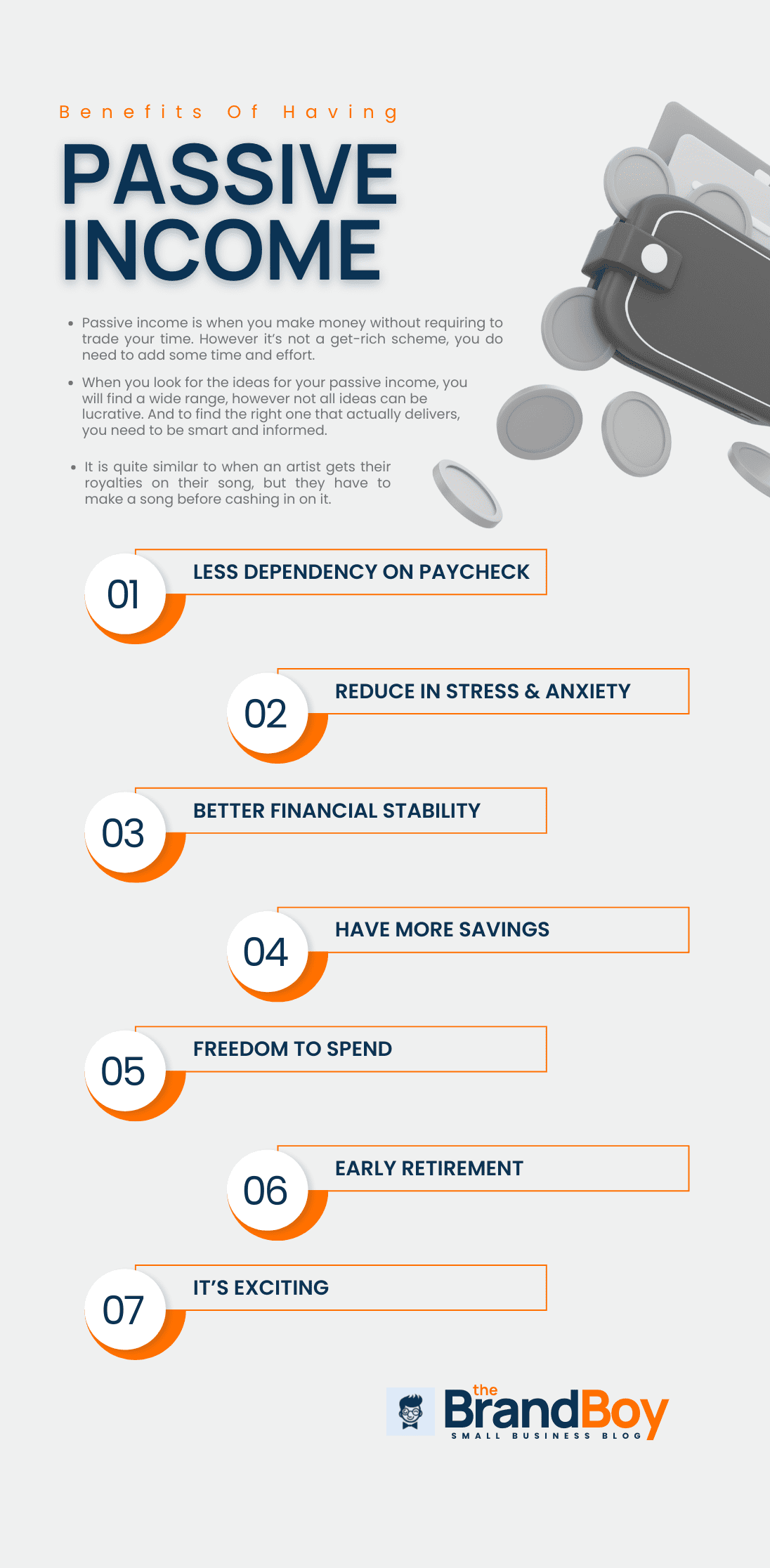 It Helps You To Improve Financial Stability
One of the most important missions that everyone wants to hit is to create financial stability.
When you have that, you have much more confidence that even though something goes wrong, you have a solid path.
You Depend Less On Your Paycheck
Well it can get stressful to live on your paycheck to paycheck, having a passive income can make this easier, also you have less dependency on your paycheck.
Makes Easier To Achieve Your Goals
Having passive income allows you to spend on what you want, so if there is something you want to spend even if you don't have a budget but it's important for your goals, then passive income is going to be helpful.
Gives You Freedom
Along with expecting to spend on a paycheck to paycheck lifestyle, when you are earning a passive income, you find yourself having more freedom for pursuing your passion or dream career.
You Can Get Early Retirement
There are many people who like to retire, however, the pressure to earn and having no other source of income might delay the decision.
When you have passive income, it gives you the freedom to get early retirement.
Rent Out If You Have A Garage
Another one that you can consider if you have a garage, this is one of the best ways by which you can make the cash.
You can use the extra space and earn money from it.
The best part is that you don't have much work that you need to do.
Get Savings And Energy Fund
Well having passive income means you are earning more too, so if your paycheck is getting used for everything, you can still save the money that is coming from the passive income, allowing you to have the emergency fund and savings in your account.
Helps In Reducing Stress
When you are earning passive income, it allows you to be at ease and also helps you to stay relaxed during a financial storm.
Also, you are not spending on your paycheck completely which means you can handle the situation and deal with it if something goes wrong.
Such passive income helps you in increasing your financial stability, freedom, and margin which leads to reducing the financial stress.
What Are The Best Passive Income Ideas That You Should Consider?
Well, there are wide angles that you get when it comes to finding the ideas for passive income. However, you can find the one and start your part-time earning for the goals, enjoying their benefits.
But to pick the right opinion, you need to be sure it's the best passive income for you, here is the list of ideas that you can consider.
You Can Write Ebook
A great way to start is to write an ebook, it can be anything that you have an interest in, knowledge, and understanding.
The best way is to start by studying other ebooks, you can even visit Amazon and see what is gaining people's attention.
You Can Sell Stock Photos
There are dozens of websites you can find online where you can sell the stock photograph.
If you have the skills to be great and your unique style to it, you can sell multiple photos using different sites.
You Can Invest In Vending Machines
There is no doubt vending machines are a new trend, the industry makes $9 billion per year.
So investing a reasonable amount and it can help you in creating a helpful passive income.
However make sure that you know about how this works, and take courses if you like to understand in detail.
Sell Your Graphic Designs
It's possible that you can sell the designs, so if you have the skill then you can sell the graphic designs.
This is also beneficial as you can be your own boss and make the income depending on how you sell the work.
Working flexible hours gives you the advantage of taking care of your main tasks too.
Start Your Own Blog
One of the most trending ways by which you can create your passive income is to start a blog.
Create a blog that can attract people's attention, choose your topics, and understand how it works.
As compared to others, starting your own blog is relatively easy. You don't have to own a website, as you can start a blog for free.
Make The Craft Goods
This works best if you are into making some kind of craft. Etsy is an online marketplace where you can send handmade items.
Also, there is a huge population that moves to purchase handmade items.
Start Your Airbnb
Airbnb is more popular than ever, also if you have free space, apartment, or house, you can easily start with this.
Even renting your spare room can help you in creating passive income.
There are different spaces such as Airbnb, Share My Space, and Neighbor that offer the services. If you are into renting out the space, you can consider this.
You Can Purchase The Storage Unit
However, the idea is not on the top list but it's a profitable investment. You can purchase the units that people are selling, also you can rent them out to others.
The one-time investment makes the offer tempting and you can get the passive income more freely as people need storage space.
You Can Invest In Domains
Domain investing is an essential business, here you are purchasing the domain names and selling when it's profitable.
To get into this, the first thing you need to understand is search engine optimization and you can start with it.
Invest In Your Crypto Currencies
Well, there is huge popularity when it comes to cryptocurrencies, you can invest in them.
People are making billions from it, so you can earn from this too.
You Can Sell The Vintage Clothing Online
Well, the online fashion marketplace is blooming these days, you can find different sellers selling online clothes and earning money. It can be new, used, or vintage clothing.
You can consider this if you have a knowledge of fashion. As you can purchase the clothes on the cheap and sell them online.
Sell Your Products Through Print On Demands
There are different shops, influencers, and sellers selling their merchandise like hoodies and t-shirts. This is called print on demand, here basically the third party company prints what you designed.
You can consider this when you are n't into paying for everything, as here you have to pay for products once you sell them.
You Can Create Online Course
Online learning has become one of the important parts of the education system; however, here you don't have to have a teacher to sell your online course, however, if you then you can take leverage of it.
If you have personal interests, knowledge, and hobbies that you do better than people around you, there are chances you will find more people who want to know and learn.
And that's why you can consider taking an online course online, depending on what subject you know.
You Can Start With Affiliate
Affiliate marketing is also an ideal option to consider when you are going for passive income. Well, the easiest way to understand the concept so basically you are a digital salesman.
Depending on what you are selling, this can turn out to be extremely lucrative for you.
You Can Purchase The Website
You can make money by purchasing the website. This is a great source and it's quite similar to owning a small business.
There are platforms such as Shopify and Flippa. It's easy and fast to buy the website, you can buy one by investing little money and selling it when you find the ideal amount.
You Can Start Your Youtube Channel
Youtube is also one of the ideal options, there are different examples who started their youtube as a hobby, and now they are earning full-fledged from it.
However, if you don't want to invest that time, you can start as your side business, talk about things you like, create contacts, or help people learn. There are a bunch of things you can do on youtube and earn from it.
Create And Run Your Instagram Account
Another social media platform that could help you in earning passive income from it is Instagram as it's one of the biggest websites.
You Can find the people who are interested in what you offer with the help of the skills and ideas you have.
You Can Rent Property
Well, you can get money if you have a property to rent out. It's one of the oldest ways and still considered as the best passive income idea.
You can find out about the current price of your locality with the help of real estate and find tenants.
Every money you will get is a set amount of money which can be a great passive income.
Do Investment In Property CrowdFunding And REIT
Investment in a real estate trust allows investing in real estate but directly.
It's a simple way by which you can do investment in real estate with extremely less work.
Also, you can use the internet where you can add crowdfunding.
Consider Stock Market Investment
One of the greatest passive income sources that you can find is stock trading.
With this, you can make millions from your dividend stocks. To start with this, you can consider paper trading.
This is basically when you are practicing where you are making simulated trades for trade practicing without using the real money.
Get Paid For Doing Shopping
There are different online shopping sites that actually pay for the person doing the shopping.
For example, you can consider Cash Back which is properly the ideal platform.
You can also consider the lucrative rewards program and help you in taking advantage of it.
Use Your Car For Making Money
This is a great way which you can use for making money and it's much faster.
There are dozens of ways by which you can start with it. There are different platforms such as Hyre Car, Uber, DoorDash, Get Around, and InstaCart.
Lend Small Loans To People
Peer lending, is also called p2p lending which is a method where you are earning passive income from doing short-term loans.
You can use a different marketplace for this.
You Can Create NFTs
NFTs or Non Fungible Tokens are basically digital collectibles. They work using blockchain technology and now it has turned into a billion-dollar industry.
So you can even make millions of overnight money too.
You Can Make A Classified Website
As with the job boards, you can use the different software platforms that you can use to classify sites.
Some of the most notable market grabber and oxy classified, this is a successful classified site that can make you money by adding minimal effort.
Similar Posts:
Was this article helpful?
Marketing | Branding | Blogging. These Three Words Describe Me in The Best Way. I Am a Self-Taught Marketer with 10 Years of Experience. Helping Startups/ It Companies/ and Small Businesses to Enhance Their Business Through Branding and Marketing Ideas. On A Mission to Help Small Businesses to Be a Brand.