To those who want to start a small business and are looking for ideas, the food product business can be one of the ideal options to consider.
You get a huge range of ideas, and you can start it anywhere in the world. However, you can consider some of the top filtered ideas here. 
Such a business can be easy to start; you just need the passion and aim to generate good profits.
Why Can a Food Business Be Ideal For You?
Well, when you choose an enterprise instead of doing a regular office corporate job, it gives you plenty of advantages.
However, it depends on which industry you put your focus on; when it comes to choosing the food industry, there are numerous reasons why it can be a successful ideal.
Here are some points to understand much better.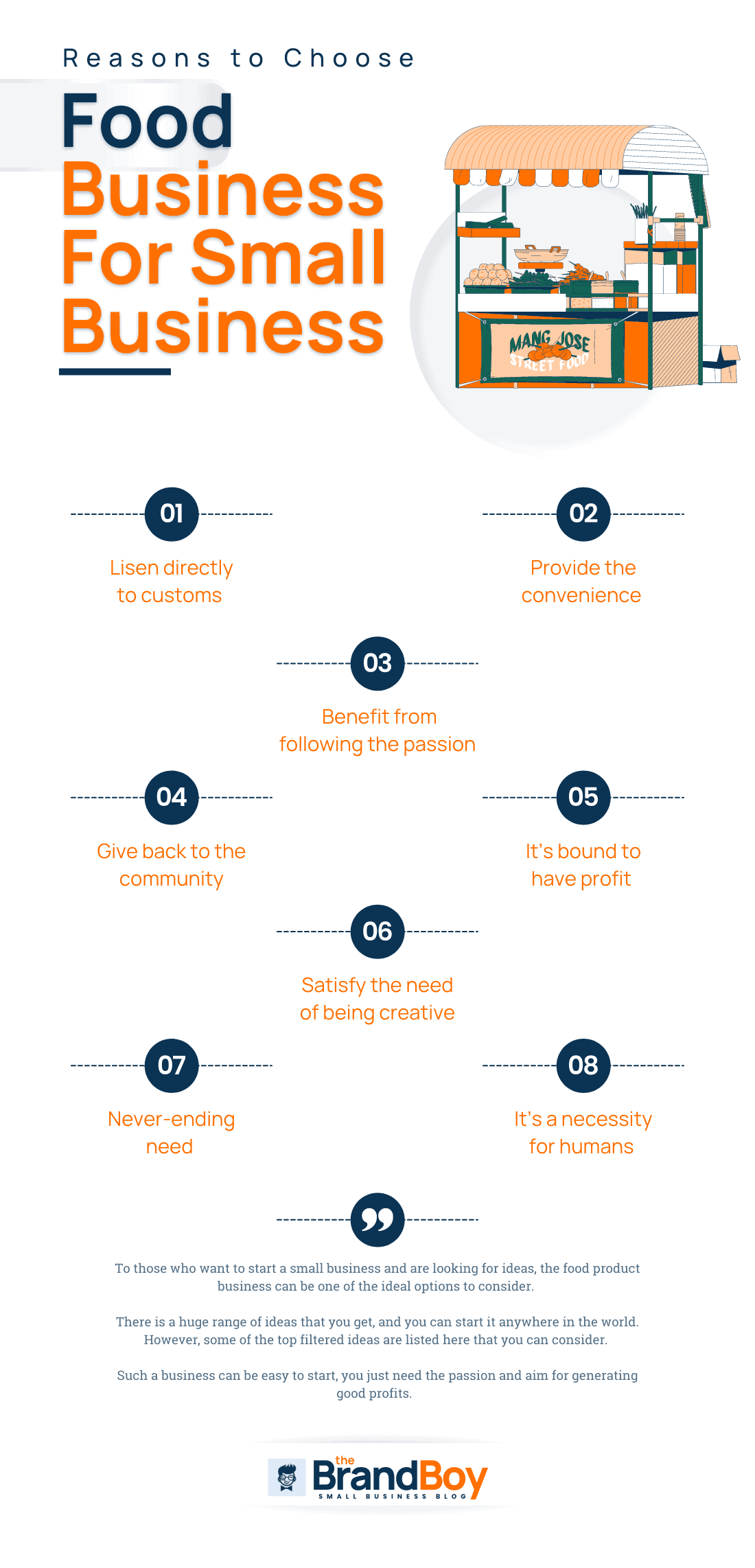 It Allows To Follow Passion
One of the biggest reasons why it's an ideal industry is that food entrepreneurs choose this because they are passionate about it.
And while it's something you are passionate about, the food industry is unique too.
Also, it's something that humans can live with. According to Maslow's Hierarchy of basic needs, food tops the primary level of physical needs, along with oxygen, shelter, drink, and sleep.
You Can Be Creative
Well, the food industry allows you to go as creative as you can, as a beautiful dish is a work of art.
Not just it feeds the body but the aesthetic sense and soul too.
So the food enterprises require to channel the certainty and put it into what they sell.
You Get The Direct Feedback
When it comes to the hospitality industry, catering to the customer is what makes the business on top.
So listening to what customers are saying, their wants and needs, along with using it in the menu, is a must.
Here you can get direct feedback which makes it more valuable, and also, you can pay close attention to what works and what does not.
It's A Profitable Business
One of the benefits that you get from starting a business in the food industry is its profit.
There is no doubt that people will always need food, and it's something that everyone loves.
So not just a necessity, but it's something people look forward to. You can never miss customers, with having high demand and numbers of costumes, this is bound to make a profit.
Top Profitable Food Business Ideas
Well once you are confident that you want to start in the food business, the next thing you will need is an idea.
Since the range of options is wide, you need to be smart to pick the right one that generates profit and leads to a successful business.
Here are some of the profitable food business ideas that you need to consider: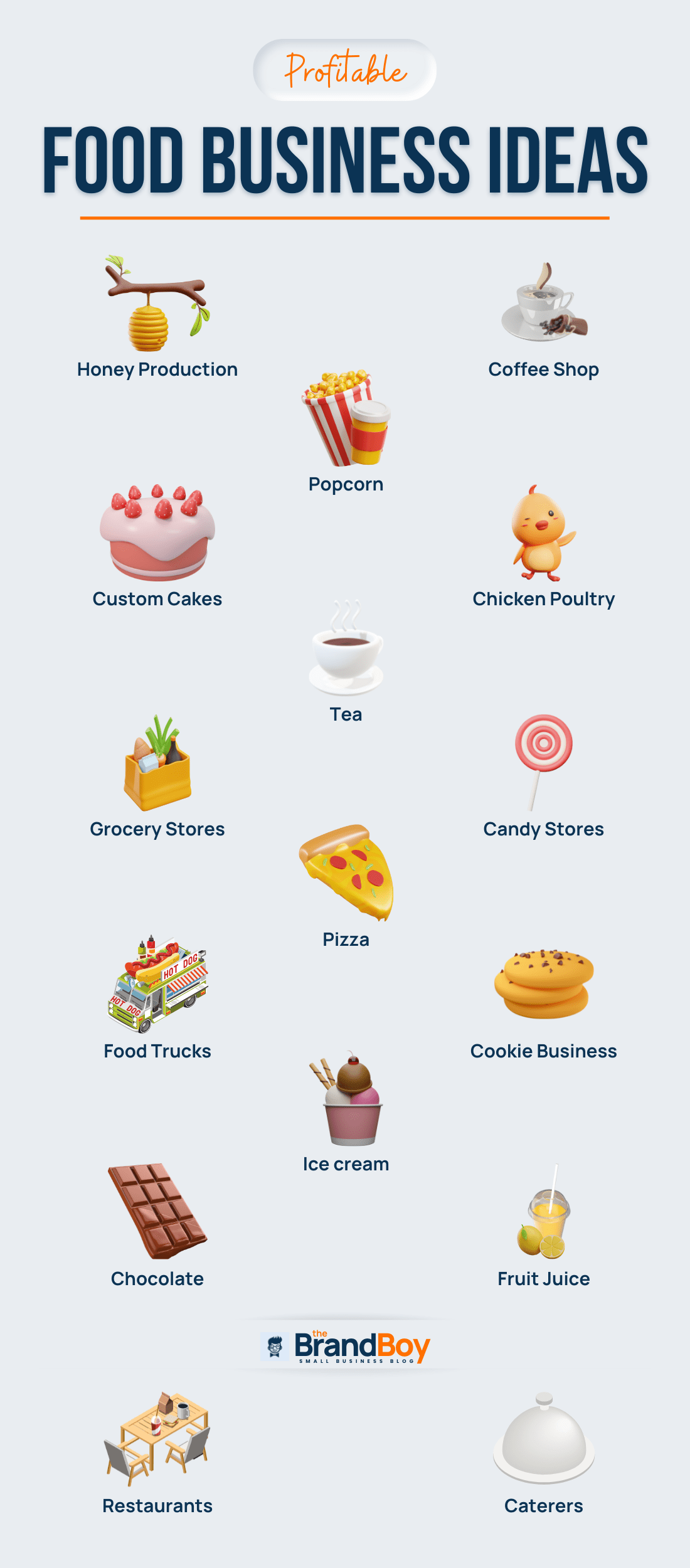 Cookie Business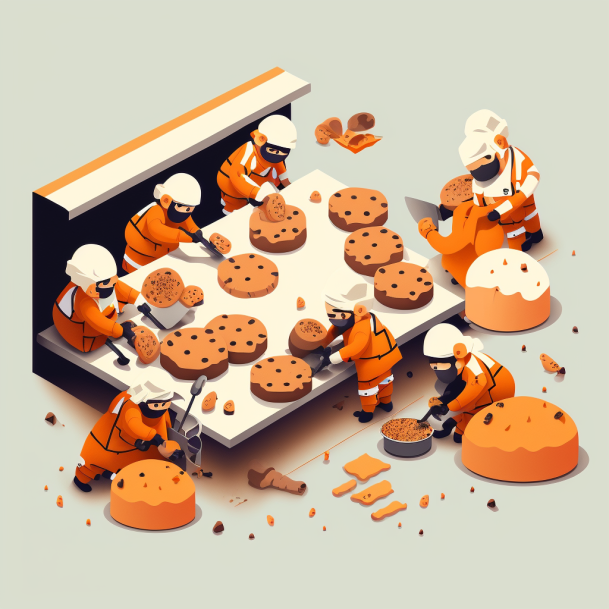 Well, according to the reports, the packed cool industries reached $11 billion in 2019 as their annual year.
And there is no surprise, who doesn't like a good cookie? But it does come with stiff competition for the shelf spaces in the stores.
So it's important that you have something creative and smart that can help in getting your audience and place in the market.
Spice And Seasoning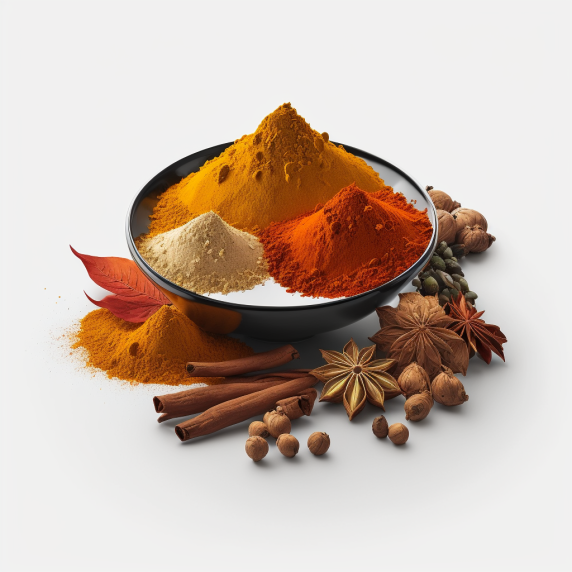 Well, the next idea that you can choose is spice and seasoning as it's been an attractive industry for a reason.
First of all, there is a huge demand for good species from those who cook even when the economic times turn difficult.
Also here you don't have to worry about the spoilage of the product. Shipping and distributing are affordable because species like salt, peppers, and sessions are lightweight and small in size.
Hot Sauce
You can also consider selling the hot sauce. This means the industry has a worth of $2.54 billion dollars in 2020.
Also, by 2028, this project will reach $4.38 billion. One of the highest pros you get is that it is a highly lucrative industry. 
Nut Butter
If you like nut butter and have a passion for making artisan ones, you can create your whole business about it.
These Days customers are going beyond basic options and exploring alternatives. Also, the customers are trying small batches of nut butter such as hazelnut and cashews.
According to research, the nut butter industry is expected to increase in growth to $4 billion in total value by 2024.
Tahini Paste
Sometimes you just have to take a pork diet that is famous in another part of the world and sell it where it's not.
The story of Soom Foods' founder is the same, after living abroad in the country of Israel and falling in love with Tahini, they decided to sell it in the United States, and it turned into a full-fledged profitable business.
Bread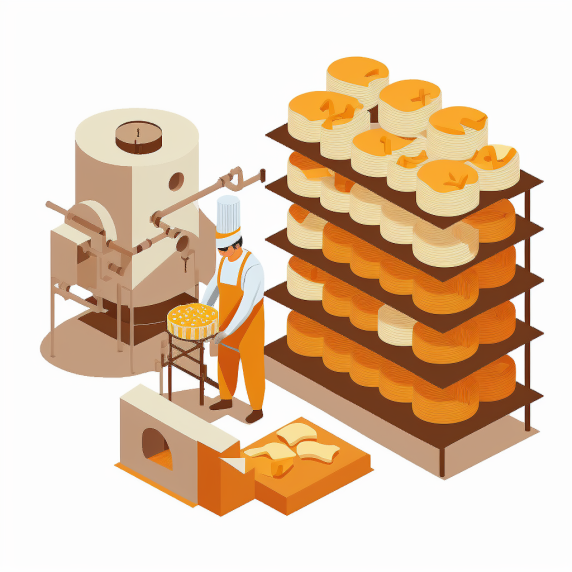 People do think that bread can be something hard to compete with, as you might already know the brands which have irresponsible space.
But coming with something different, as Orange Dot Baking Company did. They found the white space, which helped them enter the business.
And they baked gluten-free bread and muffins, attracting customers who had wanted their bread like that for so long.
Protein Bars
According to market research, the protein bar's total value is expected to increase by more than $7 billion by 2027.
This makes protein bars an ideal product for starting the business, especially if you want to provide something different. 
Trade Show Company
You could also start with conferences and trade shows around a certain category of food.
There are many annual conferences in the food industry, notably the national restaurant association show, which attracts more than 2,000 exhibitors and thousands of attendees every year.
You could create a similar trade show around the growing segment of the food market in the franchise, food technology, and plant-based meats.
Core Ingredients
You can also build your business using key ingredients. It can be a beneficial business, for example, SOulful company built their $3 million dollar business around using ancient grain millet.
They create cereals and drinks using flexible incidents. You can also find something which can start with core ingredients and create your products.
Hummus
By 2024, the market for hummus is expected to be valued at $911 million dollars.
The product is flexible, as Hummus can be used as a dip for snacks or meals.
Also, it's ideal for adding flavors to make it innovative such as garlic or chocolate.
Liquid Infused Food
The next you can add is to alcohol or all sorts of products you get in food to make it distinct.
Some of the popular items that you can consider are using candy, ice cream, or baked goods. However, for this, your customers should be 21 years old or more to enjoy the product.
Also, it depends on countries and their age limitations.
Candy Bar
There are different names such as Hershey, Snickers, Kit Kat, etc, the famous ones which you might have enjoyed.
However, if you are interested in starting your business and have something different to offer, you can start a candy bar business.
Baby Food
In the US, the baby food market is valued to reach more than 70 billion in 2021.
The organic market has also increased and is expected to reach 411 to 592 million by 2023, as research done by Allied Market has shown.
It's also an incredible option as it includes a few basic ingredients like vegetables and fruits.
Burrito
One of the flexible foods, the Burrito, is consumed on and off.
It can be served for breakfast, lunch, or dinner, along with a minimum of weeks in ingredients.
Due to having ingredients that are low in cost, easy to make, and in high demand, the food is also great to start.
Food Tourism Guide
If you are meeting new people and introducing them to food and drink which are best in the town.
In Destinations like New York City And Seattle, there are different tourists who want to visit the locations with the experts.
This is a low-capital startup; this can give the opportunity to meet new people, eat amazing food, and pay for it.
Salsa Company
You can also consider selling the pre-made salsa, it can be created using different unique recipes, and it can be something totally different if you put a creative spin on it.
Most of the companies offer the tomato base in their salsa, but some of the options include corn and tomatillo too.
Salsa is even more popular as compared to ketchup in countries like the United States.
Food Truck
One of the ideas that you should consider is a Food Truck. The advantage That you get from starting the food truck is lower startup cost as compared to restaurants. Also, it allows you to change location.
However, you need to be smart when you pick up the vending location in order to operate the business.
Publish Your Cookbook
If you love to start with developing new recipes and writing, put different photographs of meals to publish in the cookbook.
This can be your smart idea, and you can start publishing it. While you are publishing, the book sales, have declined in years, but cookbooks did have a resurgence a few years back.
Hot Dog Cart
You can also start with a hotdog business as it's a low-cost way, and it can help make more money by serving the product people usually eat daily.
If you are a bit scrappy and able to use the equipment, you can start the investment below $5000.
It means it won't take long to recoup the investment if you are working hard to find vending opportunities.
Coffee Truck Or Cart
The coffee truck can be lucrative; not just the coffee, a high-margin product, but the coffee cart can help you in generating a nice profit selling ready-made stuff like donuts, muffins, and granola bars.
Catering Company
Professional catering services are always in high demand. Caterers drive or serve large emails at events such as weddings, family gatherings, and corporate functions.
One of the aspects of starting the perspective is that you can run the business even from the home kitchen with a start-up cost at a minimum.
Meal Kit
There are different reasons why people don't cook healthy meals, but they do want it.
Cooking is a time-consuming process, but it can be difficult as it's hard to do when you have kids and a full-time job.
By eating the meal kit company, it can help customers enjoy healthy, tasting great meals at saving time.
Kombucha Company
Well, it's a fermented tea that has been enjoyed for more than a thousand years, starting in the 1990s.
You can also get the kombucha packages in cans and bottles. And the tea is sold in retail online and in grocery stores.
Food Delivery Business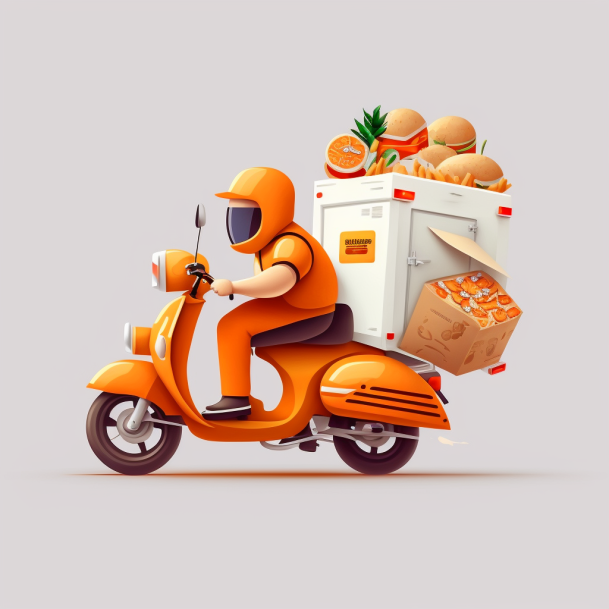 Another interesting opportunity that you can consider is to build a local company that delivers the meal from take-out restaurants and homes.
This can be a low-overhead business for starting if you have the car and are willing to deliver meals.
This business can also be scaled and help in turning into something big like Uber Eats.
Teaching Online Cooking Class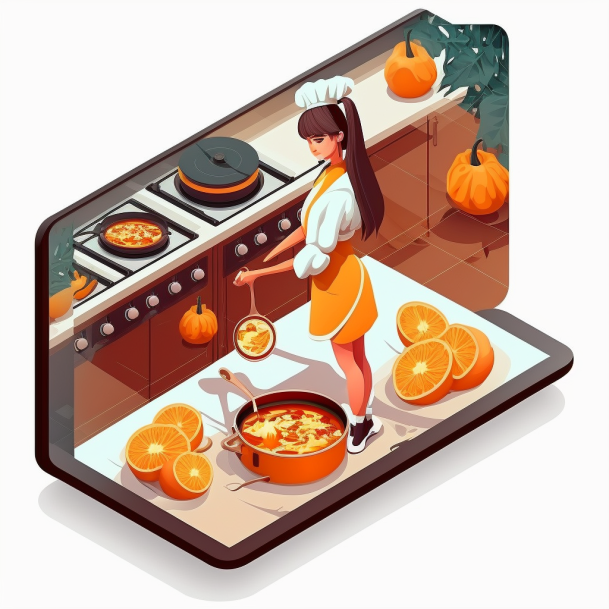 If you love to teach people how to make food and combine the two and start online classes.
Thanks for sharing the video easily on Youtube and Facebook; you can start the business with just an iPhone and internet access.
Vending Machine Business
The vending machine industry is an amazing industry part of the food industry.
When it comes to vending machines, people consider soda and snacks.
However, there is a whole new breed of machine which has decided to serve the alternative such as bananas and apples.
Food Business Consulting
If you have skills that you could benefit from in the food business, then you can also consider the business of consulting.
The option works best if you have experience in a specific industry or a tracking record of profitable restaurants.
The ideas for consulting services can help and include improving the efficiency and speed of sales in restaurants, recipe development, cutting costs with recipes, operations, and marketing training.
Competition BBQ Team
If you are thrilled with cooking competitions, starting a competition BBQ team can be a viable option.
Well, you can generate revenue by winning all these contests, but you can sell the blend of species or get brand sponsors.
The goal is to build the brand around the team and also to market and sell the products related to BBQ.
Shake
Shakes can also be important as a healthy breakfast or a replacement meal.
The appeal of shakes is the ingredients like nuts, fruit, milk, and vitamins as single veggies.
This is the perfect food for people who are health-conscious consumers, and due to the demand, the shake industry was valued at over $8 billion in 2018, with annual growth in 2025.
Mobile Bar
Well, mobile bars can be hired out for weddings and parties like special events. So you have the people person; this is a great one to consider.
Also, you need 1 – 2 employees to start it.
Kettle Corn
This is an idea that you can consider; kettle corn is a low ingredient cost and low startup cost that you need for the equipment and operation you get.
If you are someone that wants to start a simple business that can grant dollars worth on an everyday basis.
Meal Plans
Those people who are looking for a way to lose weight or build muscle are willing to pay for a customized meal plan.
This is great if you are a dietitian and personal trainer. Also, the weight loss and fitness industries are increasing rapidly, which has a lot of space to work on.
Shaved Ice
Well, you need ice and syrup; that's what you require to start the business in a nutshell. Well, this industry can maintain its high profit due to the cost of costly ingredients at less than 20%.
Many successful businesses also generated sales in the space through fundraising efforts with schools, non-profits, and sports teams.
Aloe Vera Beverages
Combining the drink with some surprising ingredients can be a way that can help to differentiate in the industry.
For example, you can sell aloe vera beverages mixed with fruit flavors which can be a creative way of accomplishing.
While these can be only beginning to gain traction in the United States, you can sell them by selling the other part of the side.
Switchel
Sometimes you might look in history at specific drink and food which was popular; it can help in serving the inspiration.
The company called Switchel is a great example, as they took ginger and apple cider vinegar beverages. And added the update.
This elixir was enjoyed fervently on the 17th; this is also one of the beverages no one had heard.
Homemade Food
Everyone likes homemade and cooked meals. So you can start a business selling and delivering homemade food.
So cooking and delivering meals is a great way to earn income directly from the home kitchen.
This is also a great side hustle for you if you have a busy schedule and only want to do the work part-time.
Hangover Recovery Drink
Well, there are a lot of people who party and like to drink. And there are after-effects in the morning which lead to hangovers.
So selling, the business of selling hangover recovery drinks as it's one of the popular drinks in Asian countries but also getting famous in different other countries.
Water
The water bottle industry has a massive opportunity which is expected to reach $334 billion in 2023.
Although environmentalists did raise a lot of awareness about the use of plastic from the industry and how it's affecting the environment.
But the market is competitive if you find a unique idea that can make you fit the big business.
Fast Food
There are different things that are included in the fast-food industry, such as gourmet hamburgers, french fries, etc. There is nothing that people want when consuming fast-food restaurants.
Depending on the concept and what else you can come up with, this can help the idea you should start with a completely new business.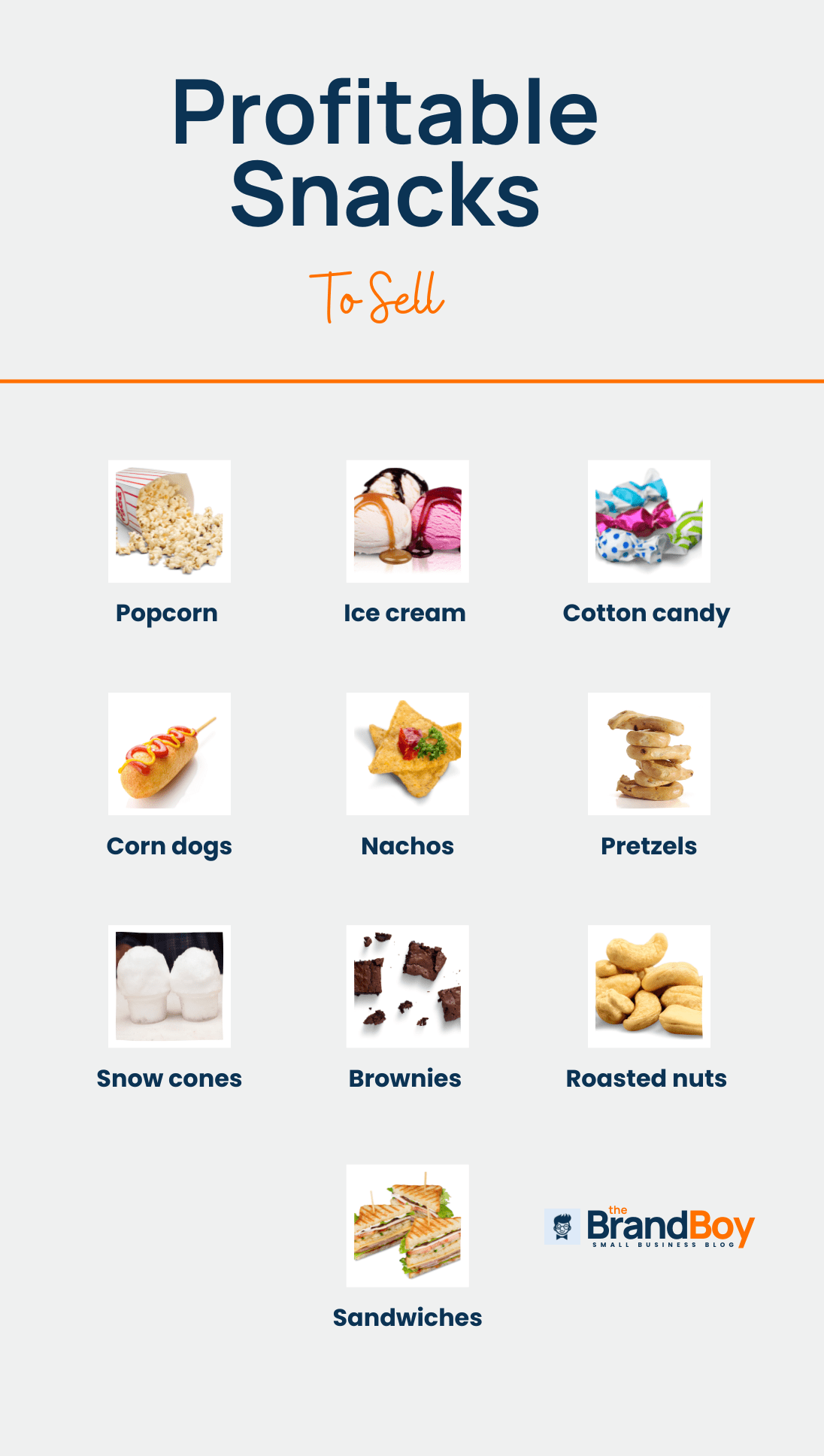 Online Store
Practically any type of food that you can sell online. You could sell equipment regarding the kitchen.
There are different e-commerce stores that make thousands of dollars, and the online food market is getting much larger.
This also comes with a steep learning curve, so you need to learn about how to build the website.
Franchise Restaurant
Well, this is for you if you don't want to invest in coming up with something new in the menu and operations plans for starting your restaurant.
Instead, you can open a franchise restaurant by joining the proven concept and increasing the success rate of the business.
With franchises, you can even start much faster as it comes with a built-in marketing plan, menu, and supplier.
Here you do need to focus on running the business.
Bakery Or The Pastry Shop
If you are one of those who like to do bo baking and love making cakes, cookies, etc.
Open a small pastry shop or a bakery that could be the choice for you.
Here you can get the tip that most successful bakery owners say you should find the specialty that you actually love to make.
So you should find the niche and stick to it.
Personal Chef
Well, if you have a culinary degree, then you can also use it to start a business. You could start the agency, as it's a great choice for chefs who don't like to work in restaurants.
You should also earn more than you can at a restaurant.
Catering Equipment
You can also use the catering equipment to sell and it can be your business. It's possible that people are looking for equipment and renting catering companies.
This is a great opportunity; once you purchase the equipment, this is a way you can rent it out and earn a profit.
Food Photography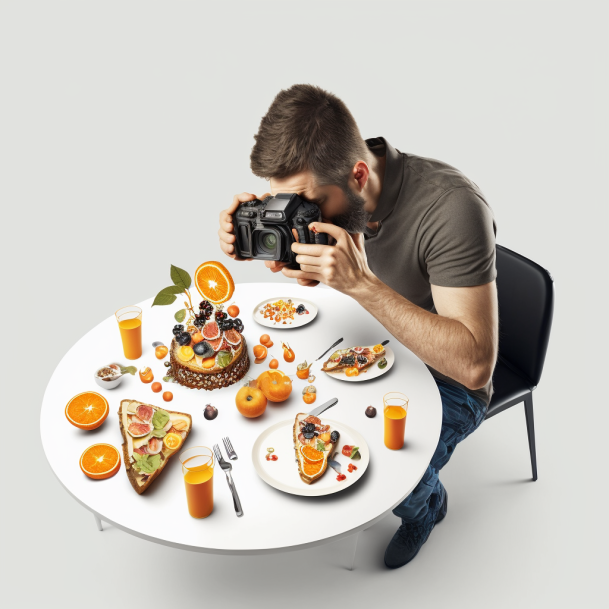 If you have the skill of clicking amazing photos of dishes, menus, and food. You can also take pictures of food and sell the photos to the person.
This skill is indeed in demand, and you can earn really good money. There are different companies who need the service and rarely are going to be out of work.
Pet Food
One of the growing market industries, you can also consider the business of making and selling pet food. In addition, you can create treats and sell them to pets.
There are so many people who have pets, and they are looking for genuine brands that sell healthy and tasty treats. Also, they are willing to spend money if you get their test.
Wine
There are different ways by which you can consider starting the wine business.
Besides selling the wine, you can also do wine-tasting events as well as tours or even make your wine.
There are more options, such as writing a guide for the local wines and creating a website to sell wine online.
Wine is also expensive which means you are going to have a high-profit margin.
Organic Food
One of the ways that you can consider starting your business is to sell organic food.
You can buy the products directly from local farmers or even start on your own.
Since there is a huge demand for organic food, this industry offers a lot of opportunities.
Ice Cream
You can also sell ice cream and open a store. The idea is simple, but you can add your own creativity and create the menu.
Also, a lot of ice cream stores sell gelato, milkshakes, and cakes.
The business is highly lucrative, and you just need to find the right locations.
Asian Food
Since there is a huge demon for Asian food these days, you can start a shop for Asian food and restaurants.
Also, there are a lot of Asians in the population; you can benefit from those who live abroad and lack of access to their country's ingredients.
For this, you can start a retail shop to supply food to these people.
Also, the market is a niche; here, you get less competition.
Specialty Milk
You can consider specialty milk. Also, the industry is growing as more people are looking for alternative options.
Since there is a rise in veganism, there are more people who want the replacement; you can consider almonds, oats, soy, rice, and coconut milk.
Ice
Well, there is a huge demand for ice from restaurants and bars as they use it in huge amounts.
You can supply the ice to retail stores or people in the neighborhood. The business is extremely simple; you just need an ice machine to start with.
Subscription Box
The next thing you can consider for your business is a subscription box, as there is a huge range that you can offer. It can be devoted to certain items such as hot sauces, even candy, or jams. You can also subscribe to the wine.
The industry is rapidly booming; their estimated worth is around $18.8 billion.
Urban Farming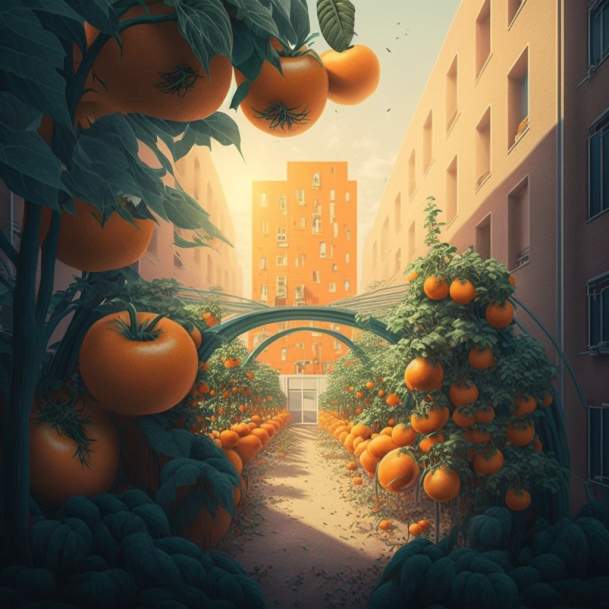 Urban farming is the practice of farming within the areas that are in the urban section.
For example, using disputed lands, vacant lots, rooftop farming, etc.
Delivery Business
The delivery business has surged in popularity, driven by the growing e-commerce industry and changing consumer preferences.
Whether it's food, packages, or groceries, delivery services offer convenience and efficiency. Companies like Amazon, Uber Eats, and FedEx have revolutionized the way goods are transported.
With the integration of technology and innovative last-mile solutions, the delivery sector continues to evolve, providing employment opportunities and shaping the way we receive goods in our fast-paced, digital world.
Baby Food Business
The baby food business is a thriving industry that caters to the nutritional needs of infants and toddlers.
With a focus on providing safe, nutritious, and convenient options for busy parents, it encompasses a wide range of products, from pureed fruits and vegetables to infant cereals.
Companies in this sector often emphasize organic and natural ingredients, as well as age-appropriate packaging. The baby food market continues to evolve, with innovation and health-conscious choices driving its growth.
Hot Sauce Business
The hot sauce business has sizzled its way into global culinary culture. With a fiery array of flavors and intensities, entrepreneurs have ignited a spicy revolution, catering to diverse tastes and preferences.
From small, artisanal producers crafting unique concoctions to established brands offering classics, the industry's growth is red hot.
With enthusiasts seeking new heat levels and exotic ingredients, the hot sauce business is a dynamic and flavorful arena, continuously spicing up the food landscape.
Catering Business
A catering business is a dynamic industry that provides food services for various events and occasions.
Whether it's weddings, corporate gatherings, or private parties, catering businesses offer a wide range of culinary options to suit their clients' preferences and needs.
Success in this field requires exceptional culinary skills, efficient logistics, and the ability to adapt to diverse client demands.
With attention to detail and excellent customer service, catering businesses play a pivotal role in creating memorable dining experiences for their clients.
Catering Equipment Rental
Catering equipment rental is a convenient solution for businesses and individuals hosting events, from weddings to corporate gatherings.
It offers access to a wide range of professional-grade appliances, utensils, and furniture without the need for significant investments.
Whether you need industrial ovens, elegant table settings, or refrigeration units, rental services provide flexibility, cost savings, and convenience.
This option allows event planners to focus on delivering exceptional experiences while leaving the logistics of equipment management to the experts.
Bakery Business
A bakery business is a delightful enterprise that revolves around the creation of mouthwatering baked goods.
From delectable pastries and aromatic bread to custom cakes, these establishments cater to a wide range of tastes and occasions.
Successful bakeries pride themselves on using quality ingredients, skilled craftsmanship, and creative flair to produce delectable treats that satisfy their customers' cravings.
Whether it's a cozy neighborhood bakery or an upscale patisserie, the aroma of freshly baked goods is always a warm welcome.
Vending Machines Business
The vending machine business has become a cornerstone of convenience in modern society. These automated marvels provide quick access to snacks, beverages, and everyday essentials.
Entrepreneurs are drawn to this business due to its low operational requirements and steady customer demand.
With the integration of advanced technology, vending machines now offer cashless payment options and real-time sales data analysis.
This dynamic industry continues to evolve, catering to diverse consumer preferences and serving as a testament to the power of automated retail solutions.
Retail Store
A retail store is a physical location where customers can browse, purchase, and interact with a wide range of consumer products.
These stores come in various formats, from small boutiques to large department stores, catering to diverse needs and preferences.
They play a crucial role in the economy by offering a tangible shopping experience, and they often feature personalized service and in-person assistance, enhancing the overall shopping experience for consumers.
Retail stores are essential in shaping consumer culture and offering immediate access to goods.
Grocery Store
A grocery store is an essential part of everyday life, providing a wide array of food and household products. Shelves are stocked with fresh produce, meats, dairy, and pantry staples.
Shoppers can find a diverse selection of items, from organic and locally sourced products to international delicacies.
Grocery stores offer convenience, allowing customers to fulfill their daily needs under one roof. With online shopping and delivery services, they continue to evolve, catering to modern lifestyles while remaining a cornerstone of our communities.
Organic Food Stand
An organic food stand offers a delightful array of fresh, pesticide-free produce and wholesome culinary delights. Located at local farmers' markets or on street corners, these vibrant stalls showcase the essence of sustainable agriculture.
From crisp, colorful vegetables to artisanal bread and delectable fruit preserves, organic food stands cater to health-conscious consumers seeking nutritious, eco-friendly options.
With a commitment to promoting well-being and environmental responsibility, these stands have become a hub for those embracing a healthier, more conscious lifestyle.
Gourmet Popcorn Shop
A Gourmet Popcorn Shop is a delightful haven for popcorn enthusiasts. These specialized stores offer a mouthwatering array of unique and creative popcorn flavors, elevating this classic snack to a gourmet level.
Customers can savor combinations like truffle-infused, spicy jalapeño, or sweet caramel. Gourmet Popcorn Shops make for a fun and indulgent experience, perfect for snacking, gifting, or exploring innovative tastes in the world of popcorn.
Meal Prep Business
A meal prep business offers a convenient solution for individuals and families looking to maintain a healthy diet and save time in the kitchen.
These businesses prepare and deliver ready-to-eat or easy-to-cook meals, tailored to customers' dietary preferences and nutritional needs.
They are a popular choice for those with busy lifestyles, dietary restrictions, or fitness goals. Meal prep businesses often focus on quality ingredients, portion control, and diverse menu options to cater to a broad customer base.
Cooking Class Instructor
A cooking class instructor is a culinary expert who imparts knowledge and skills to aspiring chefs, home cooks, and food enthusiasts.
They guide students through various cuisines, cooking techniques, and kitchen safety, fostering a love for gastronomy. These instructors possess a deep passion for food and a knack for teaching, making the learning process engaging and enjoyable.
Whether in a professional kitchen or a recreational setting, their expertise and guidance help individuals hone their culinary prowess and create delectable dishes.
Restaurant Supply Shop
A restaurant supply shop is a vital resource for the culinary industry. These establishments offer a wide range of essential equipment and supplies for restaurants, cafes, and foodservice businesses.
From commercial-grade kitchen appliances to dinnerware, utensils, and cleaning supplies, they cater to the diverse needs of the foodservice sector.
Restaurant supply shops are a one-stop destination for chefs and restaurateurs, ensuring they have the tools they need to create exceptional dining experiences for their customers.
Produce Delivery Service
A produce delivery service offers the convenience of fresh, locally sourced fruits and vegetables delivered directly to your doorstep.
With an emphasis on quality and sustainability, these services provide a hassle-free way to access seasonal, organic, and locally grown produce.
Customers can enjoy a wide variety of fruits, vegetables, and even specialty items without leaving their homes, promoting healthy eating and supporting local farmers. It's a time-saving and eco-friendly solution for busy individuals and families.
Gourmet Candy Shop
A Gourmet Candy Shop is a sweet haven for those with a refined palate for confectionery delights. Unlike your typical candy store, it offers an array of artisanal treats that cater to discerning tastes.
From handcrafted chocolates infused with exotic flavors to beautifully packaged sugary confections, it's a destination for both indulgence and gifting.
With a commitment to quality and creativity, a Gourmet Candy Shop transforms the ordinary into the extraordinary, making each visit a delectable experience.
Meal Kit Service
Meal kit services offer a convenient and innovative way to simplify home cooking. These subscription-based services deliver pre-portioned ingredients and chef-designed recipes directly to your doorstep.
Customers can choose from a diverse range of cuisines and dietary preferences, making meal planning a breeze. Meal kits reduce food waste, save time on grocery shopping, and encourage culinary exploration.
With step-by-step instructions, even novice cooks can whip up restaurant-quality meals in the comfort of their own kitchen, making it a popular choice for busy individuals and families.
Recipe Blogger
A recipe blogger is a culinary enthusiast who shares their passion for food through an online platform, typically a blog or social media channels.
These individuals create and curate mouthwatering recipes, often accompanied by vibrant photos and engaging narratives.
Recipe bloggers inspire and guide readers in the kitchen, offering a diverse range of dishes, from traditional favorites to innovative creations.
They play a crucial role in the modern food culture, making it easier for people to explore and enjoy a world of delicious flavors from the comfort of their homes.
Restaurant Reviewer
A restaurant reviewer plays a vital role in the culinary world, offering valuable insights to diners seeking exceptional dining experiences.
Armed with discerning palates and an appreciation for food, they visit various eateries to assess the quality of cuisine, service, and ambiance.
Their detailed reviews, often published in print or online, guide hungry patrons in selecting the perfect spot for a memorable meal. These critics contribute to the gastronomic tapestry, shaping culinary trends and helping restaurants thrive or improve.
Food Influencer
A food influencer is a social media personality who wields significant influence in the culinary world. They share their passion for food through captivating photos, videos, and engaging content.
Food influencers often showcase unique recipes, dining experiences, and product recommendations, shaping food trends and inspiring their followers to explore new flavors and cooking techniques.
They serve as trusted guides in the gastronomic landscape, offering insights, reviews, and inspiration for fellow food enthusiasts.
Cookbook Author
A cookbook author is a culinary expert who crafts and publishes cookbooks filled with a diverse range of recipes and culinary knowledge.
They possess a deep passion for food and cooking, often drawing from their own experiences and expertise to create unique, accessible, and delectable recipes.
Cookbook authors play a crucial role in sharing their culinary insights with food enthusiasts, helping them explore new flavors and techniques in the kitchen, and ultimately fostering a love for the art of cooking.
Snack Subscription Box
A snack subscription box is a delightful culinary adventure delivered to your doorstep. These curated boxes are filled with an assortment of delectable treats from around the world, perfect for satisfying your cravings or exploring new flavors.
Whether you prefer sweet, savory, or a mix of both, snack subscription boxes offer convenience and excitement, making them an ideal option for food enthusiasts, busy professionals, or anyone seeking a delightful snacking experience without leaving home.
Restaurant Consulting Service
A restaurant consulting service offers expert guidance to help restaurants thrive in a competitive industry.
These professionals bring a wealth of experience, providing insights on menu development, staff training, operational efficiency, and marketing strategies.
They help identify areas for improvement, enhance customer experiences, and increase profitability.
With their industry knowledge, restaurant consultants serve as invaluable partners in navigating challenges and achieving success in the dynamic world of hospitality.
Charcuterie Board Service
A charcuterie board service is a delightful culinary experience that revolves around carefully curated platters of artisanal cured meats, cheeses, and accompaniments.
These visually appealing boards are often customized to cater to various tastes, combining a selection of savory and sweet elements.
They're perfect for gatherings, events, or a cozy night in. Charcuterie boards are a feast for the senses, offering a diverse array of flavors, textures, and a memorable dining experience that can be enjoyed by all.
Food Tasting Service
A food tasting service offers a delightful culinary experience where customers can savor a variety of flavors and dishes.
Whether in a restaurant setting, at home, or during special events, these services allow patrons to sample and critique different dishes, providing valuable feedback to chefs and establishments.
Food tasting events can range from intimate gatherings to grand festivals, celebrating the diverse world of cuisine and catering to food enthusiasts and connoisseurs alike.
Gift Basket Service
A gift basket service offers a delightful way to express thoughtfulness and affection. These curated packages are filled with an assortment of carefully selected items, from gourmet treats to spa essentials or even personalized keepsakes.
Whether it's for a birthday, holiday, or special occasion, gift baskets cater to various tastes and preferences. They make gift-giving easy, conveying your sentiments through a beautifully arranged collection of goodies that can brighten anyone's day.
Kitchen Supply Shop
A kitchen supply shop is a culinary haven for both home cooks and professional chefs. This treasure trove of culinary essentials offers an array of cookware, utensils, gadgets, and appliances to elevate the art of cooking.
From gleaming pots and pans to precision-cutting tools, these shops provide the tools necessary to transform ingredients into delicious masterpieces.
With a variety of brands and quality options, the kitchen supply shop is an indispensable destination for anyone passionate about the culinary arts.
Nutrition Coach
A nutrition coach is a qualified professional who guides individuals towards making healthier dietary choices.
They create personalized meal plans, educate clients about proper nutrition, and help them achieve their health and fitness goals. Nutrition coaches consider individual preferences, restrictions, and goals to provide practical advice and support.
Whether it's weight management, improving athletic performance, or addressing specific health concerns, a nutrition coach plays a crucial role in fostering sustainable and balanced eating habits for their clients.
Wine Club
A wine club offers enthusiasts a curated experience, delivering a selection of fine wines right to their doorstep on a regular basis, typically monthly or quarterly.
These clubs cater to diverse tastes, from reds to whites and beyond, often including exclusive or hard-to-find bottles.
Subscribers can explore new varietals, expand their wine knowledge, and enjoy the convenience of home delivery. Wine clubs foster a sense of community among members, making them an excellent way to appreciate and share the joy of wine.
Cake Decorator
A cake decorator is a culinary artist who transforms simple cakes into stunning edible masterpieces.
With skillful hands and a creative eye, they craft intricate designs using various techniques such as fondant sculpting, piping, and hand-painting.
Cake decorators work with a diverse array of themes and occasions, from elegant wedding cakes to whimsical birthday creations.
Their passion for aesthetics and attention to detail make each cake a delectable work of art that delights both the eyes and taste buds.
Food Stylist
A food stylist is a creative professional who meticulously arranges and enhances food for photography or film, making it visually appealing and mouthwatering.
They work closely with photographers, chefs, and clients to ensure that every dish looks its absolute best.
Using various techniques like garnishing, lighting, and props, food stylists transform ordinary meals into irresistible works of art. Their work is crucial in advertising, cookbooks, and culinary content, enticing viewers and igniting their culinary desires.
Dairy Farming Business
Dairy farming is a thriving agricultural venture that revolves around the production of milk and its byproducts.
It plays a crucial role in the global food industry, providing a wide range of products such as milk, cheese, butter, and yogurt.
Successful dairy farming requires careful management of cattle, nutrition, and health, along with modern technology for milking and processing.
The industry offers economic opportunities for farmers and contributes to a stable food supply for consumers worldwide.
Specialty Cheese Market
The specialty cheese market has experienced remarkable growth in recent years as consumers seek unique and high-quality cheese options.
This niche sector offers an array of artisanal and exotic cheeses, catering to diverse palates and preferences. It's driven by a growing interest in culinary exploration and the desire for premium, handcrafted products.
As a result, specialty cheese shops and sections in supermarkets continue to expand, providing cheese enthusiasts with a delightful array of flavors, textures, and origins to savor.
Delivery-Only Restaurant
A delivery-only restaurant, often referred to as a "ghost kitchen" or "cloud kitchen," is a culinary concept that exclusively serves customers through online orders and food delivery services.
These establishments lack traditional dine-in options and focus solely on creating delicious dishes for takeout and delivery.
With lower overhead costs, they can offer diverse menus and streamline operations to meet the growing demand for convenient and on-demand dining experiences, making them a popular choice in today's fast-paced food industry.
Produce Farm
A produce farm is a vital source of fresh fruits and vegetables, playing a crucial role in our food supply chain.
These farms cultivate a wide variety of crops, from juicy tomatoes to crisp lettuce and vibrant strawberries.
With a focus on sustainability and organic practices, they provide us with nutritious, locally grown options.
The diligent efforts of farmers ensure that we have access to delicious, seasonal produce while supporting the local economy and promoting healthy eating habits.
Pet Food Business
Starting a pet food business can be a rewarding endeavor for animal lovers and entrepreneurs alike.
This industry offers a wide array of opportunities, from crafting gourmet pet treats to developing nutritious pet food formulas.
As pet owners increasingly seek healthier and more specialized options for their furry companions, there's a growing demand for high-quality pet food products.
However, success in this field requires thorough market research, compliance with regulations, and a commitment to pet nutrition.
Canning Business
A canning business is a fantastic venture that revolves around preserving the goodness of seasonal produce and homemade delicacies in airtight containers.
This business involves selecting high-quality ingredients, preparing them with care, and sealing them for long-term storage.
Whether it's homemade jams, pickles, or canned fruits and vegetables, a canning business offers customers the convenience of enjoying their favorite flavors year-round while supporting local, sustainable, and delicious products.
Food Packaging Business
A food packaging business plays a crucial role in the food industry, ensuring that products are safely and attractively presented to consumers.
These businesses provide innovative solutions for packaging, ranging from eco-friendly materials to cutting-edge designs.
Their work involves creating packaging that preserves the freshness and quality of the food, while also meeting regulatory standards.
With the increasing demand for convenient and sustainable food options, food packaging businesses are essential players in today's market, contributing to both consumer satisfaction and environmental responsibility.
Food Branding and Design Service
A Food Branding and Design Service is a vital component in the culinary world. It's more than just creating eye-catching logos and packaging; it's about crafting an identity that resonates with consumers.
These services help food businesses stand out, effectively conveying their unique story, values, and quality through visual elements.
From menu design to product packaging, a well-executed food branding and design service can leave a lasting impression, enticing customers to savor the experience.
Fish Farm
A fish farm, also known as aquaculture, is an innovative and sustainable method of producing fish for consumption.
Unlike traditional fishing, fish farming involves raising fish in controlled environments like tanks, ponds, or enclosures, ensuring optimal conditions for growth.
This practice not only provides a consistent and fresh supply of seafood but also reduces the pressure on wild fish populations.
Fish farms play a crucial role in meeting the ever-growing global demand for fish while promoting environmental conservation and responsible resource management.
Restaurant Pop-Up Location
A restaurant pop-up location is a temporary dining establishment that offers a unique and often limited-time dining experience.
These pop-ups can take place in various venues, from empty storefronts and food festivals to private homes and outdoor spaces.
Pop-ups allow chefs and restaurateurs to experiment with new concepts, menus, and cuisines, while customers get the chance to enjoy exclusive and novel culinary adventures.
The ephemeral nature of pop-ups adds an element of excitement and exclusivity to the dining scene.
Jerky Seller
A jerky seller is a purveyor of one of the most popular protein-packed snacks on the market.
These entrepreneurs specialize in creating, packaging, and selling various types of dried meat, such as beef, turkey, or even exotic options like venison or buffalo.
Jerky sellers often craft unique flavor profiles and seasoning combinations to cater to a wide range of tastes, making them an appealing option for health-conscious snack enthusiasts and adventurous eaters alike.
Food Service Rentals
Food service rentals refer to the essential equipment, utensils, and supplies used in the food and beverage industry that can be rented for temporary or special occasions.
Whether you're planning a grand wedding reception, a corporate event, or a casual backyard barbecue, food service rentals offer a cost-effective solution.
These services provide access to items like tables, chairs, linens, dinnerware, glassware, and even catering equipment, ensuring your event runs smoothly and impresses your guests without the hassle of long-term investments.
Energy Drink Seller
An energy drink seller is a key player in the thriving beverage industry, specializing in the distribution and retail of high-energy beverages.
These professionals are often responsible for sourcing popular energy drink brands, maintaining inventory, and promoting their products to a wide customer base.
Energy drink sellers need to be well-versed in market trends, target demographics, and effective marketing strategies to successfully compete in the highly competitive energy drink market, which caters to consumers seeking a quick boost of vitality.
Sauce Production Company
A Sauce Production Company specializes in crafting an array of delectable and versatile sauces, each a flavor-packed masterpiece.
From rich barbecue and savory marinades to zesty hot sauces and creamy dressings, these artisanal concoctions elevate culinary experiences.
These companies often prioritize top-quality ingredients and innovative recipes, ensuring a delectable range of choices for food enthusiasts and restaurant owners. With a commitment to taste, quality, and consistency, they contribute to the vibrant world of culinary delights.
Farm-To-Table Restaurant
A farm-to-table restaurant is a culinary establishment that prioritizes locally sourced, seasonal, and often organic ingredients in their dishes.
This concept not only enhances the flavors and freshness of the food but also supports local farmers and promotes sustainable agriculture.
The menu at a farm-to-table restaurant changes with the seasons, ensuring that guests experience the best ingredients available.
Dining at such establishments offers a wholesome, environmentally conscious, and often unique culinary experience that celebrates the richness of regional produce.
Cooking You Tube Channel
A cooking YouTube channel is a digital haven for food enthusiasts and budding chefs alike. With engaging visuals and step-by-step tutorials, these channels serve up a delectable variety of recipes, cooking tips, and culinary inspiration.
Viewers can explore a world of gastronomy, from quick weeknight dinners to gourmet feasts, all from the comfort of their screens.
Whether you're a seasoned cook or a kitchen novice, a cooking YouTube channel can be your go-to resource for culinary creativity and mouthwatering delights.
Meat Processor
A meat processor is a crucial player in the food industry, responsible for turning raw meat into various consumer products.
These facilities handle the butchering, packaging, and distribution of meat, ensuring it meets safety and quality standards.
Modern meat processors employ advanced equipment and techniques to efficiently process meat while maintaining hygiene.
Whether it's a local butcher shop or a large-scale meatpacking plant, meat processors play a pivotal role in providing consumers with a wide range of meat products.
Cold Storage Facility
A cold storage facility is a vital component of the supply chain, providing a controlled environment to preserve perishable goods at low temperatures.
These facilities are equipped with refrigeration systems that maintain specific temperature and humidity levels, ensuring the integrity of products like food, pharmaceuticals, and more.
Cold storage plays a crucial role in extending the shelf life of items, preventing spoilage, and facilitating distribution to consumers, making it indispensable for various industries.
Food Transport Service
A food transport service is a crucial link in the food supply chain, ensuring that perishable goods reach their destinations efficiently and safely.
These services employ specialized vehicles equipped with temperature-controlled storage to preserve the freshness of the food during transit.
Whether it's delivering fresh produce to grocery stores or transporting prepared meals to catered events, food transport services play a vital role in the food industry, maintaining quality and integrity throughout the journey.
Fine Dining Restaurant
A fine dining restaurant is a culinary haven that offers an unparalleled dining experience, characterized by exquisite cuisine, impeccable service, and an elegant ambiance.
These establishments prioritize the art of food presentation and provide a carefully curated menu that showcases the culinary skills of talented chefs.
Diners can expect to savor gourmet dishes made with the finest ingredients, often paired with a sophisticated wine selection. Fine dining restaurants are ideal for special occasions and romantic dinners, promising a memorable and indulgent culinary journey.
Vegan Restaurant
A vegan restaurant is a culinary oasis where plant-based cuisine takes center stage. These eateries cater to individuals who seek delectable, cruelty-free alternatives to traditional meat and dairy dishes.
From creative plant-based burgers to savory, protein-packed bowls, vegan restaurants offer a diverse and environmentally friendly menu that delights the palate.
They also prioritize sustainability and ethical sourcing, reflecting a commitment to both personal health and the planet. Dining at a vegan restaurant is a celebration of conscious, compassionate eating.
Gluten-Free Food Shop
A gluten-free food shop is a haven for individuals with celiac disease or gluten sensitivity. These specialized stores offer a wide range of products that are free from gluten, a protein found in wheat, barley, and rye.
Shoppers can explore a diverse selection of gluten-free alternatives, from bread and pasta to snacks and baked goods.
These shops provide a safe and convenient place for those with dietary restrictions to enjoy delicious, worry-free food options while maintaining a gluten-free lifestyle.
Allergy-Friendly Foods
Allergy-friendly foods have become a crucial aspect of the modern culinary landscape. These specialized food products are carefully crafted to cater to individuals with various food allergies, sensitivities, or dietary restrictions.
They are designed to eliminate common allergens like gluten, dairy, nuts, and more, ensuring that everyone can enjoy a delicious and safe dining experience.
Whether it's gluten-free bread, lactose-free cheese, or nut-free snacks, allergy-friendly foods empower people to savor a wide range of flavors without compromising their health.
Online Foodie Community
An online foodie community is a digital haven for culinary enthusiasts, bringing together food lovers, home cooks, and professional chefs.
It's a place where passionate individuals connect, share their gastronomic adventures, and celebrate their love for all things delicious.
Members swap recipes, critique restaurants, and offer cooking tips, creating a supportive and engaging environment.
Whether it's posting mouthwatering food photos or discussing the latest food trends, online foodie communities foster a sense of belonging among those who appreciate the art of dining.
Home-Based Kitchen
A home-based kitchen is a versatile space where culinary creativity meets convenience. This personal cooking haven, often found in residences, is not only a hub for preparing daily meals but also a potential entrepreneurial platform.
It allows individuals to explore their culinary passions, experiment with new recipes, and even start small-scale food businesses.
Home-based kitchens are the heart of many homes, offering a warm and welcoming atmosphere for family gatherings and gastronomic adventures.
Kitchen Rental Business
A kitchen rental business provides a unique and practical solution for aspiring chefs, caterers, and food entrepreneurs looking to start or expand their culinary endeavors.
These businesses offer fully-equipped commercial kitchens that can be rented on an hourly, daily, or monthly basis, saving entrepreneurs the significant cost of setting up their own kitchen.
This cost-effective approach allows food professionals to focus on their culinary creations, while kitchen rental businesses handle the logistics, maintenance, and compliance with health and safety regulations.
Conclusion
The food business is full of exciting opportunities, from food trucks to catering and more. To thrive, you need a love for food, dedication to quality, and a good understanding of what people like to eat. With the right approach, a food business can be a tasty recipe for success.
Similar Posts:
Was this article helpful?
Business, marketing, and blogging – these three words describe me the best. I am the founder of Burban Branding and Media, and a self-taught marketer with 10 years of experience. My passion lies in helping startups enhance their business through marketing, HR, leadership, and finance. I am on a mission to assist businesses in achieving their goals.