Are you a furniture seller and looking to expand your business? Or are you an independent furniture maker who loves art and wants to make a living out of it? If "yes" then it is high time that you become your own boss and start an online furniture store.
With a splurge in the trend of online shopping, the furniture industry lags way behind in comparison to other products.
However, there is a huge demand but only a few selected websites work to in this domain. If you have the skills and workforce to create furniture and sell to a large consumer base then the online arena is right to open for you to participate.
The market is huge and your online furniture business can be a big success.
For any kind of business online there are pointers to know before initiating, some of them for an online furniture store are discussed below
Steps To Start A Furniture Store Perfectly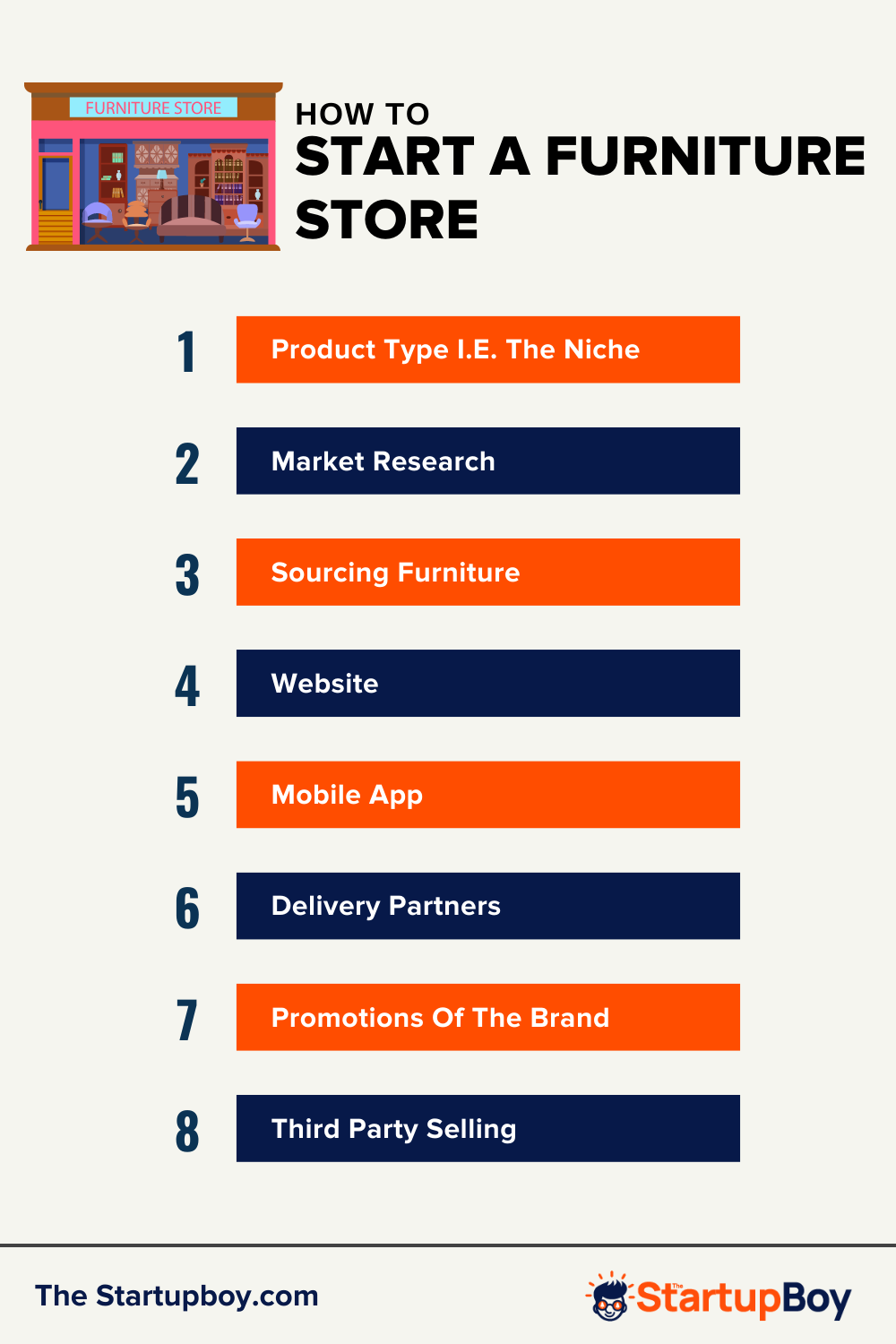 Step:1 Product type i.e. the niche
Given the fact that there are various niches in the furniture market, it is essential that you select one of them and start your business based on it. It will help you in making a brand for your online furniture store. Some the most popular niches in the domain are as follows-
Home furniture

Kitchen and decor

Cabinet furniture

Bean furniture

Bespoke furniture
If you are specialized in any other unique type of furniture making then feel free to start your business based on it. Start small and gain big, that's the mantra!
#BonusTip: Start making different videos of Furniture and start posting on Youtube. You can take different Customers' interior videos to Showcase your work also.
Video content is really valuable, and while it can cost big bucks to get professional YouTube videos produced, there's nothing wrong with giving it a shot yourself. This will gives a huge awareness of your Products and After-sales services.
Step:2 Market research
Once you have selected the niche you want to cater, it is essential to do a demographic analysis or market research.
You need to understand what the consumer is opting to buy in the category and then add those products to your online furniture store. It will help in adding huge number of sales because of the mass appeal.
#BonusTip: Marketing is the soul of Every Business. As Furniture Comes under lifestyle product then require more Convincing. Make Marketing Plan, and start marketing activities online and Offline.
Start sharing your quality works through different Social Media. You can use the Furniture Niche site for marketing also.
Step:3 Sourcing Furniture
If you are a furniture retailer or maker then it is simply that the products that you sell online are either made by you or present in your physical store.
If you have the workforce to create the furniture then that can in itself be a niche as you can provide customized solutions to the clients.
However, you can also get the stock of furniture from various whole sellers in the market. You can source the furniture from them and deliver it to the customers by putting the label of your brand on it.
It is simpler and easier as a separate warehouse isn't needed in such a business model.
#BonusTip: Phone spending their most time on Mobile. The majority of people have glued to their mobile phones Contents. Communicating through SMS, Whatsapp or any other Mobile app is very affordable and highly effective. Benefit from this superb media channel and stay in touch with your audience.
Step:4 Website
You need to hire a professional web designer to develop the website for your online furniture store.
Proper layout of the website is essential and it should be done in accordance of the theme of the business and niche that you plan to cater to. Get a theme that is self-explanatory in nature so that with just one look at your website people can understand what your online furniture store is all about.
Add a proper shopping cart feature sp that people have the ease to pick products in their cart and purchase whenever they want, it also helps people in bulk ordering.
Be sure that the payment gateway is safe and secure at the website so that when people purchase and make a payment, they face no difficulty or threat for anonymous attacks on their virtual payment medium.
Enhance trust towards your brand by inculcating payment gateways such as PayPal, it helps people to instantly trust and make an online payment.
#BonusTip: An Impressive website can help you to earn an impressive profit. For Furniture Website, you need Creative and attractive photography of your Furniture Products with all details. Budget wise, Product wise, material-wise details Choose the right product and increase the sales.
Step:5 Mobile App
With online shopping being on a trending feature, people are opting to make purchases from their phones more often than ever.
If you design a website then it is advised that you get a mobile app developed for the same so that people can easily access it from their phones.
#BonusTip: You can use different marketing ways to attract customers. Holding an event at your Furniture showrooms is a brilliant way to spread the word about your Furniture business, products, services and quality.
Step:6 Delivery partners
Furniture generally are heavy and hard to transport from a place to another. You need to have proper delivery agents who shall make sure that the delivery is done on time and without causing any damage to the product.
Partner with some of the reputed delivery logistic solution providers and ensure timely delivery!
#BonusTip: You can Educate your Customers. By providing tips and tricks alongside your merchandise to give your customers great project ideas and an idea of what your brand is really about.
Also, you can build your landing pages with SEO strategies in mind, be sure to include a call-to-action and Collect Potential email ids.
Step:7 Promotions of the brand
If you are selling online then promotions for the brand is inevitable. People first need to know what your brand is all about and then only will there be advancements from their side to visit your website and purchase.
You need to hire a proper SEO expert who shall help you in getting traffic to the website. Keyword targeting and blog posts will help in bringing in traffic and also engaging the people in your website.
You need to promote the business to the highest extent so that people can have you in their "brand recall" memory within a short span of time.
Use your social media accounts wisely for communicating with clients. Properly reply to all the queries that are raised by the people online, your professional conduct and behavior will surely impress people and bring them right on your online furniture store's homepage!
Get a list of email IDs where you can send promotional emails and offers so that they can directly come to the website by following the link attached in the email. There are various options of paid advertisements over the internet, use them wisely to get traffic flowing into your website.
#BonusTip: Social media is booming. Everyone is on Social media. Not only is your blog page a perfect platform for this, but using your social media to educate customers about your products and fans is a great idea as well. You can share stories of your Products on pinterest also.
Step:8 Third party selling
If you wish to skip these steps and just sell your products online then you can register as a seller on any of the leading eCommerce websites such as Flipkart, Amazon or Pepperfry.
You can sell your product there to a wide consumer base, you need to pay a share of the profits that you make to them. As simple as that folks!
Only one percent of the entire furniture business is currently online and hence the market is wide open for you to conquer!
Have patience and work hard to establish your online furniture store. Once it gets going, there is no looking back and you can make a huge fortune out of it! Good luck for your endeavor!
Similar Posts:
Was this article helpful?
Business, marketing, and blogging – these three words describe me the best. I am the founder of Burban Branding and Media, and a self-taught marketer with 10 years of experience. My passion lies in helping startups enhance their business through marketing, HR, leadership, and finance. I am on a mission to assist businesses in achieving their goals.