Most of people nowadays are inclined towards starting their own businesses, and why not? It is so much better than having to work around your boss or your other bossy employees. If you are a shoe lover, and you have decided to start your business, this is the best time to do so.
However, you might need a little advice from the people who are already in this line. But again, why would someone who is already in the shoe business give you the perfect advice? After all, you are a competitor to him, and you are planning to become successful.
However, you do not need to worry, as you will come across a list of important tips that you can consider before you start your own Online Shoe business.
Steps To Start An Shoe Store Perfectly
Step:1 Deciding a Budget
It is practically impossible to move forward without deciding a budget. When you outline a proper budget, you get a clear idea of how you are going to set the other things up.
For example, you need money for purchasing the shoes if you decide to sell the branded shoes. You need money if you decide to design your shoes and create a brand for yourself.
You need money for your own website or marketing the products. When you have a clear budget in hand, the entire business process will go smoothly.
Step:2 Deciding the Niche
Yes, shoes have niches as well. You need to decide the kind of shoes that you want to sell. You also have to understand if you are going to deal with the shoes of both genders or concentrate on only one gender.
This is will help you to go forward with your business. If you are interested in selling everything, it might not be good for business. Therefore, experts always suggest going for a particular niche.
Step:3 Create a Brand Name
How can you miss creating a name for your unique shoe brand? After all, this is going to be the sole identity of your business.
Choose an inviting name, so that the customers are automatically drawn towards your business, and they can clearly understand from the name, what the business is about.
Step:4 Create a Logo
Before designing your shoes, you need to create a logo for your online shoe business. In the long run, people should be able to identify you with the help of the logo.
Right from the start, the logo should be beautiful, and you should keep in mind that you cannot keep changing the logo, or your customers will be confused, and they will have difficulty in identifying your brand.
Step:5 Designing the Shoes
It is important to conduct thorough research on the trending shoe styles and designs that are being preferred by people. On basis of those designs, you have to select a few unique ones.
Ensure that your designs have not been copied from the designs of any other website, because if your customers find this out, they will never come back to your website.
If you want to launch the business successfully, the designs should not only be unique but they should be attractive enough to attract the attention of the potential customers. If your designs are amazing, you will start gaining customers and will be a part of this competition.
If you do not have an idea as to how you will design the shoes, it is best to hire the local designers, who are not only good at their work but will also charge nominally.
If you have a high budget, you can opt for professional designers as well. If your budget is extremely tight, hire freelancers who will be ready to work at affordable rates. However, before you hire a designer, check the records or portfolio of their work.
Step:6 Validating Designs
After a few designs have been assembled by your designer and you, you need to ask for validation from a few people who will give honest opinions about the designs.
While you might think that a design is perfect, someone else can come up with a useful suggestion that will make the design even more beautiful. These suggestions can be significant for your business in the long run.
If you have a tough time deciding the designs, you can always post them on the social media forums. In this way, you will get plenty of useful pieces of advice from experts and your potential customers.
However, when you are putting up the designs, remember to watermark them, so that other aspiring online shoe businesses do not steal them.
Step:7 Quality
You cannot just focus on the designs of the shoes, though it is an important factor. You have to take care of the quality of the shoes as well.
If customers purchase shoes from you and they see that with the arrival of the first monsoon, the shoe soles are out, they will never purchase from you. All the more, they will suggest others to stop purchasing from you. This can be bad for your business.
Try to give the best quality for your shoes so that they last for at least two or three years. This is the normal time in which a person decides to purchase the next pair of shoes, and they will not care if the quality of the present pair of shoes is wearing out.
Therefore, it is crucial to concentrate on the quality of the shoes as much as you are concentrating on designing them.
Step:8 Setting the Price
Once your shoes are ready, you have to sit and set the price of the shoes. Ensure that the prices that you are deciding are not abnormal, or your customers will leave your site, even without making a purchase.
Keep various price ranges for the different designs, so that the customers can shop according to their budgets.
Step:9 Starting the Website
It is obvious that if your business is online, you have to start your own website. Make sure that you have enough budget to hire website designers because you will not be able to create and design the website in an appealing manner.
Your website should be interesting, as it is the first step to depict how your shoes will be.
When customers visit your website and find it interesting, they will automatically show an interest in purchasing your shoes.
Step:10 Launching Your Business
It is best to launch your business on the various e-commerce stores, as most of your potential customers are visiting these stores on a regular basis.
You can also start selling your products on Flipkart, Amazon, eBay, and other sites at discounted rates. This will not only help you to get customers, but they will also visit your website to make future purchases.
Step:11 Market the Products
It is not advisable to use the traditional methods of advertising just when you have started and launched your business, especially if your budget is tight. No other place can be better for advertising your business other than social media.
Use your social media accounts to post pictures of your products, offer discounts, and start contests. With time, you will see the number of customers increasing rapidly.
Step:12 Delivering Products Safely
You cannot ignore this part of your business as well. Tie up with the reputed courier services and ensure that they deliver your products with care. Also take care that the delivery is not too late, or this may have a bad impression on your business.
Starting a business can be hectic, but with the right steps being considered, you will be able to overcome this hectic process as well. If you follow all the steps that are mentioned above in a diligent manner, even the strong competitors in the market will not be able to scare you.
And with time, you will see your business reaching heights of success.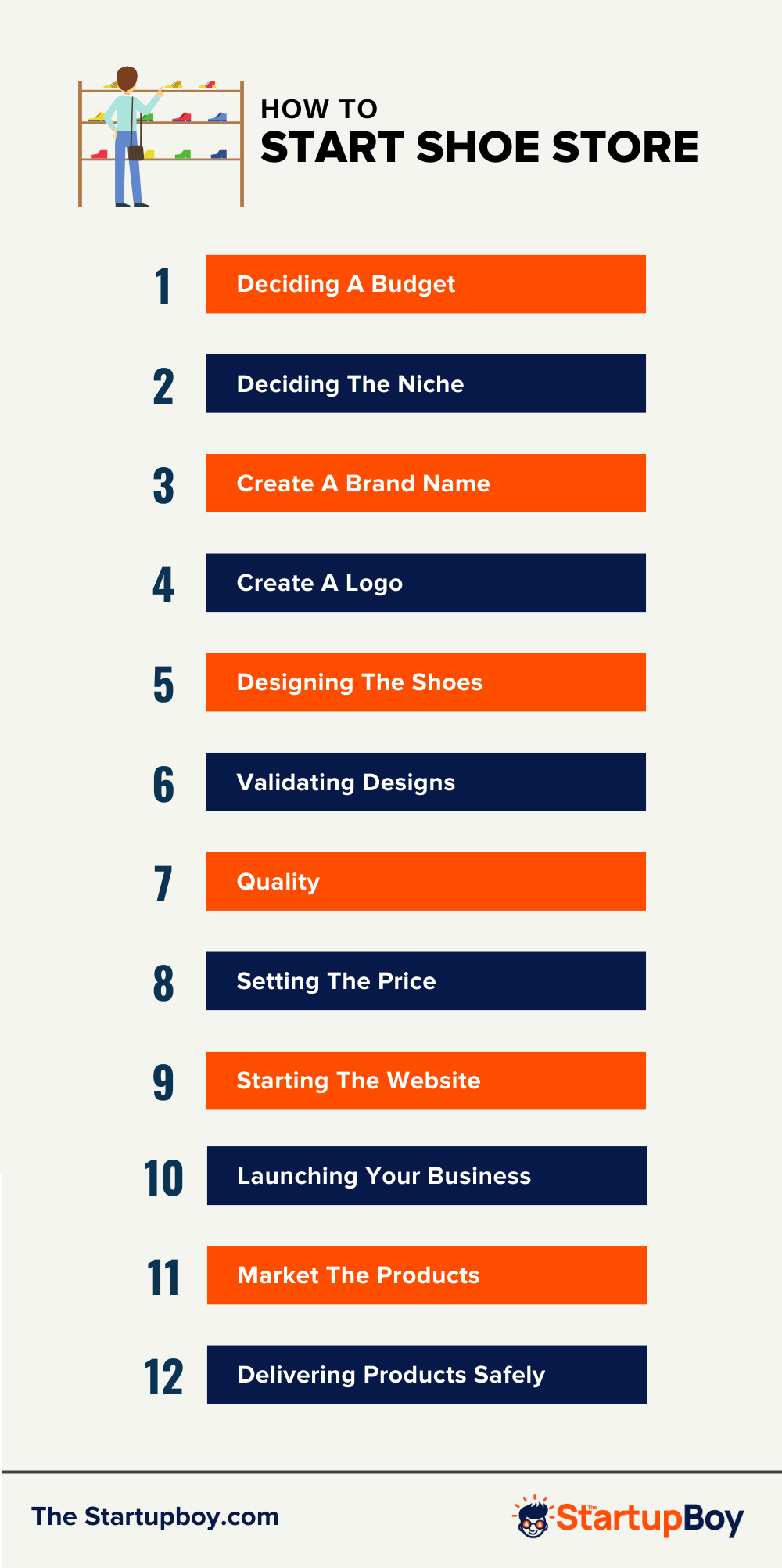 Similar Posts:
Was this article helpful?
Business, marketing, and blogging – these three words describe me the best. I am the founder of Burban Branding and Media, and a self-taught marketer with 10 years of experience. My passion lies in helping startups enhance their business through marketing, HR, leadership, and finance. I am on a mission to assist businesses in achieving their goals.