Starting a business in Michigan can be a challenging and exciting journey. Michigan is known for its strong economy and diverse industries, making it an attractive destination for entrepreneurs.
This article will discuss the steps you need to take to start a successful business in Michigan.
Why Start A Business in Michigan?
Michigan's thriving economy had a gross domestic product (GDP) of $595.3 billion in 2019 (U.S. Bureau of Economic Analysis, 2020). The state is known for its robust automotive industry, agriculture, and technology sectors.
Michigan is also known for its highly skilled workforce and supportive business environment, making it an ideal place to start a business.
The Michigan Economy
Various industries, including manufacturing, agriculture, and technology, drive the Michigan economy.
The automotive industry significantly contributes to the state's economy, with companies such as General Motors, Ford, and Chrysler having a significant presence there.
The technology sector is also growing in Michigan, with companies like Google, Microsoft, and Amazon investing in the state.
Types Of Businesses in Michigan
① Automotive repair and service businesses (Check businesses)
② Technology startups (top startups)
③ Manufacturing companies (here is the list)
④ Agricultural businesses (Check out)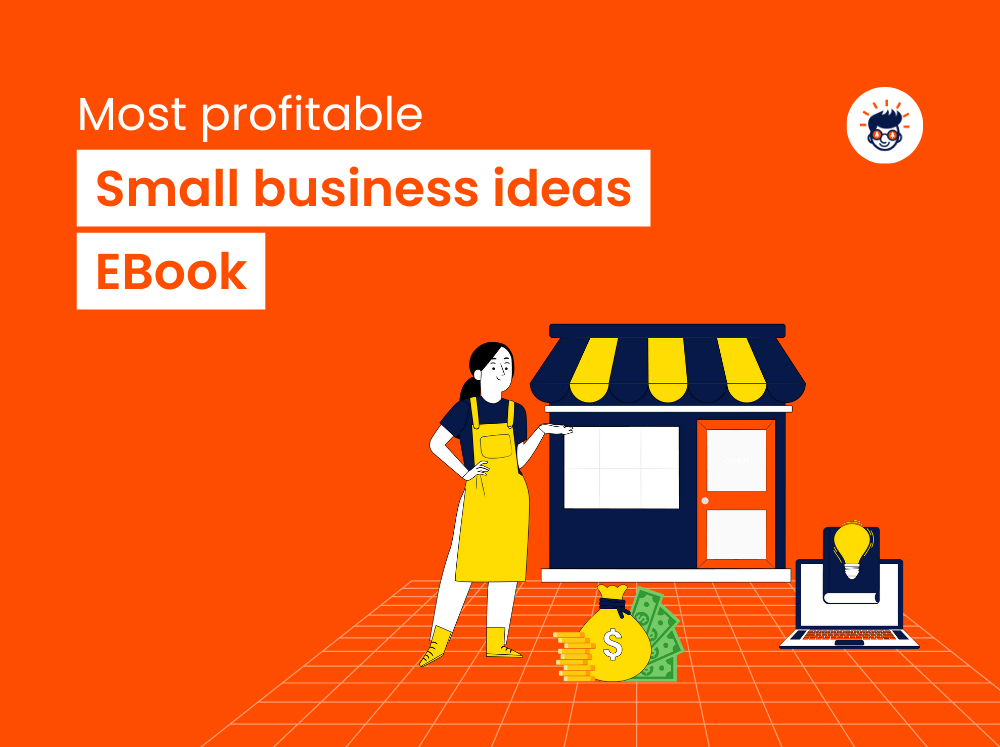 Unlock the Secret to Profitable Small Businesses with Our Free EBook – Download Now and Start Your Entrepreneurial Journey
Pros And Cons Of Doing Business in Michigan
Pros
---
☑ Highly skilled workforce in engineering, manufacturing, and technology
☑ Access to the Great Lakes waterway and ports for international shipping
☑ Low cost of living and affordable real estate prices
☑ Strong business infrastructure and support networks
☑ Robust transportation and logistics network
☑ Competitive incentives for businesses
☑ Diverse economy with a mix of industries
Cons
---
☒ Harsh winter weather can impact logistics
☒ High state taxes and regulations
☒ Limited access to venture capital and startup funding
☒ Economic growth can be slower than in other states
☒ Heavy reliance on the auto industry
☒ High crime rates in some urban areas
☒ Limited diversity in population and workforce
1. How To Start A Business In Michigan
1.1 Understanding Business Requirements
The very first step in starting a business in Michigan is understanding the legal requirements and regulations that apply to your business.
This includes obtaining all the necessary licenses and also permits, registering your business, and paying taxes.
1.2 Business License And Permits
Before starting your business in Michigan, you must obtain the necessary licenses and permits. These may include a business license, a tax registration certificate, and any permits required for your specific business type.
You can obtain the necessary licenses and permits from the main Michigan Department of Licensing and Regulatory Affairs.
Taxes in Michigan
In Michigan, businesses must pay taxes on both the state and federal levels. This includes sales tax, corporate income tax, and unemployment tax.
The main Michigan Department of Treasury is responsible for collecting taxes and can provide you with information on tax obligations and payment requirements.
1.3 Registering Your Business
Once you have also obtained the necessary licenses and permits, you must register your business with the Michigan Secretary of State.
This will establish your business as a legal entity and allow you to operate in the state. You can register your business online or by mail, typically taking a few weeks to complete.
1.4 Finding the Right Location
1.4.1 Choosing a Location in Michigan
Choosing the current right location for your business is critical in starting a business in Michigan.
Consider factors such as proximity to customers, accessibility for employees, and availability of resources such as suppliers, utilities, and transportation. It is also essential to consider the economic environment of the area and the competition you will be facing.
1.4.2 Leasing vs. Owning Commercial Space
When choosing a good location for your business, you must decide whether to lease or own commercial space. Leasing commercial space is a good option for entrepreneurs starting, as it allows for more flexibility and lower upfront costs.
However, owning commercial space can provide long-term stability and may be a better option for businesses that have been established for some time.
1.4.3 Factors To Consider When Choosing A Location
When choosing a location for your business, it is essential to consider various factors, including accessibility, cost, and competition. Accessibility is essential for employees and customers, ensuring your business is easily accessible.
Cost is also critical, as it will impact your bottom line and the money you will need to start your business.
Finally, it is essential to consider the competition you will face in the area, as this will impact your ability to attract customers and grow your business.
1.5 Create Your Business Plan
A business plan is essential for several reasons. First, it helps you determine the feasibility of your business idea and ensures that you have thought through all the essential aspects of starting a business.
A business plan is a comprehensive guide that outlines your business idea, including your target market, competition, marketing strategies, and financial projections.
It also includes a description of your management team and their responsibilities. The business plan should be written in a clear, concise manner and should be updated regularly as your business grows and evolves.
Discover top-notch tools to craft the ultimate business plan and skyrocket your success.
1.6 Financing Your Business
Once you have developed your business plan, the next step is to secure funding for your business. This can come from various sources, including government grants, loans, and investments from friends and family.
Types of Business Financing
➢ Government grants
➢ Loans from banks or other lending institutions
➢ Investment from friends and family
➢ Crowdfunding
➢ Angel investment
➢ Venture Capital Government Grants for Michigan Businesses
Starting a business can be expensive, and many entrepreneurs struggle to find the funds they need to get their businesses. Fortunately, Michigan offers a variety of government grants to help entrepreneurs start and also grow their businesses.
These grants can be used for various purposes, such as research and development, product development, market development, and capital expenditures.
To learn more about government grants for Michigan businesses, visit the Michigan Economic Development Corporation's website.
1.6.1 Banking And Loan Options
When starting a business, it is essential to have a solid financial plan in place. This includes obtaining the necessary funds to start your business and planning how you will repay any loans you take out.
Several banking and loan options are available to entrepreneurs in Michigan, including conventional bank loans, SBA loans, and microloans. To find the best loan option for your business, it is recommended that you meet with a financial advisor to discuss your options.
1.6.2 Finding Funding for Your Business
Once you have found the right location for your business, you must find funding to get your business off the ground.
Many different funding options are available for Michigan businesses, including loans, grants, and equity investments.
Loans are a common form of funding for small businesses in Michigan. Many different loan programs are available, including SBA loans, microloans, and local bank loans.
SBA loans are government-guaranteed loans that offer small businesses favorable terms and interest rates.
Microloans are smaller loans specifically designed for small businesses, while local bank loans are available from local banks and credit unions.
Grants are another option for Michigan businesses, especially those in the arts, education, or technology sectors. There are many different grants available, including state and federal grants, as well as private foundation grants.
Equity investments are also a possibility for Michigan businesses. This involves selling a portion of your business to investors in exchange for funding. This is often a good option for businesses with a main proven track record of success and looking to expand.
1.7 Organizing Your Business
Organizing your business is crucial to its success. Some steps you can take to organize your business include:
➟ Establishing a solid organizational structure: Create a clear hierarchy and delegate responsibilities to employees to ensure your business runs smoothly.
➟ Keeping accurate records: Keep accurate records of your finances, inventory, and customer information to ensure you have the necessary information to make informed decisions.
➟ Streamlining processes: Implement processes that will help you save time and increase efficiency, such as automating specific tasks or using technology to manage your business.
1.7.1 Business Management Techniques
It would help to implement various business management techniques to manage your business effectively. These may include:
◾ Defining your business strategy: Develop a clear plan for your business that outlines your goals and objectives, target market, and strategies for reaching those goals.
◾ Implementing a marketing strategy: Establish a marketing strategy to help you reach your target market and effectively promote your business.
◾ Building a solid team: Hire the right employees and build a strong team to support your business and help it grow.
1.7.2 Time Management for Business Owners
Time management is essential for business owners, as it can help them stay on top of their responsibilities and ensure their business runs smoothly. Some time management techniques you can implement include:
● Prioritizing tasks: Determine which tasks are most important and focus on those first to ensure that your business stays on track.
● Scheduling your time: Create a schedule to allocate time effectively and prioritize important tasks.
● Delegating tasks: Delegate tasks to employees or outsource specific tasks to save time and increase efficiency.

1.8 Hiring Employees
1.8.2 Employee Requirements in Michigan
When starting a business in Michigan, it is essential to understand the employee requirements in the state. This includes understanding the minimum wage, tax laws, and other regulations that govern the employment of employees in Michigan.
To learn more about Michigan employee requirements, visit the Michigan Department of Labor and also Economic Opportunity's website. Finding the Right Location
Finding the right location is one of the first steps in starting a business in Michigan. Michigan has many different cities and towns, each with unique business opportunities and challenges.
You will want to choose a location that is right for your business, considering factors such as access to customers, suppliers, and partners and access to the workforce.
Some of Michigan's current most popular cities for starting a business include Detroit, Grand Rapids, Ann Arbor, and Lansing.
Detroit is known for its thriving automotive industry and is home to many large corporations and small businesses. Grand Rapids is a growing city with a thriving arts and culture scene, making it a great place to start a creative or cultural business.
Ann Arbor is a vibrant college town with a thriving startup scene, making it an excellent place for technology and innovation businesses.
Lansing is the state capital and home to a thriving government and lobbying sector, making it an excellent place for businesses in the government and lobbying industries.
1.9 Growing Your Business
Once your business is up and also running, you should focus on growing it and reaching new heights. This involves expanding your business in Michigan, implementing strategies for growth, and taking your business to the next level.
1.9.1 Strategies For Business Growth
Once you have established your business and created a solid business plan, it's time to focus on growth. There are several strategies you can implement to grow your business, including:
✅ Expanding your product line: Offer new products or services that complement your existing offerings.
✅ Entering new markets: Expand into new geographic markets or target new customer segments.
✅ Acquiring new customers: Utilize targeted marketing efforts to attract new customers.
✅ Increasing customer loyalty: Offer exceptional customer service and rewards to encourage repeat business.
1.9.2 Taking Your Business to the Next Level
As your business grows, it's essential to take it to the next level. Consider the following strategies:
⇨ Investing in technology: Adopting new technologies can help streamline operations and improve customer satisfaction.
⇨ Expanding your team: Hiring additional staff can help you manage growth and continue to provide excellent customer service.
⇨ Diversifying your revenue streams: Consider expanding into new product lines or entering new markets to reduce reliance on a single product or service.
1.9.3 Expanding Your Business In Michigan
Expanding your business in Michigan is a great way to reach new customers and increase your revenue. Some steps you can take to expand your business in Michigan include:
◾ Exploring new markets: Consider expanding into new markets in Michigan or other states to reach new customers.
◾ Offering new products or services: Offer new products or services to reach new customers and increase your revenue.
◾ Utilizing technology: Utilize technology, such as e-commerce or online marketing, to reach new customers and grow your business.
◾ Executive Summary: This current section provides a brief overview of your business, including your mission statement, target market, and the products or services you plan to offer. You will also research industry trends and identify potential market opportunities.
◾ Marketing and Sales Strategies: In this section, you will outline your marketing and sales strategies, including pricing and promotional efforts.
◾ Operations Plan: In this section, you will outline your operational procedures, including supply chain management, customer service, and staffing plans.
◾ Financial Projections: In this section, you will present your financial projections, including your projected revenue, expenses, and profits.
Resources For Michigan Business Owners
Starting a business in Michigan can be easier with the support of resources and organizations dedicated to helping entrepreneurs. Following are some of the top resources available to Michigan business owners:
➤ Michigan Economic Development Corporation: This includes funding, technical assistance, and access to business networks and resources.
➤ Michigan Small Business Development Center: They offer one-on-one counseling, training workshops, and access to funding and other resources.
➤ Michigan Chamber of Commerce: The Michigan Chamber of Commerce is a statewide organization that provides support and resources to businesses of all sizes. They offer access to networking opportunities, advocacy on behalf of businesses, and access to funding and other resources.
Examples Of Startups In Michigan
Michigan is home to a thriving startup community that offers plenty of examples of innovative and successful businesses. Here are a very few of the most notable startups that have been making waves in the state:
This cybersecurity firm was founded in 2010 and quickly grew into one of the most well-respected companies in its industry.
With its headquarters in Ann Arbor, Duo Security offers various services that help businesses protect their sensitive information from cyber threats.
This online marketplace, founded in 2016, is known for its innovative approach to selling sneakers and other limited-edition items.
The company, based in Detroit, has quickly become one of the most popular platforms for sneaker enthusiasts and collectors. It has received significant investment from several high-profile investors.
This electric vehicle manufacturer, founded in 2009, is currently developing a range of high-performance electric vehicles.
With its headquarters in Plymouth, Rivian is focused on building environmentally friendly and fun vehicles, and it has attracted a great deal of attention from investors and car enthusiasts alike.
This autonomous vehicle startup, founded in 2017, is working to revolutionize how people travel.
With its headquarters in Ann Arbor, May Mobility is focused on creating a fleet of self-driving vehicles that can be used for everything from ride-sharing to delivery services.
This online marketplace, founded in 2013, is designed to help manufacturers find suitable suppliers for their projects.
With its headquarters in Ann Arbor, Xometry connects manufacturers with suppliers who can provide the materials and services they need.
It has also quickly become one of the most popular platforms for sourcing in the manufacturing industry.
These are just a very few of the many examples of startups that are thriving in Michigan. Whether focused on cybersecurity, electric vehicles, autonomous vehicles, or online marketplaces, these companies are all working to create innovative solutions that will help shape the future.
Some Businesses To Start In Michigan:
List of Some lucrative Business ideas which you can start in Michigan today.

? Food truck or catering service
? Eco-friendly products or services
? Tourism-related business
? E-commerce store
? Health and wellness services
? Tech startup
? Agricultural business
? Automotive aftermarket services
? Renewable energy solutions
Conclusion
In conclusion, starting a business in Michigan requires careful planning and execution. By taking advantage of Michigan's supportive business environment and resources available to entrepreneurs, you can increase your chances of success.
With a clear vision, determination, and a commitment to hard work, anyone can start and grow a successful business in Michigan.
Frequently Asked Questions (FAQs)
What kind of business can I start in Michigan?
In Michigan, you can legally form any business entity you like, from a sole proprietorship to a very limited liability company to a corporation or a nonprofit.
What are the main legal requirements for starting a business in Michigan?
To start a business in Michigan, you need to obtain a business license, register for taxes, and obtain any necessary permits and licenses for your type of business.
Can I legally open a business in Michigan without a formal business plan? 
While a business plan is not a legal requirement, it is highly recommended as it provides a roadmap for the main success of your business.
What resources are available to help me start a business in Michigan?
The Michigan Small Business Development Center and the Michigan Economic Development Corporation assist with business planning, funding, and other resources to help start and grow a business in Michigan.
What tax implications should I consider when starting a business in Michigan?
You'll have to set yourself up for sales, property, and income taxes at the state and local levels. If you want to ensure you follow all the rules, it's best to go to a tax expert.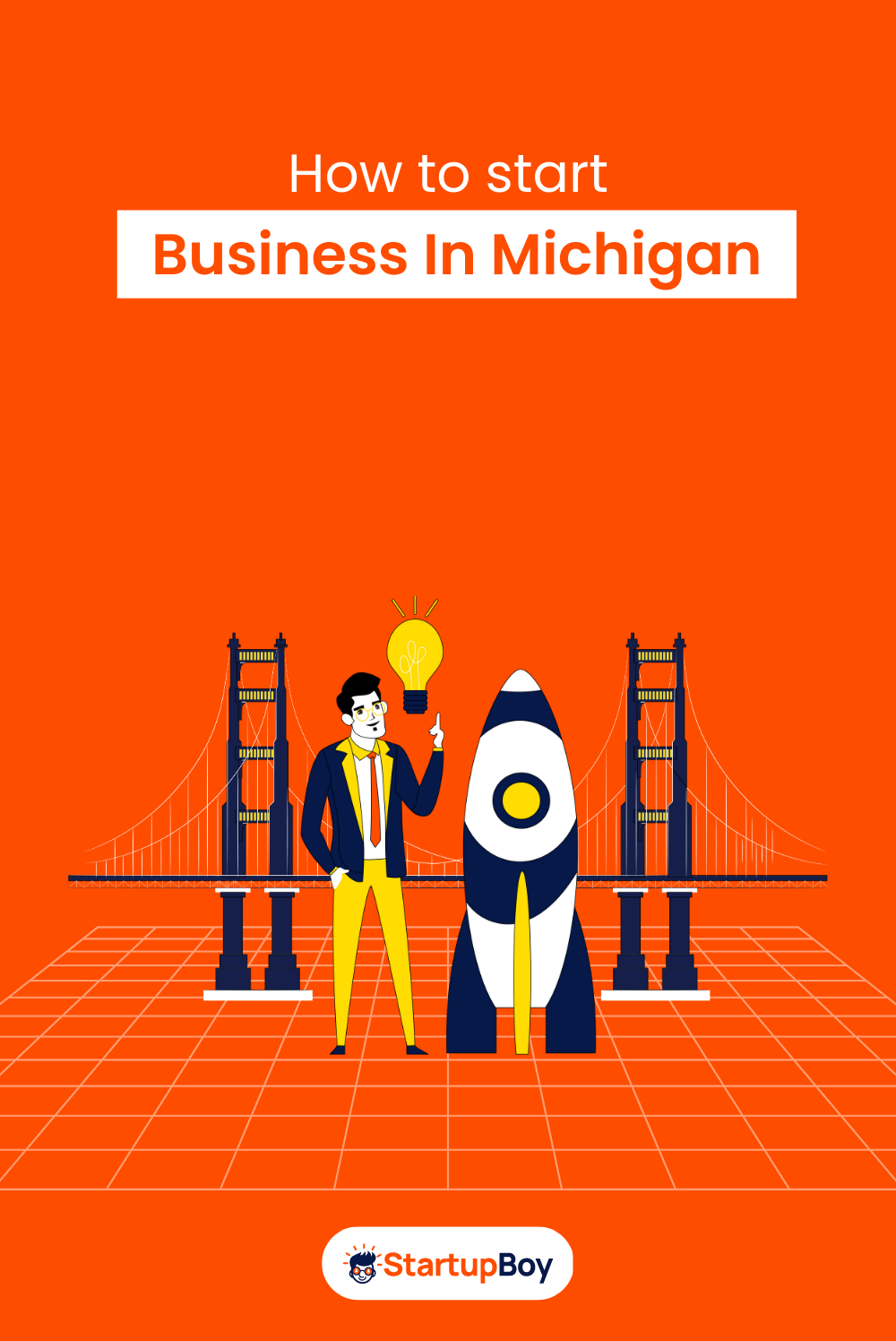 Similar Posts:
Was this article helpful?
Business, marketing, and blogging – these three words describe me the best. I am the founder of Burban Branding and Media, and a self-taught marketer with 10 years of experience. My passion lies in helping startups enhance their business through marketing, HR, leadership, and finance. I am on a mission to assist businesses in achieving their goals.