If you like hosting parties for your family and friends, staying updated on food trends, and having an entrepreneurial spirit, you should consider starting a catering business from home.
You can start small with relatively low overhead costs and build your business as you start gaining more clients.
Steps To Start A Catering Business Perfectly
Research
The first step in launching a catering business is to research the marketplace and check out who else is offering catering services in your area.
You should check out your competitors' menus, list of services, prices, and customers. Also, visit their websites to find out their unique selling benefits.
Successful caterers sell food and convenience, affordability, unique menus, corporate style, and white-glove service.
People who buy catering can get food from a variety of local providers; they usually look for a benefit when they are shopping, and your catering business should offer them that benefit.
If you are looking to offer in-home catering services for private parties, then you should ask your friends and do a short survey.
Take their opinion on catering services, ask them the reason why they hired certain caterers, what they liked about the providers, and what they are looking for when they will hire the next caterer.
Choose your Catering Niche
You need to fix your catering niche before you start. Think about the food you like to make; catering, like any other business, it should be rooted in genuine interest and passion.
You can focus on different types of food as you develop your catering business. You can focus on making lunch or brunch-style food like sandwiches, quiches, tarts, salads, and other food that is generally served during the day.
You can also focus on the wedding reception or special event meals, dessert-only services, and appetizers and cocktails.
Clients are increasingly hiring caterers to create a trendy, festive atmosphere by serving only appetizers, sometimes accompanied by caterer-prepared specialty cocktails.
Create a Menu
Create a menu to figure out how much kitchen space you'll need, what appliances you should install, and the profit you can make from the business.
Try to have a variety of items on your menu to suit different tastes.
Even if you are specializing in one type of meal or cuisine, make sure that your menu appeals to a lot of tastes. Consider offering vegetarian food for clients who don't eat non-veg items.
Try keeping your menu to a manageable size, like the food you are comfortable cooking should be made with ingredients that you can easily source.
Test the Dishes
After settling on a menu, have a party with family and friends to test your dishes. You should do this before launching the business, as this will help you in getting honest feedback on your food and other catering services.
Make changes to your dishes until you are convinced that they are delicious and popular among the crowd.
Practice until you get perfection, and make sure that you know the techniques, cooking times, and how to present your services before you launch the business.
Secure your Space and Supplies
Laws in most of states won't allow you to operate a catering business from a home kitchen. Find out an ideal space to rent for operating your catering business.
You should operate from a commercial kitchen. When you start expanding the business, find a permanent space with a cooking and storage facility.
Base your equipment purchases on your menu; if most of the items on your menu are baked, you should install at least two ovens on the other hand, if you are having a lot of fried food, buy more than one fryer.
Install multiple sinks to make your work more efficient; this becomes more important when you are hiring people. Buy all the pots, pans, and other kitchen equipment that you will need to prepare items on your menu.
You also need to buy plates, silverware, glassware, special display trays, and other utensils. You should buy these items in bulk from a wholesaler so that you get them at a cheap rate.
Buy a Vehicle for Transporting Food
Buy a vehicle like a van to supply the food and other equipment to your clients' sites. The vehicle should have plenty of space for the storage of food, linens, and tableware.
You can buy one vehicle to start with and decide to buy more when your business expands.
Hiring Staff
Decide the kind of staff you will need to help you with food preparation, delivery, and service. You can also opt for a temporary agency in the beginning until you build up your business.
Also, decide the type of uniform that you want your serving staff to wear. Train your employees to provide the type of service you want to offer to your clients.
It would be a better option to hire experienced and trained staff who have attended a course on catering services or worked for any other catering company earlier.
They should know all the techniques and manners related to catering services, especially if you are providing services to corporate clients.
Marketize your Business
You should marketize your business to make it popular among people. Spend money on posting ads in local newspapers even before you plan to launch.
You can also conduct mobile tasting events to get the word out about your business. You should send your business information to wedding sites and ask popular local wedding venues to refer potential clients to you.
Word of mouth is one of the best ways to marketize new catering businesses. Also, promote your business on popular social media websites and create a website to increase your web presence and reach out to the online crowd.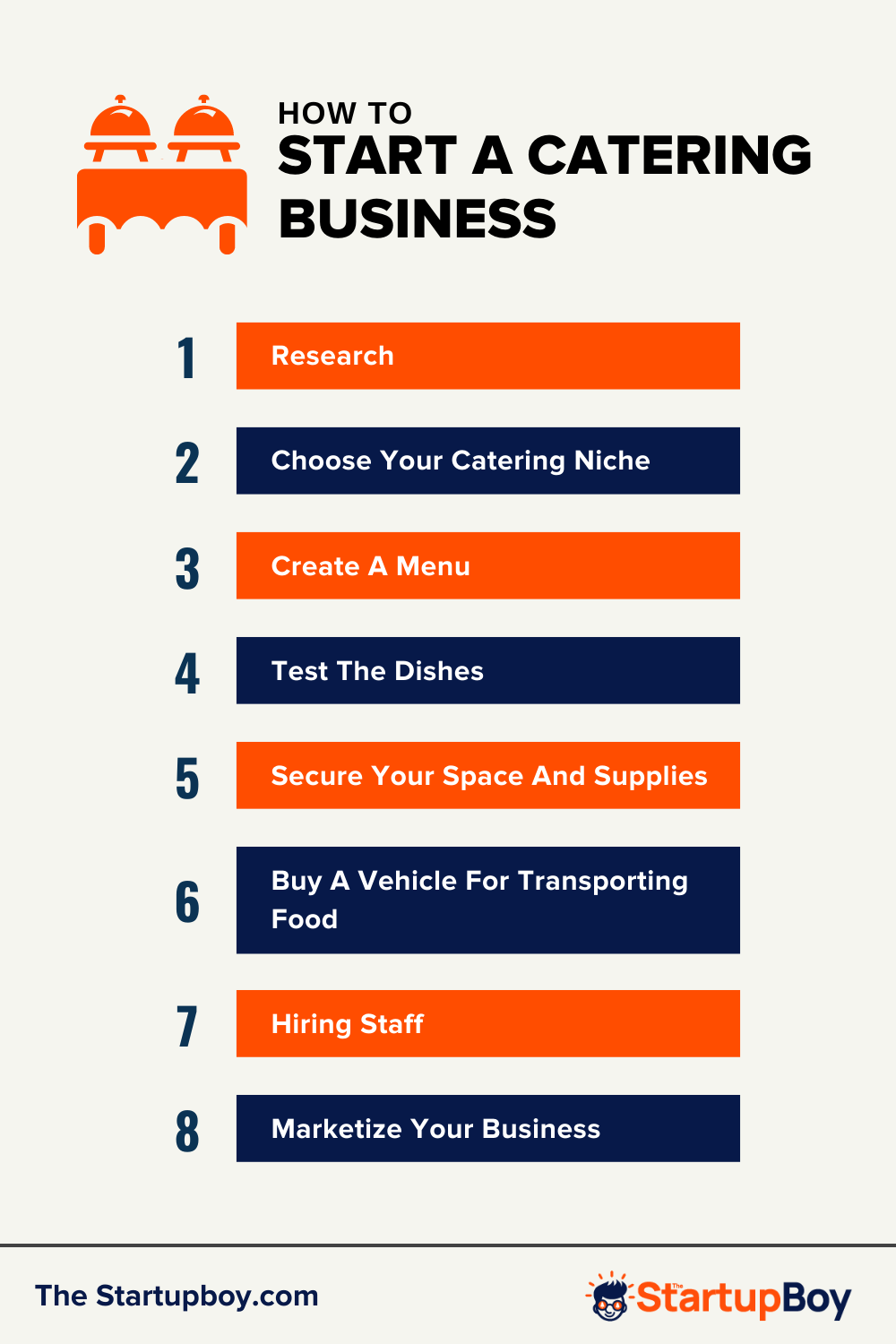 Similar Posts:
Was this article helpful?
Business, marketing, and blogging – these three words describe me the best. I am the founder of Burban Branding and Media, and a self-taught marketer with 10 years of experience. My passion lies in helping startups enhance their business through marketing, HR, leadership, and finance. I am on a mission to assist businesses in achieving their goals.