Love eating chocolates? Well, who doesn't? Why not turn it into an exciting way of making money? Starting a chocolate store online can eventually turn into one of the biggest ventures of making money.
Imagine selling chocolates online and imagine waking up every morning and running to the office. Which one would you prefer?
The answer is obvious. Most individuals are leaving their regular jobs only to start their own businesses. Though it might look very easy, the truth is, it is more difficult than you can imagine. Even when you are starting a chocolate store, you will face a huge competition.
This is why you need a proper plan before you start your online chocolate store. Listed below are few of the tips that you can consider before starting your business.
Steps To Start A Chocolate Store Perfectly
Deciding the Budget
You need to understand that the business venture that you have decided to undertake involves a lot of money.
Whether you are purchasing chocolates from reputed companies or you are making your own home-made chocolates, you will need to spend quite a good amount of money.
Apart from that, you will also need to have excess for creating your website, registering for a domain name, and most importantly, marketing your business.
This is why a proper budgeting plan is the first and most important step in starting the business.
Carrying Out a Research on the Market
You have to carry out research on the market that you have decided to operate in. You need to do this to understand the competition that you might face from all the businesses that have already established themselves.
You need to know the kinds of chocolates that the competitors are selling and the methods of marketing that they are using for growing their business.
Once you have gathered all the information, you need to sit and think as to what unique things you must do to be one step ahead in this highly competitive market.
Creating a Website
It is mandatory to create a website if you are selling your products online. You can hire website designers to design your website in an appealing and alluring manner.
Your website should include a story as to why you decided to start this unique business of selling chocolates online.
Apart from that, it should have a clear bio about you. Do not forget to mention your contact details because there are many people out there who are hoping to place bulk orders for any kids' party in their homes.
Your contact details will permit them to contact you directly and place orders.
Deciding a Name for Your Business
Well, your business is all about chocolates, so the name has to be exciting and delicious.
Do not go for any boring name, rather select a name that will arouse the interest of the target customers, even before they decide to buy chocolates from you.
The name should clearly depict that you are selling chocolates and nothing else.
Creating a Logo
This another important aspect of your business. The logo is the most unique thing that allows your customers to identify your brand.
All the big chocolate brands have their unique logos and they are nowhere close to the logos of the competitors.
Your logo should also be amazing and it should allow your customers to identify that it is you, whenever they see you on any social media page or any particular post.
Forming Legal Entity
When you establish legal business entities, it helps in protecting you from being liable, especially if there are any chances of the chocolate business being sued.
Registering for Taxes
It does not matter if your business is online or offline. You have to register for a number of federal and state taxes so that you do not face any complications related to taxes when your business is performing greatly.
Opening a Bank Account for Your Business
When you start receiving orders, it is obvious that customers will have to pay online. It is best to open a bank account, especially for your business.
Do not use your personal account as you will have difficulty in understanding your finances.
Furthermore, a separate account for your business will always be appreciated by your customers and will make you look professional.
Setting Up a Proper Business Accounting
Recording the sources of your income and all the expenses is important especially if you want to have a proper understanding regarding the way your business is performing financially.
It is crucial that you keep detailed and accurate accounts for simplifying the tax filing.
Obtaining All the Necessary Licenses and Permits
It is extremely important that you obtain all the permits and licenses that are required for your business.
Failure to do so may result in huge fines. You might also have to consider shutting your business down if the consequences are severe.
Getting Business Insurance
Insurance is recommended for all business owners, irrespective of whether their business is online or offline. It will keep you protected from all kinds of mishaps that may arise in the future.
Marketing Your Business
Opening an online chocolate store already involves spending a huge amount of money. In this situation, going for traditional methods of advertising your business is not advisable, as you will have to spend a huge amount of money again.
Instead, you can make use of your social media accounts to spread the word regarding your business.
Furthermore, you will get a huge number of customers with the help of social media, and in the long run, you will have more customers than you could have ever imagined.
Deciding the Price
The last and final thing that you have to do is decide the price of the chocolates. Ensure that you are not setting an abnormal range for the chocolates because no one will spend a huge amount of money only to buy chocolates.
Therefore, ensure that the price range is nominal and your customers do not have to think twice before they purchase from you.
When you consider all the tips that are mentioned above before starting your chocolate store, you will not face any difficulty when you are executing them. With time, you will see your business reaching heights of success.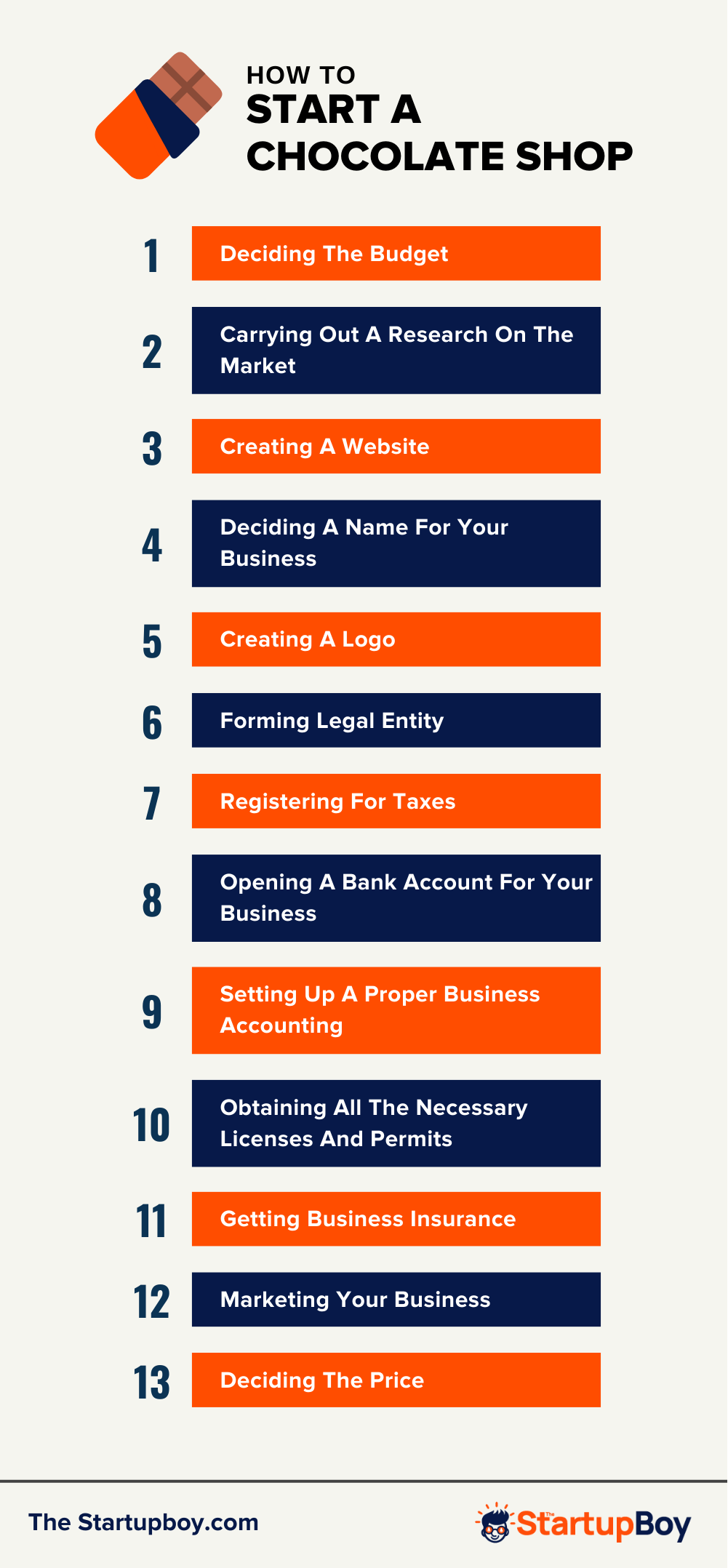 Similar Posts:
Was this article helpful?
Business, marketing, and blogging – these three words describe me the best. I am the founder of Burban Branding and Media, and a self-taught marketer with 10 years of experience. My passion lies in helping startups enhance their business through marketing, HR, leadership, and finance. I am on a mission to assist businesses in achieving their goals.