Is There A Market For Coffee Shop?
This might be the very first question pop into your head. Whether starting a coffee shop a good idea?
Is there even a market for opening another coffee shop today?
So you might think working on the business plan for starting a coffee shop or get into the thinking for the concept might be the first step, to begin with.
Well, it's not!
What you start with is thorough market research considering the location where you intend to open a coffee shop.
You also need to figure out the level of competition, the existing coffee shop business at different levels, and how they are doing?
Here are few steps you go through under the market research :
You will see the overall market potential of opening a coffee shop around the world, and to your respective location.
You assess the coffee business market and how well it is doing for the last few years.
Find out your competition in the existing market where you potentially going to breakthrough.
Investigate small and larger enterprises in the coffee hospitality business, and their profits, expansions, and status in your city.
What kind of services do coffee shops are offering?
What better you have to offer, and where you can detect the current issue?
And much more,
Step-By-Step Guide To Open A Coffee Shop
There might be numerous queries bouncing to your head regarding understanding the coffee shop market, and all of them will be worth pursuing.
The more you know and be aware of the current market, demands, trends, successes, and failures, the more chances there will be of you taking better decisions.
Step 1: Are Your Sure About Opening A Coffee Shop?
We know this might sound rhetorical or counterintuitive! You are definitely eager to start a coffee shop, if not extremely thrilled with the idea.
However, being realistic and honest with yourself is critical before taking a huge step towards this.
It sure a worthwhile experience to serve great coffee, offer a community to blossom, earning fat checks and
Step 2: Conduct a Market Research & Competition Analysis
Market research and competition analysis is technically the first step you should take towards starting your own coffee shop.
Your initial goal should be to familiarize yourself with this new market and the respective industry.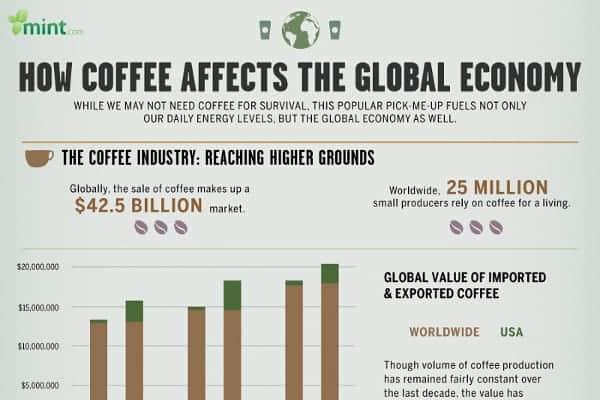 Also, analyze the competition in the industry and doorways to breakthrough.
If you look at the coffee shop industry at large, as per the global forecast of coffee shops from Business Wire ( 2019-2025), it is expanding exponentially.
To be precise, the reports say, the market trajectory is to grow by $58.9 billion in just the next few years only to reach over $143.4 billion by 2025.
The coffee shop industry is going to witness a global expansion where the United States only be seeing a 4.2% annual growth.
So, at least with these numbers, you can confidently step into the market for a great future ahead in this business.
Also, you know that people are not going to anytime soon be satisfied with the existing variety, brand, and availability of the coffee shops.
There is always more to look for, as at the hand, for coffee enthusiasts and even for the general public.
Step 3: Collecting Your Personal Finances & Funds
One of the most early steps to starting a business, is to ensure your finances and funds are in order.
You are the first person to fund your business. Lot of successful businesses or brands you see today, started from self-funding.
However, it is also needed to be assured that the business shouldn't put you, your friends or family at risk in terms of personal or financial livelihood.
So, self-funding doesn't mean to sell your family home or mortgaging your family property.
The idea is to collect enough money, so you can create a cash flow for your initial business days.
It should be enough to make sure you will survive as a struggling entrepreneur till your business start taking off.
At least the savings can help you sustain on basic living expenses and feed your family.
Here are some top-of-the-mind tips to remember in this case :
You have to draw a financial line on how much and till when you can personally spend or invest in the business.

You need to determine how much personal debt you can take in or should.

Pre-plan how much investment you require at the starting of the business and then work towards it.

Approach your friends and family who believe in you and can offer some financial help but as an investment.

Deciding the balance between your personal/family expenses and business expenses
Step 5: Research and Learn As Much As Possible About Coffee & Coffee Business
Running a coffee shop requires the ultimate passion for coffee, knowledge in coffee making & serving, business management, sales and marketing.
Surely, you don't have to be expert in everything goes into the process of a successful coffee shop.
But you need to know every aspect of it, and have enough interest and passion for learning.
Also, coffee making is an art where this particular beverage is quite complex and fascinating.
There are more than 1000 flavonoids that affects the coffee taste. Multiple permutation and combinations allows one to customize the taste, texture and quality of a coffee drink.
So there are just too many roasting profiles, blends, flavors, coffee methods and vast culture related to the coffee to learn about.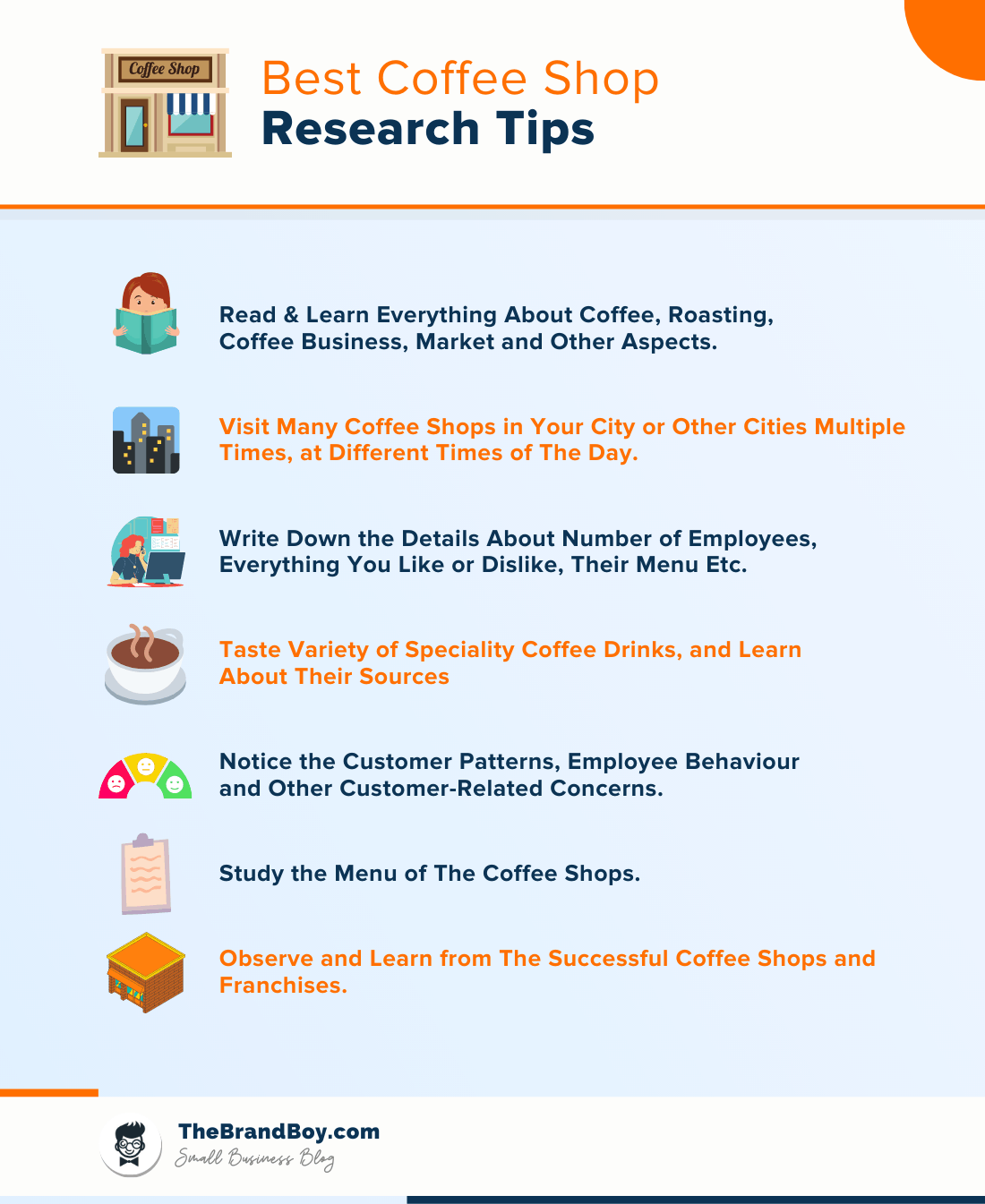 How To Research About Coffee Market?
To really do the justice, and understand what really you need to offer or you want to offer, you have to intake a lot of information.
You have to explore different varieties of coffee and expand your taste palate.
So start learning as much as you can about coffee by reading articles, books and taking seminars, evens and cupping sessions related to coffee.
Learn about roasting process and different origins of the coffee. May be travel to most popular coffee places around the world or your country at least.
Meet skilled and experienced baristas and experts.
Basically, you should do everything to learn the most about this new world you are entering into.
The more you know about coffee, the better you will serving in your own coffee shop. It is as simple as that!
Step 6 : Hire An Accountant At Early Stage
According to business experts, amongst the most smartest decisions a coffee shop owner can make, is to hire an accountant.
And if you do that at the early stage of establishing your business, you are certainly going to make smarter financial decisions.
Also, more likely to invest money where you get the best results, that is higher ROI (Return On Investment).
An accountant will give you back your valuable time that you can spend where you good at rather than crunching numbers.
Financially, you won't be as hard on yourself as you should. So, an accountant can asset certain boundaries and restriction on the transactions and financial flow of the business.
Also, you wouldn't have to make assumption on things where an accountant will be more apt and calculative in his decision.
In other worlds, you can consider your accountant as small business consultant.
Pro Tip: It is important that you find someone who you have trust in, and he or she believe in you. There must be mutual understanding and respect.
Step 7 : Exploring Local Coffee Shops And Coffee Roasters
When you are starting coffee shop, you want to offer the best cup of coffee one can have.
That's what you aspire for when you think of the quality, taste and experience of your servings.
You wouldn't want to offer something mediocre or underwhelming to your customers.
So the best way to assure it to explore the local coffee shops, coffee cafes and coffee roasters in your city.
Your priority must be to learn about coffee roasting process and how coffee cafes are importing their coffee.
They might be roasting their own coffee in-house. So you have see which route will assure maximum quality and beneficial for the business as well.
It will also help you to decide whether to roast your own coffee beans and save significant amount of money in long run or import from top roasters.
Even you decide to buy roasted coffee beans, you need to explore the market and find yourself the high-quality finest roasted coffee beans.
So better start exploring your neighborhood and then the best roasters in your city. Talk to the experts as well as coffee roasters and producers as well.
Pro Tip: The easiest and the best thing you can do is go for the free cupping sessions of local coffee roasters. Ask them the wholesale cost of coffee, talk about the process, and know how they might able to help you if you buy their coffee.
Step 8: Finding An Ideal Location
You have to look at the current successful coffee shops in your area, as well as in your city.
It is important to examine the role of the location in the success of any coffee shops in our locality or city.
If you think of coffee shop as a concept, and why it is so popular, well there are many reasons for it :
It is a great place to socialize with people
It is one of the ideal place for people to meet their friends
Coffee shops are largely preferred to spend quality time with self
They are great spots for leisure such as reading a book or surfing internet with a cup of coffee and snacks.
Coffee shops are also hotspots for remote workers, freelancers, writers and artists to work for long hours.
They are ideal place to select a location for informal business meetings.
So, all these reasons help you understand how location plays an integral part making the coffee shop more serving.
For example, you would want the coffee shop location to be commute-friendly or walking distance from bust stand or train station.
To attract customers, you need to find an ideal location that suits people preferences for a location for coffee shop.
What Will Be The Perfect Location For Your Coffee Shop?
An ideal location for your coffee shop will need to be many things, and not just one. Once you settle that, you are going to examine the potential spots on different terms.
Potential Capability Of Location For Foot Traffic
You have to think of the location in terms of how much potential foot traffic it can get or even contain.
Not all location are capable of holding plenty of foot traffic. So it would be best if you looked for the potential in the location on that grounds, to only begin with.
Look At Your Neighbourhood
The sourrounding of your potential location for the coffee shop is an essential factor as well.
You have to see what businesses your shop will be surrounded by. What reputation or the impact they will make on your shop or the surrounding?
See whether the impact is positive or negative on your business or the customers' perception of your shop.
Since you are a coffee shop, the ideal scenario is to surround yourself with restaurants and other food-related shops.
Even if your locality is a prime spot for shopping, hanging out or a central market, people are more likely to try your coffee cafe for relaxing and quick break.
Securing Lease Term
You must see whether you are buying a whole stand-alone building or shopping in the complex.
See if you can secure a long term lease on the building. You also have to see whether the annual rent cost of the property is fixed or be increasing over time.
If it is increasing by year, then how much? Also find out whether you will be able to get renovation from the landlord.
It can hinder your dream layout of the coffee shop if you cannot renovate or change the interiors of teh shop.
The idea is to explore all the possiblity or challenges regarding leasing the prosperity for upcoming months or years.
Location Accessiblity
You need the maximum foot traffic to your coffee shop. It can happen when your coofee shop location is easy to find.
You need to choose the spot which is highly accessible to the majority of the people in neighbourhood or city.
Also, it depends whether people around are able to walk to it easily or they have enough room to park their cars.
You also even have to consider the customers with wheelchair, and give them accessiblity to your coffee shop.
The accessiblity is the primar factor for gaining the potential foot traffic to your coffee shop.
Step 9 : Create A Floor Plan For Your Coffee Shop
Creating a solid floor plan for your coffee shop is extremely vital. Your coffee shop requires space to accommodate long queues and lines to move people around.
A floor plan assure the availability of required floor space in the shop. It also gives out the overall layout and design of the shop.
It demonstrates the seating area, the entrance, exit, the aisle, cash counter, and other furniture as well.
You can also get a fair idea of the distribution of the interior spacing and design. You can know how it will look after completion.
Pro Tip : Think of different scenarios and see what floor plan holds upto with solutions.
You can imagine where customer will prefer to sit? Is it should beside where you will sit or just front of the counter.
Visualize the best case scenarios as per the design of the coffee shop with strategic placements.
Visualize the best case scenarios as per the design of the coffee shop with strategic placements.
Step 10: Focus On Consistently Serving A High-Quality Product & Services
Coffee culture is booming around the world. People are getting more particular about their interests and preferences on what's going to their coffee cups.
When you are opening coffee shop, you need to acknowledge different varieties of coffee drinkers, and their developed taste.
You have to deliver the utmost quality and the variety what your ideal coffee drinker expects.
National Coffee Association of America has done the study in 2018 which states that 60% of the coffee beverages sold are the speciality variety.
Also, this percentage is consistently growing after 2010.
So, you have to focus on different varieties of specialty coffee, preparation methods, advanced tools and high-quality roasted coffee beans.
That means to up your game and stand out, you need to outdone the general wave of coffee culture in your society but without excluding them.
You have to focus on :
Find the source of the finest, richest, and fresh-roasted coffee beans and import to your shop.
Invest in the latest coffee-making technology machines and types of equipment such as espresso machines, grinders, filtration systems etc.
Get yourself a skilled, talented, experienced and passionate Barista who must love to interact and entertain people.
Offering a variety of coffee drinks even with specialty coffee, make sure you mix customer favorites with your unique drinks as well.
Providing a customer-friendly experience from entering in the coffee cafe to their very exit.
Make sure you also serve fresh pastries, snacks and other refreshments that complement the coffee.
Step 11: Creating A Relaxing, Friendly and Trendy Vibe In Your Coffee Shop
You cannot overlook this aspect of building a successful coffee shop business. This is in fact, one of the primary reasons why people go to coffee shops.
And, that is – because they enjoy the atomosphere and vibe of the place. It feel comfortable and welcoming to them.
According to a survey, Most of the people think that oen of the biggest attractions to for them to enjoy, is a cafe.
What better could you have then enjoying hot cup of coffee at the Starbucks's relaxing and cozy atmosphere!
That's what you should aim for too! It is your concern to make sure that customers are feeling that warmth and comfort when spend time at your cafe.
The idea is to give them right atmosphere to stay longer, to hangout, to be comfortable enough that they make it their second home.
More they are comfortable with, longer they stay, more they come, better sales you get. Not just that, they bring more people to your cafe as well.
There are lot of factors on how you assure your cafe gives a trendy, comforting and relaxing vibe or atmosphere to the customers.
Here are some things you can do :
Make sure it is clean, airy, and bright.
Make your seating arrangements comfortable
Use a different set of seatings for different types or groups of people.
A different set of lights for evenings
Have an outdoor patio space to boost the visibility of your shop
Use customized lighting
Stick to your "theme" of the coffee shop
Hire a professional interior decorator
Personalize the ambiance
Step 12: Establish Brand Visibility
Brand presence is everything when it comes to driving foot traffic or following for your brand.
You have to establish the brand because it represents who you are and what you want to do. It also tells about your objectives and style.
Brand visibility is what attracts people, resonate with your prospective customers and bring them to your coffee cafe.
Since you are starting coffee shop business, establishing a brand from ground zeo seems like a mountainous task but you need to be patient.
To build brand visiblity, you need to :
consistently publish content on social media reflecting your brand
Offer product and services that must align with your brand identity
Maintain customer relations and give their utmost customer service
Have a unique brand voice
Have a Mission
It is essential to have a passionate voice behind your brand but giving a mission takes it to another level.
You need to have a mission statement for your coffee shop which serve to your positioning as a brand to the public.
It becomes a central idea about what your brand do, why it does and what it is aiming for.
Missing Statement gives you an opportunity to set your coffee shop apart from other and stand for something unique and meaningful.
Well, it is highly recommended to choose something that you truly believe in rather than going out for something supposedly 'fancy'.
For example, if you yourself is an artist and have huge respect for them, your coffee brand can be a support for them.
You invite or allow independent artists, painters and wall artists to decorate your coffee shop walls inside out.
Even, you can place their paintings creating a wall gallery at a corner of your coffee cafe.
Supporting local artists can be your thing, your brand mission that you truly believe in and will do everything in your power to incentivize them.
Don't Think Of Fans But Family
People connect with the brands which feel more humane and connecting to them. Small business are more inclusive in nature, sometime more local or out there.
Don't treat the people who follow your brand and your brand content or might be prosepctive customers or already might be – as fans, as merely numbers or followers.
Try to be out there , personalize with your public and emit what you truly believe. Make your brand speak of things you always wanted to say, depending upon your brand identity.
In you physical coffee shop, regular customers at your coffee cafe must be treated as family member.
And digitally, connect people passionate for coffee who might follow you initially for content, and then they might visit if they are enough encouraged or impressed.
Transparency & Authenticity
Nothing get more appreciated then authenticity of a brand, especially where you see the cutting-edge competition.
Transaparency is the tool to demonstrate your honesty and authenticity. It develops a great amount of trust in people.
This can be the building blocks of insperable relationship with your audience and customers, online, and offline as well.
Tell them how you grow coffee or where you get it from. Show them the process, the struggle and the challenges as well.
If you get donations, tell them where the money went. Share the stories about the coffee shop, and the regular customers there.
When you have nothing to hide, people will appreciate you for honesty, they will be invested in your brand like nothing.
Step 13: Exploring The Coffee Equipments Early On
You need to look for what kind of coffee equipments you will need for the coffee shop. The coffee equipments totally depends upon the menu you are serving.
So assumingly, you have decided your coffee shop menu, (if not do that first), you enlist the coffee equipments required to make those coffee beverages.
The quality and the kind of technology you use becomes an integral factor for teh success of your coffee shop.
And, it would be best if you were very careful with this investment, as not ending up buying something you don't need or might not want after change in menu.
The euipments also depends upon how much sales you can generate. The sale estimation is the calculation you must make in comparison to the cost of equipment.
You have to see here things for short-run as well as long-run. Apart from the sales projection and menu, there are other factors such as budget and space.
So, just to kickstart your pursuit for ideal coffee equipments, here are some primary choices you have to make :
Espresso Machine
Scales
Grinder(s)
Refrigerator(s)
Blender
POS System
Coffee Roaster (optional)
Ice Machine
Pitchers
Toaster Oven
Step 14 : Gain Funding From Local Sources
Funding is one of the most challenging part of starting a business. It's not different with coffee shop.
Apart from the self-funding practises, you have to bring other funding channels and investment opportunities in.
One of the ways is known to be asking your friends and family, for sure. Leveraging their trust and belief in you to invest in your business.
Apart from that, you can also rely some on the local loan resources.
Especially, if you need more money than you collected from family and friends, the next best resource to try is local funding sources.
There are lot of business assistance programs, local banks and official loan sharks which might be able to help you financially.
Step 15 : Developing Your Coffee Shop Budget
One of a crucial part of planning is to determine the initial cost required to set up your coffee shop.
This calls for developing a detailed and extensive coffee shop budget at the early stage of your planning.
You start from looking at what decisions you've made in terms of the menu, equipment, interiors, space and other such aspects.
From there, you can set out to establish a honest budget and better to take the higher limit of the bracket.
Budget allows you to get to the overall cost required for your coffee business setup. However, you need to entertain the idea of numbers going off the charts as well.
Before calculating the costs, make sure you are not doing lot of guesswork. Better is to research the market, and find out the actual price bracket for your investment.
Step 16 : Figure Out The Break-Even Point For Your Coffee Shop
You need to determine your coffee shop break-even point when you starting out only. As you do realize, you are starting coffee shop business to make money?
So there is not point if your coffee shop is not profitable.
A break-even point is where after that you start making profit from your business. Anything or everything you get below this break-even point going to put your business in loss.
To calculate this break-even point, you need to look at all the fixed, variables, marketing, advertising, startup and operational costs.
This benchmark keeps you aware about your expenses as well as returns.
If you have a clear idea of the break-even point for your coffee shop, you have the clarity on how to make profit, and how much at least to survive.
At one side, it gives you better understanding towards profitablity/ loss scenarios in the business, and on other side, it also helps you increase quality.
This happens when you attain greater value per sale ending up increasing your margins. You reach to your break-even point very quickly.
Step 17: Deciding Your Personal Coffee Bussiness Budget
You have to decide the distribution of the sources for coffee business investment, including your personal coffee business budget.
Layout a detailed budget for your coffee business where for now,let's primarily focus on the personal coffee business budget only.
You need to know two things here :
How much you are willing to invest personally?
How much that will be the total of your coffee business budget?
This will make you clear on the part on how much you have to personally arrange, bororw or collect money to total amount.
You have already laid out your pricing strategy, break-even point, cost required and other fronts to see the clearer picture of your financial aspect of the business.
Here you better review all the numbers multiple times and anticipate that you might end up spending 20% more of what you initially accounted for.
Step 18: Finding A Suitable POS System For Your Coffee Shop
Having an efficient POS system help you boost your sales and develop a smooth financial transactions on daily basis.
More importantly, every coffee shop need a POS system to what we call a modern-day digital cash register.
But you cannot just choose any Point-of-Sale system for your business transactions, it does take a fair amount of research and exploration.
A POS system either can your business transaction easier and faster or gradually bleed the bottom line of your business, that is point of sales.
It all depends upon you selecting an ideal POS system based on
Easy of use in implementation and acessiblity
Fee associations ( per transaction)
Additional required features
Whether or not specialized for coffee businesses
Your budget
Step 19: Hire Extraordinary Skilled & Experienced Baristas
Bariasts plays a game-changing role in your coffee business. You need to hire established, skilled and experienced baristas.
The quality and the delivery of teh best cup of coffee depends a lot on the baristas.
Even if you hand-picked fine tasting coffee beans from around the world but you don't have enough experienced barista to make the most out of it, there is no point.
A good barista not only serve great coffee but also improve the morale of other staff member and create a friendly welcoming vibe at your shop.
Also you need to focus on the bariasa training every once a while to elevate their skill level and boost their productivity.
Barista training program also upgrade your baristas for all the updates in the coffee serving industry and how to improve for better only.
Step 20: Determining Your Unique Selling Proposition
You have to ask yourself what makes your coffee business special honestly? What's so special or unique about your cup of coffee?
Why customer should come to your coffee cafe when there are plenty of options around?
These questions help you navigate through all mediocrity and average quality settlement you might or already have agreed upon.
You have to determine your USP (unique selling point) of your coffee or the overall expereince.
Think of what value you are providing to the customers and community, especially when coffee culture and community around it are so aware and critical.
From a business point-of-view, find what competitive advatange you have over you competition, and what will your unique sales proposition.
This will shift your focus on more pressing concerns and working towards it will set you apart from everyone.
Step 21: Getting Insurance For Your Coffee Shop Business
The best protection and security you can offer to your business, its asset and your staff, is getting your coffee shop insured.
The insurance will include the general liablity and other workers compensation insurance as well.
Anther highlight you would like to want in your insurance is all the cover for the coffee euipments in case of theft or damage.
It will not just assure your employees and feel them secured & satisfied but also give you a better retaliation against any mishappening or accidents.
Business insurance is a smart decision for entrepreneurs to take, even it might look at the hand but just go for it, you won't regret it.
On the brighter side, it is about being proactive with your responsibility as a business owner. Also, by doing this, you will go by the law.
Pro Tips To Open A Successful Coffee Shop
Offer a Variety Of Additional Snacks With Coffee
One of the success factors of top-notch coffee shops, if you notice in your locality is how they do not just serve coffee but a whole lot of additional variety of snacks.
Well, why they do that? Here are some primary reasons :
Boost overall sales
Offering the best combinations with coffee
Increase the average purchase value per customer
Serving better than your competition
You see, there are many reasons but primary wil be the understanding that you cannot run the whole coffee shop just selling coffee.
It becomes critical you get the multiple sales along with the coffee.
So you will have best high-quality snacks and additional assortments to complement coffee beverages.
Also, people love to have something with a cup of coffee, so it is natural to order some additional snacks when they are ordering.
Here are some popular items to have at your coffee shop :
Cookies
Bagels
Cakes
Pastry
Tea
Cinnamon Buns
Muffins
Cold Drinks
Scones
Granola Bars
Yogurt Cupts
Parfaits
There are some coffee shops also go further to serve light breakfast menu along with coffee where you see items like :
Sandwiches
Salads
Pasta
Toasts
Cheese Burger
You are open to do research or survey on your behalf in your area. Look for what people prefer to eat at the coffee cafes.
It is also on your staff who can recommend their customers the best delights you have.
Or your staff can recommend to those customers at checkout if they are only drinking coffee.
The preference should be to have pre-made items as additional snacks as they are quick to serve.
On other hand, items which need prepeartion such as Sandwich or Salads can be time consuming and end up reduce overall sales.
However, you can adapt the extended menu soon enough once you gain momentum in the sales in your area.
Save Money At Initial Stage For Your Personal Expenses
The startup coffee shops are really challenging, and even can be daunting experience at the beginning.
While funding, you will be utlizing all funds at your disposal including your own, and even from your friends and family.
Most of the times, it is seen that entrepreneurs spend all money on their businesses and keep circultating money but eventually run out of their own.
You need to first acknowledge the fact that at least, around six months there won't be any immediate revenue coming in.
So it is smarter to plan ahead. Even if it sem you got enough money to fund your coffee business, save money for your personal expenses.
You have to understand the important of cash flow in the business. So first cover your expenses that you will be needing for around six to eight months.
This will make you secure and free from your own financial baggage and invest yourself totally in the business.
Also, then you can use the any upcoming funds or even small returns from coffee shop to invest back in the business.
Not Just the Interiors Of Your Coffee Shop You Should Focus On
It is more likely that you are going to focus on every little detail of the shop but apparently only on the interiors.
Lot of coffee shop owners overlook the signficance of outer look of the coffee shop that includes the entrance as well.
You decide every great detail from what painting to hang on what wall to advance POS system in your shop but often overlook the exterior.
Your Shop Exterior Is The First Impression
The exterior is what going to drive the foot traffic in your coffee shop.
Also, it goes with the fact what location you have selected for your coffee shop. Make sure there must be heavy foot traffic and ideally your target consumers.
You need to work a lot on the landscaping of your coffee shop.
How a passerby prospective customer sees your coffee shop from outside, is essential?
So spend a lot of time to control and custome the exterior and surrounding of your coffee shop as much as you can do.
It is after all about giving the very "first impression" of your coffee cafe even before tasting your coffee.
Improving The Exterior
They actually decide whether to enter or not depending upon their first impression on your coffee cafe.
Make sure you at least maintain cleanliness around your coffee shop. Try to give a unique touch to the exterior.
It is should be something that grabs people's attention. It should make people stop and wonder.
This can be great if you setting up your coffee shop new in the locality, doing something unique and extraordinary can make you the talk of the town.
Work On Your Pre-Marketing Plan
Business and marketing goes hand-in-hand. That's quite obvious ! However, if you want to kickstart your business intitially with a jolt, pre-marketing can help.
Pre-marketing plan here simply means the advertising and marketing goes out before or while opening your business.
It doesn't even need to be connected or aligned with your primary or long-term marketing strategy.
The main goal of strategies in pre-marketing is to spread the word about you opening the coffee shop and bring more people in the start.
But this is a time-sensitive startegy as you need to start this before you open your coffee shop, and actually while at the very planning stage.
Here are some reasonable marketing strategies you can do before or while opening :
Start promoting your coffee shop way before the opening date on social media.
Creating anticipation or suspense on the upcoming business or building a hype.
Partner-up with other local businesses where you can exchange your coffee services for free with an on-site advertising opportunity.
Visit local events and participate in semnars, festivals, and other such people gathering to offer your specialty coffee for free.
Start giving out free samples of coffee at various shopping complexes and other places informing about your grand opening at a certain date.
Take the help of your friends and family to spread the word as much as possible.
Call people in the media and informat them about the coffee shop you are opening on a decided date.
Setting High Standards
You must know that there are hundreds of coffee cafes or even restaurants for that matter open but not all succeed.
Either they close down after a while or survive on limited sales without being known very much.
So, if you really want to succeed and stand out in your neighbourhood, and eventually in your city as well, there must be something set you apart.
Well, the one thing that assure it, is quality.
Customers look for the place where they find quality, and then other additional features as well.
So its important you set a high standard for your staff as well as for your business also.
Train Your Stafff
It doesn't mean to micromanage or control your employees or staff too much. That's not an effective way to increase producvitvity and quality.
You need to primary focus on training your staff and creating a workflow to deliver a non-negotiable standard.
The workflow should be encouraging and efficient enough to maintain the quality and require collaboration.
Creating An Effective Workflow
The goal is to attain the ability of serving high-quality coffee drinks to the customers quickly. And that's what build utlimate customer satisfaction and customer loyalty towards your brand.
It can be really hard while starting to establish such level of quality and efficiency simultaneously for an independent coffee shop.
But remember, it doesn't need to be a long-term struggle and most of the failed coffee shop business doesn't address that fact.
You need to create an efficient and effective system in order that drives high standard, and not underserve it.
The initial hard work will make your job easier for the long run.
Similar Posts:
Was this article helpful?
Business, marketing, and blogging – these three words describe me the best. I am the founder of Burban Branding and Media, and a self-taught marketer with 10 years of experience. My passion lies in helping startups enhance their business through marketing, HR, leadership, and finance. I am on a mission to assist businesses in achieving their goals.