Due to the lack of space in a property, it is seen that physical books are moving out of vogue thick and fast. Every house is cramped for rooms and there remains no space where a library can be created or a bookshelf can be accommodated that will hold all the books that a person might end up reading in a period of time.
Books are never going to be out of fashion, people who are avid readers would always want to be accompanied by a book rather than anything else. With evolution, books to have evolved themselves, and the growing requirement of space and room to accommodate other things have led books to get digital in their nature.
E-Book is an amazing advancement in technology that has enabled volumes of huge books to be stored in your mobiles, tablets or laptops! People are growing fond for the same due to the ease of carrying them in the gadgets. Book lovers have got the solution they always needed so that they can carry more than a book when they are traveling or out on their own.
You now know that such is the demand of E-books, so if you are planning to open up an e-book business online, you just may hit the jackpot!
Steps To Start E-Book Selling Business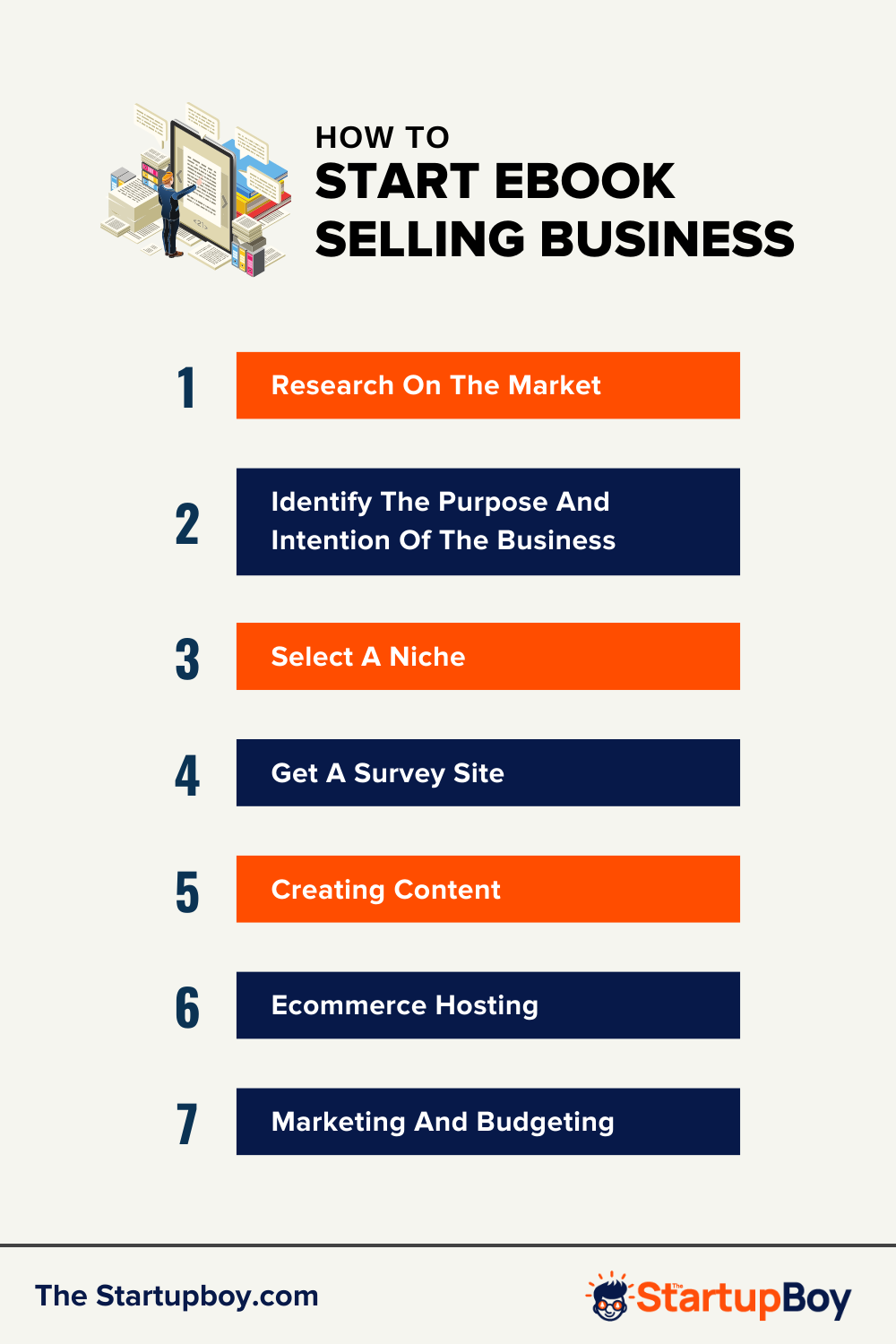 Step:1 Research on the market
Understanding the consumer base is important before you start catering to them. It is essential for you to know about the various categories which interest your target group.
An idea of the most popular keyword will allow you to design the business accordingly and serve the customers the way they want. Another important part of the market research is to understand the competitive forces and products that vie for attention in the market.
Make sure you go through the entire internet and list what all is offered for free to the customers so that you ebook business can cater the most appropriate requirements of the consumers.
Knowing the marketing plan of the competitors will allow you to frame a better one along with a much-varied use of the various online campaigns such as the Google Ad words or PPC.
Proper SEO campaigns can be the most effective way to make sure that your website gets the desired traffic to get popularity in the market.
Step:2 Identify the Purpose and Intention of the Business
The Biggest and most important question before starting any business is why am I want to start this? First, you need to find the Purpose, intention of the Business. The personal interests that you have will guide you towards your business.
You have to be honest and understand the things that you are both capable and incapable of, when providing the perfect service to your clients.
You have to research enough things to find the gap for Ebooks selling. Which books do people love to watch and why do they buy an ebook?. Which way you will delight them to buy from you.
Understand the services that you can provide and for the ones that you cannot, you have to increase the services by bringing in designing suitable apps that can handle them.
#Bonus Tip: Always Concentrate on the need of customers and listen to them better. then after you can able satisfy them.
Step:3 Select a Niche
Now that you already know about the different genres of books, it is crucial that you select a niche or maybe select some trending. Carving a niche is significant and if you can specialize in a particular niche, it will be easier for you to handle the job.
For example, if you know website designing, you have to expertise in that in a proper manner, so that the services that you offer look professional. Only then, more and more clients will start coming to you.
#Bonus Tip: You can Choose the random Subject of the Books. try to Give an Email if any new book is available on your site. you can also give a gift to someone by a contest.
Step: 4 Get a survey site
After the research is done, get a survey site done for your business. A survey site is basically a single-page website that asks visitors if they would like to see a website on the given topic or not.
This will give a better idea of the trend in the market and the demand of the e-book business over the internet and among the target group.
In case of a positive response on the survey site, you can get an estimation of the amount of success the business shall achieve if it is opened live for the people.
#Bonus Tip: This business can be easily profitable if you have a proper Target market. Start Advertisement on the Different Social Media and welcome them on your store for different books.
Step: 5 Creating content
Content is the king. Right from the words that are embodied on the webpage of your online e book store to the range of books that is available for sale, the popularity of the website solely rests on content.
If a reader is engaged in the content of your website then he/she will be pursued to delve deeper into the website and make a purchase.
A wide and unique mix of e books also will rope in readers because every person has a different taste but they all will look for the product in your online store. Make sure that your online store has a huge variety when it comes to genre choices for the readers.
Avid readers are generally the ones who will visit an online e-book shop, and they read anything that fancies them on a given day just because of the fact that they love reading.
From thrillers, mysteries, crime, fiction, nonfiction to motivational, religious and historical texts, make sure you have lined them up all in your stock.
#Bonus Tip: You can tie up with the struggling Writers and promote their upcoming books on your platform. Through you will get more buzz and sales through multi-level of Marketing.
Step:6 Ecommerce Hosting
It is always advised to take up an eCommerce
hosting for selling e-books online. It is deemed to be the most suited package as it includes IP and SSL certificate that is required for the shopping cart of an online store. This is just the deal you need to take to make proceedings simpler.
› Sample reading piece
After all these when you will have the website ready, make sure that each of the book that you have on offer has a sample PDF that is free for download. This will allow the consumer to get an idea of what they are paying for and in return increase your credibility as a seller.
› Selling through the third party
Selling through a third party is an easier means to start an e-book business online. Sellers like Amazon lend this feature and allows sellers to register themselves and start their business on the website. It saves up on the money that is spent on making the website and advertising for the same.
However, Amazon does deduct a certain share of the profits for themselves but given the huge reach of a website like Amazon, the number of sales can be absolutely huge
#Bonus Tip: Start Sharing Best Books Poster on Instagram, Pinterest, or at Facebook. Ask others to read the sample pages and encourage them to buy the Products.
Step:7 Marketing and Budgeting
You need to understand the budget that you have and then accordingly to start up an e-book business online.
Entrepreneurs around the globe have this one thing in common, they worked hard every day and stepped an inch closer to their dreams.
Invest yourself completely in the idea of having an online business of e-books and you never know, tomorrow your business could directly compete with Amazon Kindle books and various other businesses of the same sorts! All the best for the endeavor!
#Bonus Tip: As I already said you, marketing is the Soul of any Business. Proper and Effective marketing achieve you to be early Success. Partner with Different Library and paste your posters there.
Ever-growing popularity is one of the brightest aspects of an online e-book business because people are constantly adapting the new technology and reading a lot more of the soft copies of their favorite author than a hardcover.
Similar Posts:
Was this article helpful?
Marketing | Branding | Blogging. These Three Words Describe Me in The Best Way. I Am a Self-Taught Marketer with 10 Years of Experience. Helping Startups/ It Companies/ and Small Businesses to Enhance Their Business Through Branding and Marketing Ideas. On A Mission to Help Small Businesses to Be a Brand.