Do you have amazing skills in making delicious fruit juices? Do you have a special juice recipe that is relished by one and all who drink it? If "yes" then possibly you are on the right path and should think of starting your own online fruit juice business.
Let's read more about how to start a fruit juice business online easily.
You have the necessary skills and you love making juices, there is no reason for you to not think of starting your online fruit juice store.
People are these days being very health conscious and prefer bottled fruit juices to any other beverage that has added colors and ingredients. You can harp on the opportunity and land your business.
Steps To Start Fruit Juice Business Perfectly
Step:1 Select your niche
There is huge competition in the market and you need to stand out from the crowd. To do this, you need select a particular niche and then market your online business accordingly.
People should have reasons enough to visit your online fruit juice store. Some of the most popular niches in the market are listed below-
Organic juice

Energy juice

Bottled juice

Juice smoothies

#BonusTip: First find your Passion in new Fruit Juice making. Having a knowledge of Juice making choice is not enough thing to start a Fruit Juice Business. You must need to know different chemicals, Process for making Juices, Taste, Expiry etc.This is the Initial Stage to start the Business.
Step:2 Demand of the market
People are becoming health conscious with every passing day and hence they are opting for fruit juices more than ever before. If you want to open your online fruit juice store then it is essential that you understand that the market is growing rapidly and there is a huge demand.
You need to fetch profits from the business so make sure that when you spent time in the kitchen to make the juice, you use every last inch of the fruits so that nothing is ever wasted!
#BonusTip: Start making a Creative Portfolio of your Fruit Juice products and upload them on different Sites with its Benefits on Facebook, Twitter, Instagram, Pinterest, Health-related Sites etc. Through this you will get more eye on your work.
Step:3 Vendors
You need proper resources to make the best juice for the client and in order to do that it is essential to get hold of a vendor who is trusted and provides quality products.
Try to buy from local areas and order in bulk so that you do not have to, again and again, go for getting the raw material and buying from local vendors will also help you to save up on transportation costs.
In case, you are planning to produce organic juices then keep in mind that the raw material will cost a way lot more than the normal fruits.
However, you can also charge the customers more for organic juice because everyone knows that they are the best and the healthiest form of juice!
Till now you made juices for your family and friends but now you will make for the market and hence you need to get hold of the commercial-grade juicers and blenders to produce large quantities of juice for the orders.
Try and buy this equipment rather than opting to rent these as it will become a recurrent expenditure.
#BonusTip: Marketing is the soul of Every Business. Start sharing your quality works through different Media mediums. You can organize a health Conscious Event and create a buzz for your Fruit Juice Products.
Step:4 Recipe and packaging
You need to make sure that the recipe you have for the juice is transformed into a recipe for producing juice in large quantities. One of the biggest challenges for such a business is that you need to make sure that the taste of the juice remains constant.
Every time a person orders the juice from your online juice store, he expects the same taste.
You cannot disappoint with the taste as it will lead to you losing out on customers and gaining a bad reputation. Your final product should be packed in a way that is attractive to the customers.
The packaging should be done with food-grade materials or glass bottles so that the juice remains intact for a period of time before they are delivered to the customers.
#BonusTip: Price matters. A customer compares your prices with other Customers. But You can Convince them with their Health. Initially, you start with Competitive pricing then after you can Charge some premium rate if your Customer is Satisfied with your Fruit Juice.
Step:5 Your website
Your website is the only thing that a customer shall trust while placing their first order.
You need to design the website keeping this factor in mind. Try and design the website in the most attractive way and keep it in line with the theme of your business.
You can create a website through Shopify or WordPress and then customize the themes as per your preference. You need to design the website with utmost emphasis on simplicity and convenience.
Keep your website light so that it can load easily on the slower data connection. Due to the popularity of mobile phones and internet data packs, people opt to place the order from their phones. Hire a professional app developer who can create an app for you on Android, iOS, and Windows platforms.
Make the website safe for the customers to make payments easily. Use proper payment gateways and accept all major credit and debit cards to ease the process of making a payment on your website!
#BonusTip: An Impressive website can help you to earn an impressive profit. Be Clear, Motivated, Health-related Contents boost the Inspiration and increase the sales. You may share your own fruit juice and make videos for the same.
Step:6 Marketing
Remember, your business can only be successful if you can market it properly amongst the consumer base. You already have an edge because you are selling healthy fruit juice rather than any carbonated or flavored soft drink.
Promote the product accordingly as a healthy drink and reach out to the consumers who are looking for a new taste in the market in the given segment. Appoint a professional SEO expert to target keywords and rake in traffic to the website on a regular basis.
An SEO shall help you to get a better ranking on the Google search page and hence increase the flow of traffic.
Properly utilize the social media profiles and update the consumer base about your fruit juices and the various benefits of having them brought from you.
You can also spread adverts around the area to inform people about the launch of your online fruit juice store, this will definitely add some extra sales on an opening day!
#BonusTip: Social Media is the place where you can more Eyes and review for your products. Be Active on Facebook and Instagram, where you may get potential customers who can use your Products.
You have the skill and the market has demand for it. So, rest assured that if you put in your hard work and give effort, you shall surely get back the returns soon enough.
Do not rush to get profits and do not leave hope too early. Remember, empires are not built in a day, it takes time. All the best!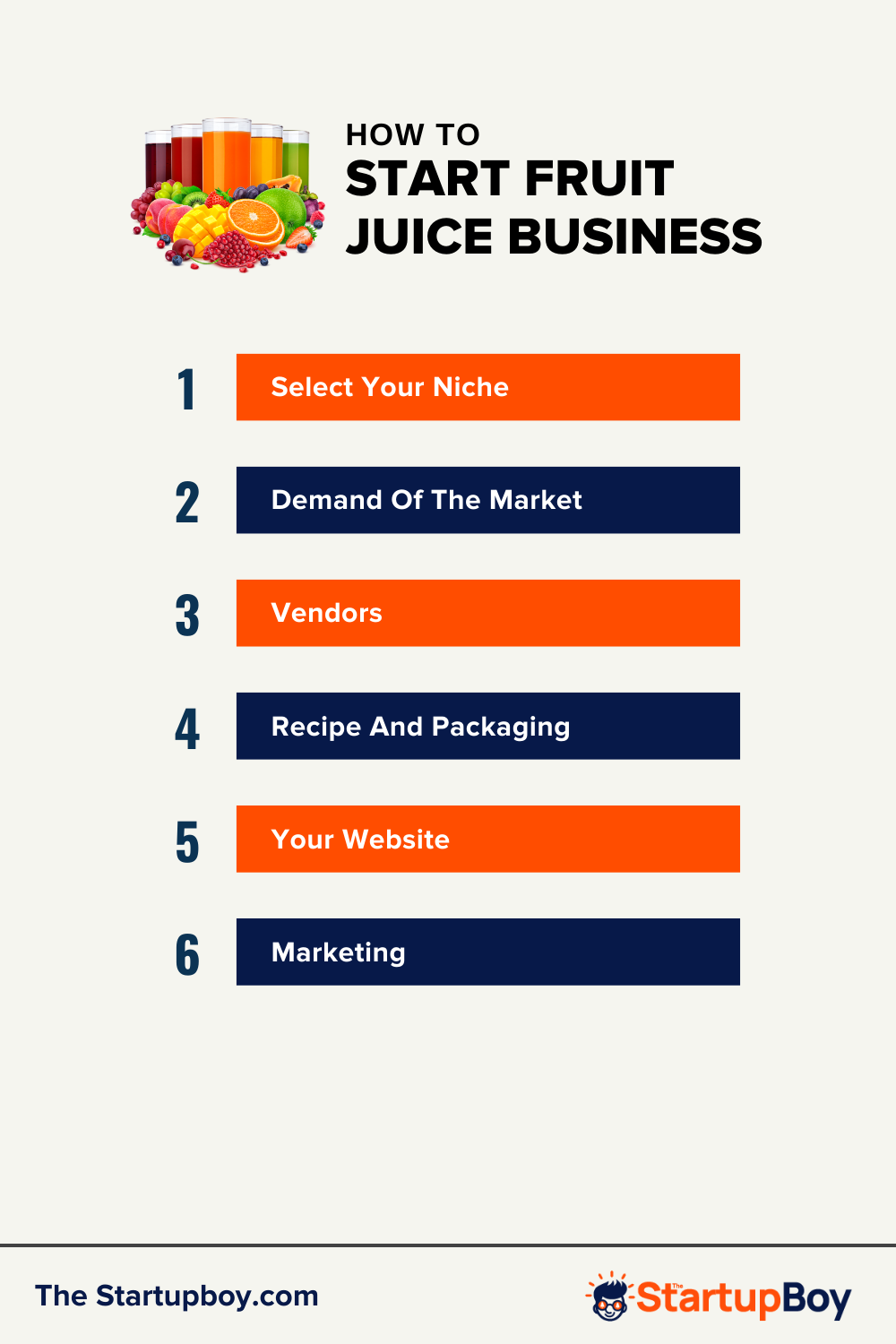 Similar Posts:
Was this article helpful?
Business, marketing, and blogging – these three words describe me the best. I am the founder of Burban Branding and Media, and a self-taught marketer with 10 years of experience. My passion lies in helping startups enhance their business through marketing, HR, leadership, and finance. I am on a mission to assist businesses in achieving their goals.