Do you love to see a smile on a child's face? Have you noticed the happiness in a child when they see a toy that they love? Toys are one such product that never fails to amaze children of any age.
If you love to see that smile on every kid's face and have an amazing idea of toys then it is high time that you start your own toy store online business. The industry is booming daily and the online sphere is gaining popularity ever since its inception.
With so many people opting to shop online, your online toy store could just become a rage if marketed and planned properly. Some of the tips to keep in mind before starting an online toy store are mentioned below
Steps To Start A Toy Store Perfectly
Selecting a niche
The toy industry has some of the most top-rated players and people have a general inkling to buy from them rather than any new brand. On the other hand, to compete in this space there are various online stores that offer high price cuts so as to attract customers.
Your business needs to be different from both of these and stand out on its own amongst the wide consumer base.
You need to identify a section in the market that you are going to target and stock your store for. Having a niche lessens the level of competition because it is a subdivision of the greater industry and there are few players when it comes down to any single kind of niche.
You always need to start in a small section and then according to the response from the market you need to spread your territory and sell products of all categories.
Some niches that can be taken up to start the business are-
Wooden toys

Personalised toys

Superhero toys

Retro toys

Comic characters

Soft toys and many others
Find whole sellers
You need to get the products from a whole seller who can aptly supply them to fill up the shelves. Indulge in conversation with the whole sellers, they have been in the business for long and hence have a greater experience of the market.
Take their inputs and arrange stocks accordingly so as to meet the requirements of the customers.
Also, you can opt for sellers who can directly ship the product to the customer with your label on top of the product. These kinds of sellers reduce the need for warehouses to store the toys and hence are advantageous.
You can also ask for discounts on certain toys and if you get the rebate then sell those toys at an offer from your online store.
These products on sale shall act as bait for the customers to land on the website, buy it and also browse and make other purchases! Bingo!
Catchy business name
It can be a difficult task to select a catchy business name for your online store. You need to have a name that absolutely suits the nature of the business and can be tongued easily by people.
Take a look around and see how your competitors have named themselves. Work your through to get a unique name that shall serve also as your domain name for the online toy store.
Financing
Your dreams and ideas can only come to life if you have the capital to invest in them! There are numerous people who have the idea but cannot commit to it due to the lack of money.
There are various ways through which you can get the finance for your online toy store-
Use personal savings

Borrow money from family or acquaintances

Apply for loans from banks or financers
While you approach a bank or a financer make sure you have a well-documented business plan for your online toy store so that they can easily understand your business and then sanction it according to their rules.
Website
Your website needs to be very well designed so that it matches the theme of the business aptly.
Use colors that attract the children and create a logo that is interesting and relevant to the type of business.
For an online toy store, the website is the first and foremost thing that shall engage and attract the customers.
You need to have proper images of the products and compelling product descriptions so that it satisfies the parents who are looking for quality toys for their children.
You must install a shopping cart feature on the website so that people can shop for multiple products, this, in turn, increases the sales of a website.
Make sure that you accept all the major debit and credit cards through payment gateways that are safe and secure for the customers.
Marketing
The success of your online toy store depends on the level of buzz that is created around the store before and after its launch.
Hire an SEO expert who shall drive huge traffic to the website with keyword targeting and blog posts that shall engage the customers and lead them to buy from your online toy store.
Write quality blogs regularly as it helps in enhancing the rank of your online store in the Google search engine.
People need to be informed about your store and that can be best done with the use of various social media platforms. Promote the business as much as you can through them and communicate with the clients to establish a brand identity among the target consumer base.
You can also send direct emails to interested people or to those who have once shopped from your website. This will help in client retention and can get you bonus sales too!
The online shopping trend is ever on the rise and hence there is the immense possibility that your online toy store can be a huge success and help you in making a great living out of it.
Finding the right slogan for your toy store is hard, but seemingly necessary. Do check out the Catchy Toy Store Slogans And Taglines.
However, for this to happen you need to hold your patience and work hard so as to create a mark and achieve the aforementioned goals! Good luck folks!
Every kid loves Toys. it's a very huge business. There are many companies that are coming up with new kinds and designs of Toys. There are many toys that are still in demand.
Here is a useful infographic that gives you more ideas on trending toys. Read more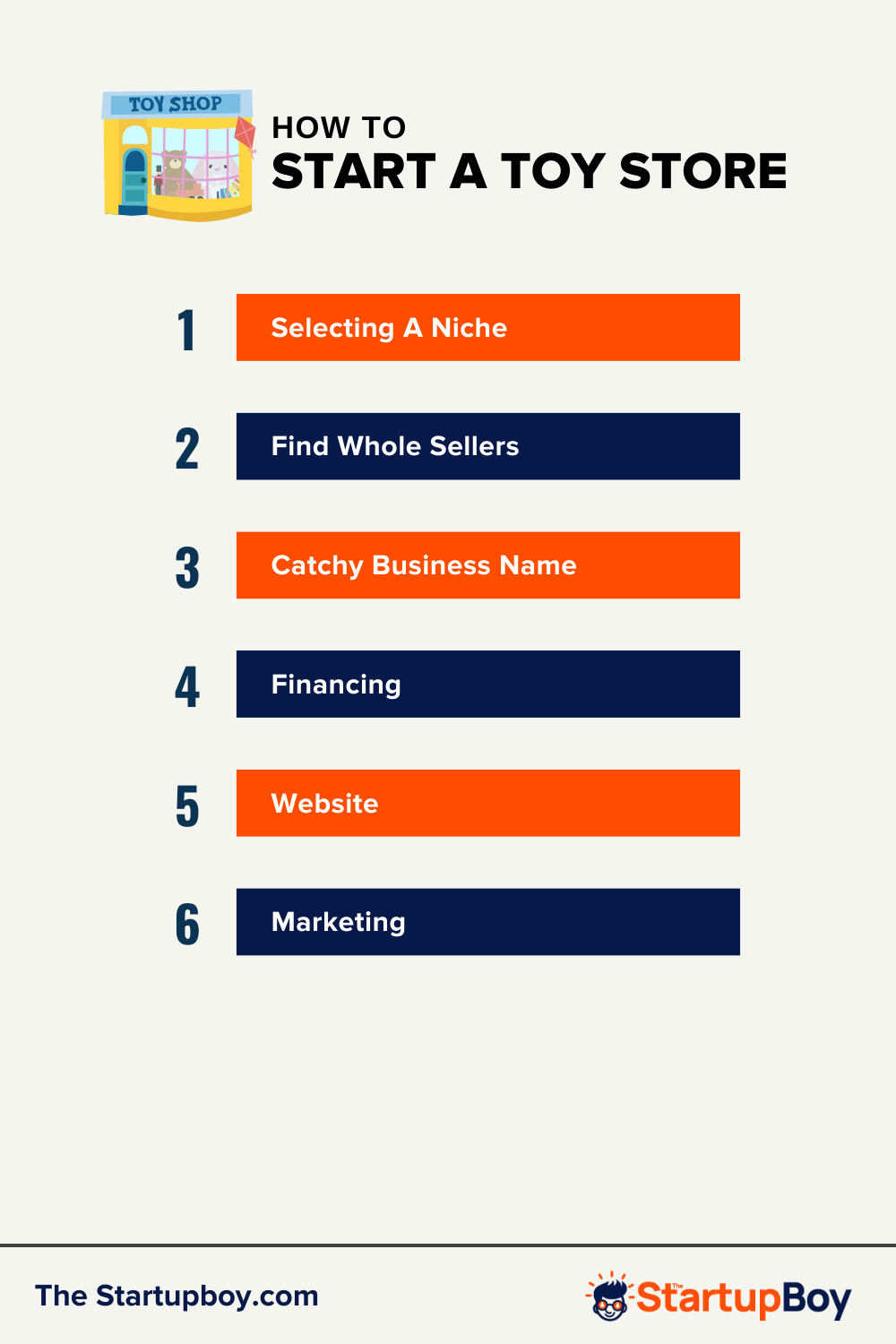 Similar Posts:
Was this article helpful?
Business, marketing, and blogging – these three words describe me the best. I am the founder of Burban Branding and Media, and a self-taught marketer with 10 years of experience. My passion lies in helping startups enhance their business through marketing, HR, leadership, and finance. I am on a mission to assist businesses in achieving their goals.