Do you want to make money by selling and buying cars? Do you want to be your own boss and a successful entrepreneur? Used car online business can be the most lucrative domain to cater to in this era where every person wants to have a car of his own.
People more often than ever, are looking around to get the car of their dreams.
Not every person is capable of buying a new car and many do not want to expend a lot on buying their first car as they want to use it for learning purposes and hence your used car online business can be a rage in the market.
Steps To Start A Used Car Business Perfectly
The demand of the market
Before you start your business you need to understand the demography in detail so as to understand what exactly the people want when they are looking for cars or any vehicle of sorts.
The most popular car model and the most popular brand of cars have to be listed down so that you can build your inventory accordingly.
Your used car online business needs to be market-oriented in order to be popular among people and hence this step is the most essential while planning to set up the business.
Build the inventory
You need to take up a license of car dealing from the authorities as it will enable you to take cars at a wholesale price.
You can look around for people who want to sell their cars and also visit the various kinds of vehicle auctions that are conducted in your nearby areas. You need to prepare an inventory so that when people ask for a car you can provide them with a display and a test drive of the car.
Test drives are inevitable and hence it is essential to have the car in your inventory before you take the orders.
Licensing
Yes it is a must that you have a dealer's license to operate in the market. This will help you to establish your online used car business brand as an authentic and genuine one amongst the people.
There are various crooks and middlemen in the industry who function without a license and hence having one authorized license will enable people to trust you and opt for the service without any second thoughts.
There are various courses and licensing exams that you may need to face to get the license, make sure you go through the process and put in a genuine effort to obtain the license.
Your leniency and reluctance in this part of the business can proe costly in the upcoming days.
Quality team
Your used car online business must have a quality check team that makes sure the ars that are sold and bought are of optimum quality.
People need to be served the best product and hence you need to service each of the cars properly to get them to a state that shall allow the end-user to use it to the optimum capacity.
Your business must have mechanics that shall fine-tune the performance of the car before handing it over to the client.
Website
The website is the primary element of an online business and hence you need to invest a considerable amount to get a professional look at it.
Hire a professional web designer to build the website and make sure that it is according to the nature of the business as well as the theme that you have opted for your logo and color.
Opt for a domain name that is catchy and attention-grabbing, it shall allow your business to stand out from the others in the industry and rake in clients. If you add an option of advance payment for booking the car then make sure that the payment gateway that shall be used is genuine and 100% secure.
People paying such huge amounts would make the payment through either their debit or credit card so keep their credentials safe in the website to prevent any financial mishap.
Web content
Your website needs to have a proper visual representation of the stock of cars you have for sale in your inventory.
A good picture of the car is all that a person looks at when they are seeing it for the first time at an online used car shop like yours.
Get a good DSLR camera of at least 24 megapixels to shoot some nice photographs of the car and put it up on the website.
Make sure you take the photographs from various angles and show each and every part of the car with proper zoom snaps so that the customer can see the whole in greater detail and then make a decision based on it.
Marketing
You need to create buzz around your online business in order to get traffic to the website and get sales.
Promote the content through social media channels and reach out to a wide sector of audience.
You can use social media effectively and generate feedback from the customers and mend the business accordingly. You can also use flyers to promote the business around a specific location.
It shall also help in branding your online used car shop amongst a market full of competition.
Third party selling
If you have the resources to used car buying and selling then you can register as a seller and put up ads on various automobile selling platforms. You can also send the vehicle offline through acquaintances and middlemen if you want to avoid the website building process.
Engage yourself constantly in developing ways to take the business to the next level.
The online arena is all set to be conquered, however, you just need to have the patience so that you can sustain the business as long as it doesn't hit gold. Once it does, there's no looking back!
The automobile is a very vast industry. There are so many things and products come under this. Starting a Used car business is good but take it online is what you are waiting. Here is the infographic which gives you more detail on Use Car Industry.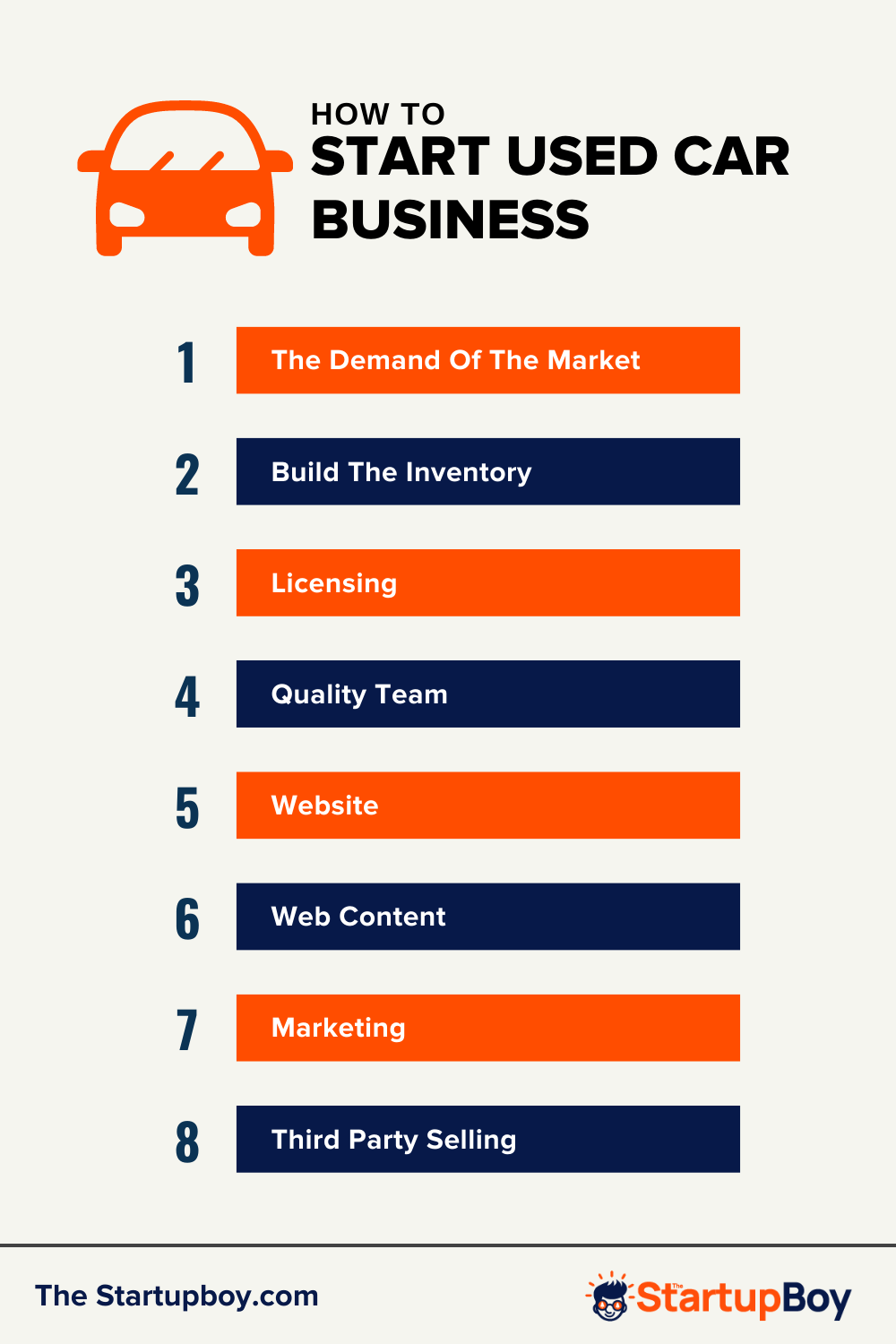 Similar Posts:
Was this article helpful?
Business, marketing, and blogging – these three words describe me the best. I am the founder of Burban Branding and Media, and a self-taught marketer with 10 years of experience. My passion lies in helping startups enhance their business through marketing, HR, leadership, and finance. I am on a mission to assist businesses in achieving their goals.