If you have a true sense of smell and have an amazing selection for the right body fragrance then you possibly should think of starting your online perfume store.
With a splurge of opportunity over the internet, starting your own perfume can be one of the best options to earn a living if you have a gifted talent.
Just like any other business, there are various prerequisites that are to be kept in mind before starting your online perfume store.
Steps To Start Perfume Store Perfectly
Step: 1 Market potential and niche
With figures from various authorities confirm the fact, that the fragrance industry is growing faster than ever and the demand is on the rise constantly.
There is an increasing importance given to personal appearance and growing consciousness about body odor. This has led to the tremendous demand for perfume in the market.
However, you need to select a niche in the domain that your online perfume store shall cater to. It is always important to start small and then spread the wings in order to fly higher and longer. Some of the popular niches in the domain are-
Deodorants

Perfumes and Roll ons

Floral and exotic fragrances

Celebrity perfumes
#BonusTip: This is a very dynamic Business. It is difficult to attract consumer attention because all niches are occupied by experienced and famous manufacturers.You need to market and win the trust for your Perfumes
Step:2 Market research
Online market research is inevitable if you want to start your online perfume store. You need to thoroughly browse the internet and various online forum sites and communities to gather data about the perfume purchasing trend of the people of the area where you aim to sell your products initially.
A review of the social media profiles will also help in creating an understanding of the type of consumer you are about to deal with and then stock your online perfume store accordingly.
#BonusTip: First find your Passion in perfume making. Having knowledge of perfume choice is not enough thing to start a Perfume Business. You must need to know the different chemicals, Process for making Perfumes. This is the Initial Stage to start the Business.
Step:3 Sourcing your stock
You need to fill your stocks in order to be able to sell to the customers. Get in touch with the various Perfume Chemical whole sellers in the market and get quotations with each of them.
Compare them with the selling price and then calculate the profit you can keep. Select the whole seller from whom you can keep the maximum profits.
Select a whole seller who can offer you with variety in stock for both gents and ladies perfume. Perfumes are also used for gifting purposes, therefore the packaging of the product should be attractive.
The timeliness of the whole seller in delivering the stock to you has to be given importance because once people place an order, they generally despise if kept waiting for too long to receive the products.
#BonusTip: Right Perfume Niche means Right Targeted Business. You need to Find the Right Space where you can fit yourself and get more Business from the Market. Be master in Perfume and then Put other services in front of Customer.
Step:4 Business plan
You need to have a proper business plan that can be used by you seek for financial help from banks or any sort of financers. Your business plan must include the operational process and also the plan to recover the investments and make profits.
Prepare a proper executive summary that will inform the reader about the business and its entire process within 300-400 words to the max!
Your business plan is a list of all the goals that you want to achieve with the business and the various investments that you plan to make through the entire span of the business.
#BonusTip: Why am I going to start this Perfume Business? Who will be the Customers who buy? To Where I sell these Products? These are the Most Important things to know. All such important questions will be covered in Business Plan. So make a Good Plan.
Step:5 Business name and other official steps
You need to come with a proper business name and register the same with the local authorities to be able to sell through your online store. Register the business for paying the taxes and other financial charges to the state to function properly.
Get help from an attorney and an accountant to keep a track of all these measures as they are integral to the business process.
#BonusTip: A Good and Creative name matters a lot in the Business. Choose the right, small and related name with your Business. Register a Domain and start the process of trademarking process to claim your Name.
If you are planning to start a perfume store then you should have proper marketing techniques in your mind that will help you to promote it. Read out the Actionable Perfume Company Marketing Ideas.
Step:6 Website
For an online business, the website is the sole identity of the entire brand and service. Your online perfume store needs to have a website that is attractive and gives an instant feel of class.
Perfume is a classy choice, hence, always keep in mind that the target audience mostly belongs to the higher class of the society. These people do not like loud colors or designs, so tune your website accordingly with the help of a professional web designer.
People prefer to order products online because it is convenient for them. For the same reason, you need to develop an app for mobile phones so that people can order from their phones and get the perfume delivered right to their location!
Install proper payment gateways for the people to safely make payments for their products via visa or MasterCard.
#BonusTip: Every Business has similar Chemicals but the only thing which differentiates them is right mixing. Different knowledge, Different Skills have different results. So invest in research in more to create a unique fragrance.
Step:7 Delivery process
You need to partner with courier service to get your product shipped to your customer. Perfumes often have fragile packaging, hence make sure to hand them over to people who are responsible enough to ship and deliver it.
Delay in receiving the product or receiving a damaged product due to reckless shipping shall destroy the reputation and brand image that you have garnered in the market with your hard work.
#BonusTip: Customer is King. You need to bend your Service as per their requirement. be Flexible in terms of Service through that you will maintain your Customer for long.
Step:8 Marketing
Create a lot of buzz with promotions of your online perfume store through proper channels. Use social media to generate curiosity and post regularly to register yourself in the minds of the people on the social media platforms.
Take help from a professional SEO expert to drive traffic to the website. Posts engaging blogs regularly for the customers and it also helps in getting ranking on the Google or Bing search pages.
#BonusTip: Analyze yourself and find your position on Google. Start Seo Service for your business or you may go with any paid advertisement to boost your Business
Step:9 Third party selling
You can register as a seller on any of the eCommerce giants such as Flipkart or Amazon. You get to sell the perfume here to a wide range of consumers and have to pay a certain percentage of the profits to the eCommerce giants only if you can make a sale! Sounds like a deal right? It is!
If you want to be your own boss then hard work is inevitable. Keep climbing the ladder with relentless efforts and you shall be rewarded. The online perfume business has a huge scope and once in it, you can definitely make a hefty living out of it!
Looking for More? Read out the Hashtags for Perfume Store
There is tricks to apply the right Perfume on your Body. so you can wear the perfectly. Perfect utilization will be better after proper wearing the same. Check the below infographic for more information about do's and don't of Perfume Wearing.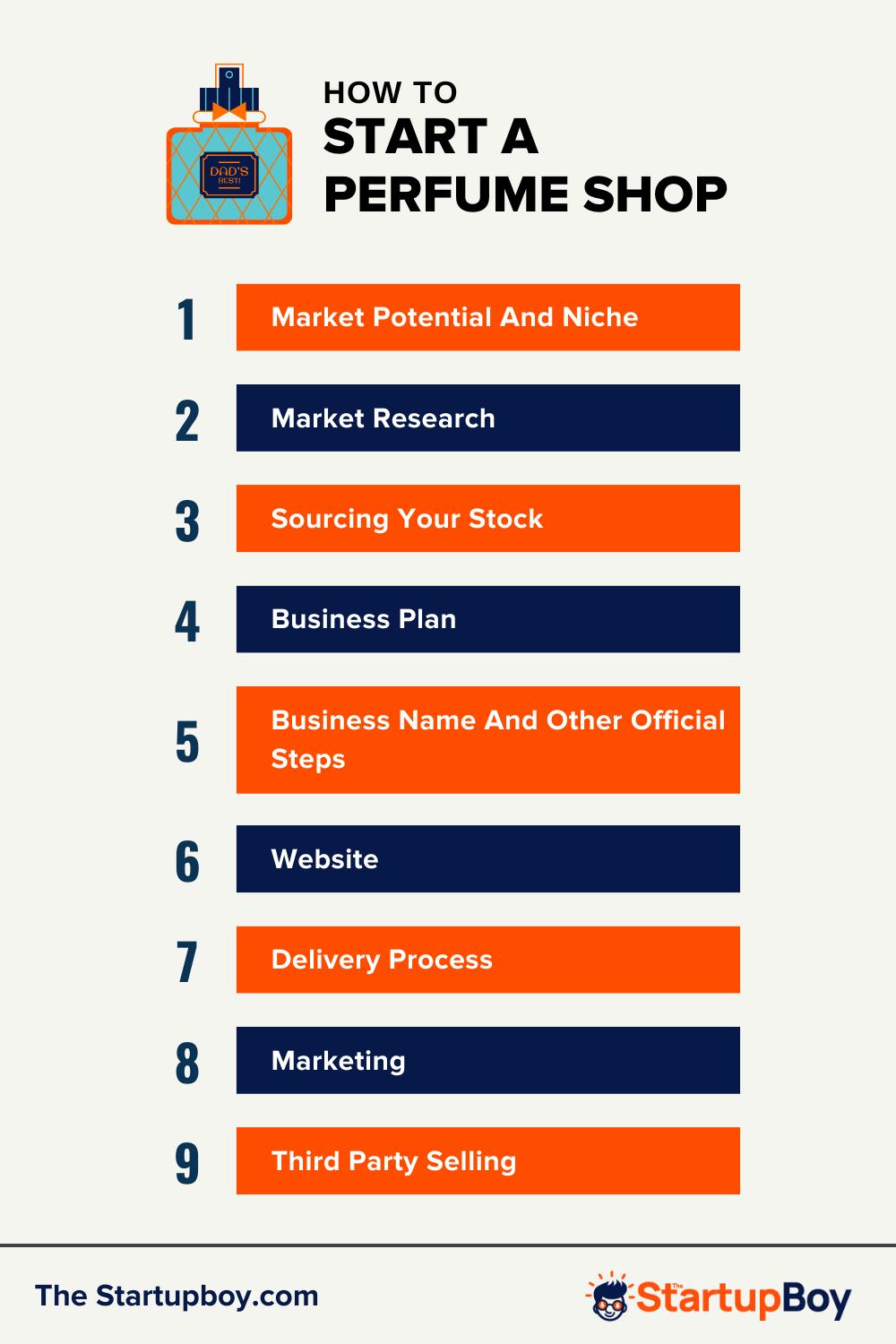 Similar Posts:
Was this article helpful?
Business, marketing, and blogging – these three words describe me the best. I am the founder of Burban Branding and Media, and a self-taught marketer with 10 years of experience. My passion lies in helping startups enhance their business through marketing, HR, leadership, and finance. I am on a mission to assist businesses in achieving their goals.