One of the great developments of the 21st century is the invention of apparatus that allows people to transfer money to each other using the Internet.
It is simple, smart, and a great convenience to thousands of people across the globe. The biggest of businesses use online money-transferring apps to do quick, sharp business.
It is also a great help for the consumer, who now no longer has to carry around money in a wallet, but can just open it and pay through the money transferring app. While there are several benefits to this, there are drawbacks as well. 
PROS OF ONLINE MONEY TRANSFER:
Most online money transferring apps have a simple and relatively user-friendly interface, whereby just a few clicks will allow you to transfer money to a person in need across the face of the globe. Money transferring apps are often directly linked to the user's personal bank account.

Online banking accounts are very easy to open nowadays, with most international, private and government banks offering several easy options to build an account suited to your needs. Online money transfer has been made much easier than handing over money in person, making transactions effortless.

Online money transfer has made it incredibly easy to access and pay bills online. No long queues, no tiring waiting has to be encountered with the option of online money transfer. One can sit comfortably at home and pay electricity bills, television bills, at convenience.

The age old problem of keeping dossiers of receipts and bills no longer have to be encountered as using the option of online money transfer ensures your transactions are saved in memory. You can view it any time and do not have to face constant headaches.

Online money transfer is available at any point of the day. It is a 24×7 service with the option of making multiple payments, transactions in a single day. One no longer has to worry about bank holidays, red letter days to ensure bank work is completed without effort.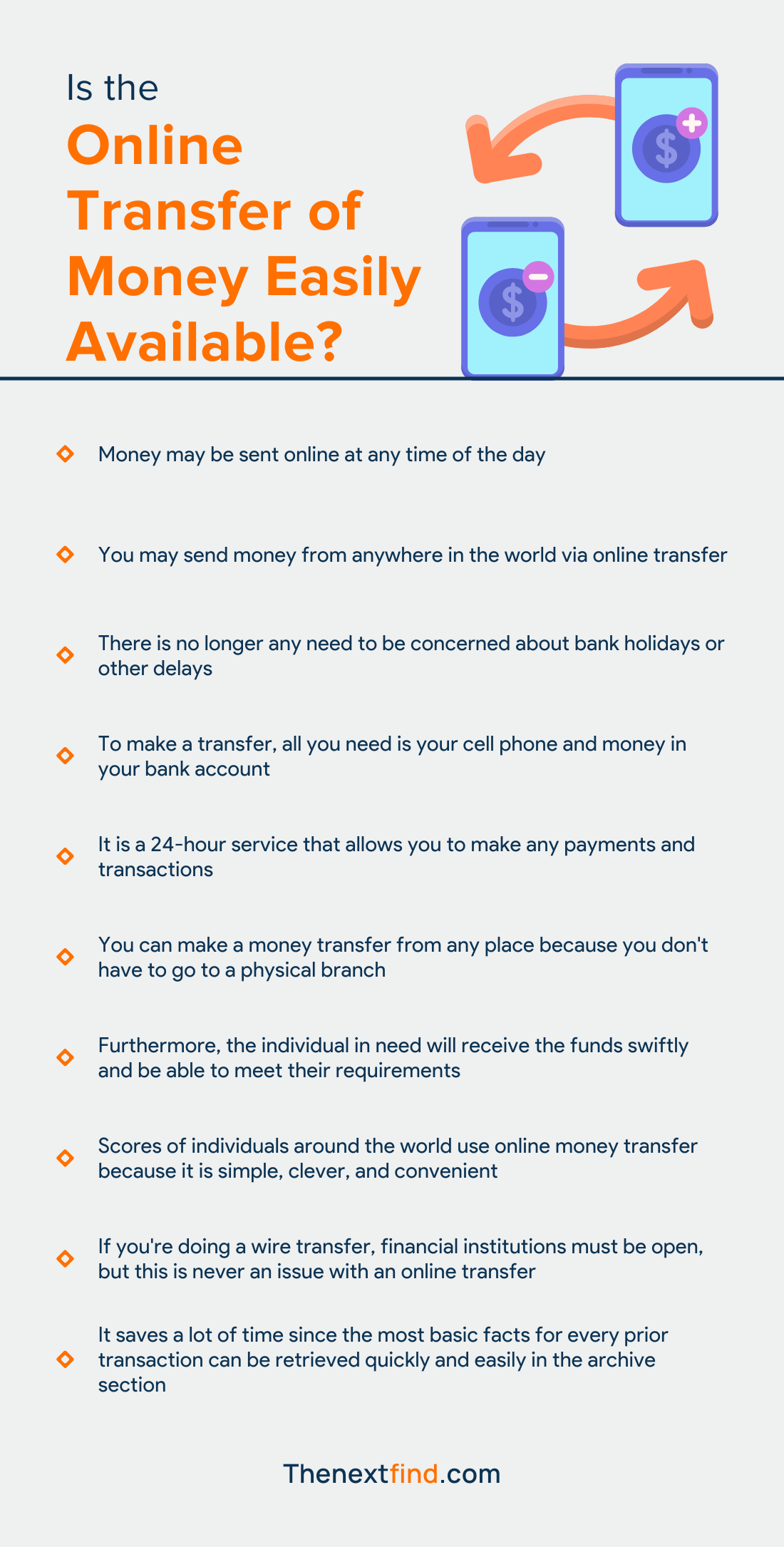 Efficient in Transaction:
Online money transfer holds a great advantage over other forms of monetary transaction as money can be transferred within minutes by using this option. It is the perfect go to option during time of medical emergencies. The option provides security for aged people who live alone.

Without the option of online money transfer you would have to go to the bank and update your passbook to see your available balance in the bank account. With the functionaries of online money transfer you can choose to view your account balance at own convenience.

Online money transfer has strong security options which will help you know about a potential threat to your bank account. Through the help of strong passwords, updates and push notifications, online money transfer apps will let help you reduce considerable amount of damage to your account.

Online money transfer apps often give you benefits for completing certain credit goals. You will be given points, and notified about interesting loan options if you are a regular user. By achieving these goals you can avail several lucrative, easy options for yourself and your family.

CONS OF ONLINE MONEY TRANSFER:
Difficult if not Experienced:
Without a certain amount of experience, a completely new user will face difficulties knowing their way around the apps and the functionaries of online money transfer. A user must have a basic knowledge of smart phones and their functionaries before they use online money transfer.

Not Available Without Internet:
Without a stable internet connection, it is impossible to use online money transfer options. For instance in the countries of South Asia, the online money transfer options are limited because the villages and rural areas often do not have accessible internet connection that is stable.

Although online money transaction apps are secure and serve their part when notifying you about security threats, there runs the risk of being caught by frauds during transacting online. The inexperienced user is susceptible to online frauds which ask for password and identification by using baits.

Online money transfer apps use several passwords and firewalls to ensure you have good security, but for aged people and people of inexperience it is not always possible to remember the passwords and the answers to various security questions. This is a big problem in online transactions.

Using Several Devices is Risky:
If you are an avid technology buff, you may use online money transfer apps on several devices. These devices in turn may be used by other people and that makes your banking details and your account susceptible to threat and fraud. Beware of this.

A big problem of online money transfer, especially with international and private banks is the problem of the bank's server being down. This makes it difficult to access your account, even if you have online money transfer apps, as without a bank host server it is useless.

Anyone who has experience of using online money transfer apps will know that they are filled with advertisements of various brands. This may be annoying to people who are busy with work all day and do not have time to devote to promotional offers and silly advertisements.
In conclusion one could say that the option of online money transfer is one that has made transactions much easier across the world and helps people do lots of important work without having to think twice about logistics and such things.
In order to avail online money transactions it is very important to have a basic knowledge of smart phones and the interface of these apps. One has to be cautious while using these online money transfer apps and ensure that one is not being exposed to fraud and deceit.
Similar Posts:
Was this article helpful?
Business, marketing, and blogging – these three words describe me the best. I am the founder of Burban Branding and Media, and a self-taught marketer with 10 years of experience. My passion lies in helping startups enhance their business through marketing, HR, leadership, and finance. I am on a mission to assist businesses in achieving their goals.