Hong Kong is an established as well as an advanced country. The favorable geographical location makes it more attractive for business leaders and entrepreneurs. It is one of the most important locations to consider while stretching the business in the Asian zone.
Hong Kong is well known for its business policies and strategies worldwide. It has a strong industrial sector covering pharmaceuticals, telecommunication, and many more. This article highlights some benefits and drawbacks of starting a business in Hong Kong.
| | |
| --- | --- |
| Benefits of Doing Business in Hong Kong | The Drawbacks of Doing Business in Hong Kong |
| The patent application is effective. | Long working hours. |
| English as the main business language. | Strict Dress code. |
Advantages of Doing Business in Hong Kong
Hong Kong has business startup-friendly policies and laws. It is a highly remarkable country among the Asian countries for starting up a business. It grabs rank at 3rd position for starting a business with ease.
The nation is time friendly as well as budget-friendly for new companies to start with their business in Hong Kong.
It requires legal procedures of about two days to get completed. The number of procedures is also less, which is a minimum of 2 saves you from visiting different government departments again and again.
Registration requirement:
The registration requirement for a new business is quite simple and easy to follow. Anyone can start a company by investing just 1 USD capital at an initial base. The company can even be managed by just 1 director and 1 shareholder.
Also, the country's citizenship is not necessary, as in Hong Kong, equal rights are given nationally and internationally for registration.
And for legal procedures, you need to be there physically. Online registration and inspections of requirements are carried out in the country. This saves both time and energy.
Government is now opening new opportunities for private sectors in the country. This leads to more investors and businesses booming in the country.
With the help of private sectors, the economy of the country is getting more effective and stronger. The service quality also improves, and new business openings are available for business owners and entrepreneurs.
Many policies are designed by the government to encourage small business startups in the country. Privatization attracts a large number of foreign business leaders and investors towards the country.
Hong Kong has a high literacy rate, and the youngsters are highly skilful and educated. The workforce available in the country makes it the best location to start a business. They believe in hard work and are dedicated to their responsibilities. Hong Kong ranked 3rd in the globe for having a remarkable workforce.
Businesses can boom by hiring such great talented minds. Hong Kong has a 99% literacy rate which is extraordinary for a business looking for a country to expand its business.
Hong Kong is a highly technological country and is advanced in the telecommunication sector. The nation has a high-speed internet connection available across the globe. This makes every process in the country faster and swifter.
From online meetings to online education for reshaping and sharpening your skills internet access comes to your help. 
The transportation system is also advanced in the country. Every city is connected with a developed road system. Metro to personal vehicles are widely used in the country and have great efficiency.
The tax policy is business-friendly in the country. The corporate tax is 16.5% which is low as compared to other Asian countries. Other taxes like VAT, house tax, the estate tax are also low as compared to other countries.
Establishing an offshore company in Hong Kong can subtract the estate tax, VAT, sales tax etc. This is a major tax policy which attracts a large number of entrepreneurs and investors to the country.
It is also one of the highly booming industries in the country. It is a crucial location for luring many tourists to the country. This brings indirect foreign investors to the country and also increases exports.
Business trips are conducted by many multinational companies and Hong Kong is a significant country to visit. Disneyland land also attracts a substantial capital that empowers the economy of Hong Kong.
Hong Kong has a budget positive policy for trading across the border. The easy and affordable custom duty on both imports and export makes the country master the game of trading with other countries.
This also led to an increase in some illicit product trading across the border.
The Hong Kong Judiciary System is remarkable for establishing a peaceful environment in the country. The stringent laws and regulations in the country make it safe for the business to expand and develop in a healthy atmosphere.
The criminal rate is about 3% in the country which states the power of The Judiciary System. The corruption rate is also very low. The government ranks at 14th position for being least corrupted.
Disadvantages of Doing Business in Hong Kong
Bank Account opening and activation requires a lot of time in Hong Kong. There are many procedures to take into account while opening a business transaction account. There is a requirement of many documents to legalize the process.
The physical presence of the business owner is required multiple times for the process.
Minimum Capital should be Deposited in Bank
There is a need for a minimum capital to be invested in the business to open a bank account. Foreigners and non-resident citizens face more problems to open a personalized business account.
The mode of transparent government is not applicable in the country. This causes a lack of trust and confidence in government strategies and policies. However, there are fewer disadvantages to starting a business in Hong Kong.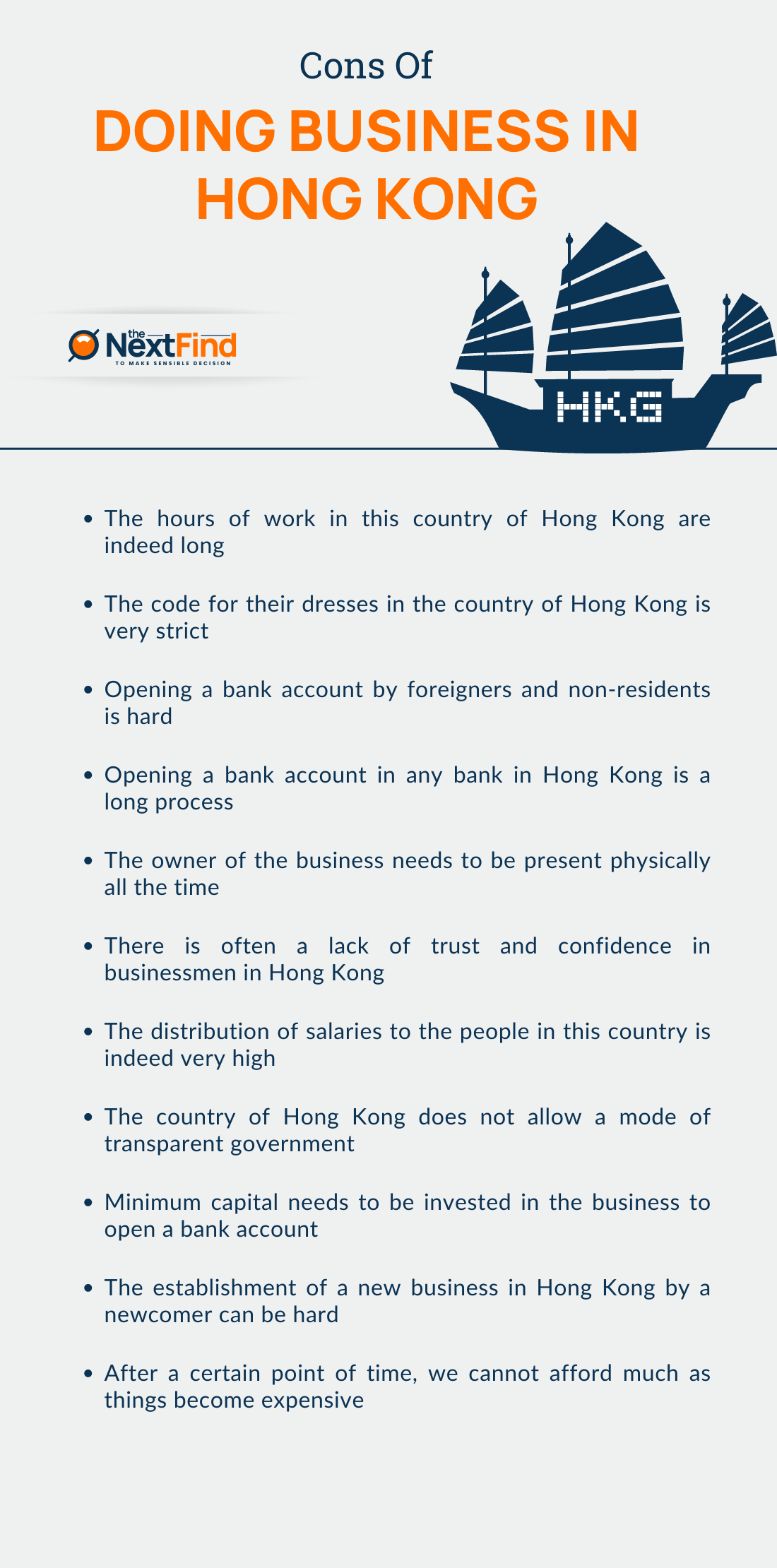 Similar Posts:
Was this article helpful?
Business, marketing, and blogging – these three words describe me the best. I am the founder of Burban Branding and Media, and a self-taught marketer with 10 years of experience. My passion lies in helping startups enhance their business through marketing, HR, leadership, and finance. I am on a mission to assist businesses in achieving their goals.