Following the effects of a financial crisis slowing the country's growth from 2008 to 2014, Spain is once again gaining access to effective equity funds from international markets, thus generating more interest from investors.
In terms of solvency and credibility, Spain has attained the strongest position over the years. Also, with the introduction of several domestic structural reforms, the enhancement of labor flexibility and the triggered new opportunities for the growth of the business, it has made Spain with even higher competitive surroundings and an attractive place for global business.
| | |
| --- | --- |
| Benefits of Doing Business in Spain | The Drawbacks of Doing Business in Spain |
| Good geographical location | Starting a Business. |
| A sustainable economy | Dealing with Construction Permits. |
| A broad market with intense internal demand | Getting Electricity. |
| Great potential for growth | Registering Property and Getting Credit. |
| Spanish rules allow up to 100 percent of international investment fund | Protecting Investors. |
Advantages of Doing Business in Spain
Intensified Trade Partnerships
Spain is not only known for its strong prime location but also for deep trade partnerships. The country has access to the EMEA market, i.e. Europe, Middle East, North Africa markets as well as with the Latin American ties and trade links.
Being an active member of the European Union, Spain has been fortunate with access to the world's largest common market.
A Perfect Base for Implementing a Business
Spain is considered to be the best base in Europe for conducting business in Latin America along with South America. Also, it has a total of 17 agreements in order to avoid double taxation in Central and South America along with this Spain also has 19 mutual protection contracts as well as investment qualification contracts.
Spain is an equally lucrative place for setting up of business on EMEA markets. The nation comprises 21 bilateral agreements to prevent double taxation, 18 bilateral agreements for mutual protection and investment promotion.
Another place for the commencement of business is the Canary Islands, a Spanish archipelago off the northwest coast of Africa.
Foreign Direct Investment
When Foreign Direct Investment made its entry in Spain, since then it has been playing a critical role in economic relations between the United States and Spain. Also, for some relaxation in business regulations and to increase the opportunities in order to promote international investments and foreign businesses across all levels, the Spanish government has adopted a pro-free trade and pro-investment stance.
As per the reports of UNCTAD World Investment, these activities have helped Spain to rise to the ninth position across the globe in terms of international investment.
A Powerful Tourist Economy
One of the major reasons for the inflow of international investments comprises a powerful tourist economy, a restructured financial sector, an effective and well-respected transportation network, a focal point on global research and sustainable energy, and long-held cultural links with Latin America, enhanced by the presence of enormous Spanish multinationals.
Magnificent Infrastructure
Spain's infrastructure has been modernized quickly in the last few years because the country includes some of the finest rail and subway systems in the world. With 46 state owned ports situated, the country has a powerful naval economy.
Spain has three of Europe's top ten container ports, and it has a world-class port infrastructure. Spain is a country with a flourishing tech sector and over 70 technology parks and extensive fiber optic cable deployment enabling the greater speed of Internet connexions to be accessible.
Spain has undertaken a range of key structural reforms, as mentioned. These include giving local regions more autonomy, harnessing innovation to help diversify the country's economy, continuing to improve national conditions of employment, enhancing social welfare programs, and investing in national capacity for research and development.
Perfect Climate and Location
Spain is in the second position of alpine country in Europe after Switzerland which makes it an ideal place for any organization in Western Europe to develop business.
With numerous larger ports and a merchant fleet, Spain has ingress to the Atlantic Ocean along with the Mediterranean Sea. Spain's borderlines touching with France as well as Portugal are encouraging capital and trade flows inside the Western Europe.
Spain has grown steadily more active in international affairs after the international isolation during the Franco era. After Francisco Franco's death in 1975, Spain began its gradual democratic transition that has helped in enhancing the Spanish diplomatic along with security relations with the West.
In 1982, Spain participated in NATO and has been an effective member of it since then, also in 1986, Spain became a member of European Union.
European Union has not only played an important role in foreign policy but also braces up the efforts of European political mechanisms. Seeing the stable situations of politics and diplomatic relations, foreigners ensure this opportunity to set up businesses in Spain to develop and decrease the possibility of potential dispute and discrepancies.
Low Labour and Transport Cost
Spain offers many advantages to the development of new enterprises including low labor and transport costs. Being an active member of European Union, Spain has been benefitting from the transportation of goods around the EU without wasting time in the completion of inadequate formalities such as fluctuations in the exchange rate as well as transaction costs.
As per the Structural and Cohesion Funds, European Union is quite indulgent towards Spain. The Spanish Government also offers attractive schemes and adaptable policies for enterprise development. In a while, the government of Spain has made the policies keeping in mind the attraction of foreign investment environment.
Disadvantages of Doing Business in Spain
With the falling consumer spending and raising household savings, the nation has slowed down the economy.
The IMF predicts that this slowdown will persist at least until 2021, primarily due to global protectionist measures, domestic political divisions in Spain, and tempering of interest in foreign investment. In the coming years, the domestic requirement is anticipated to accelerate growth.
Unemployment Rate is High
From the year 2008, i.e. global financial crisis, Spain's national employment is on a boom, but it has not yet climbed to pre-2008 levels. In Spain, unemployment was more than 15 percent in 2018, but in 2007 it was only 8.2 percent, this being the second position of unemployment rate around the European Unions.
Greece is at number one position in the list. Greece is a country with heavy debt and unemployment over the past decade. For young workers, i.e. under the age of 25 years, the unemployment rate of the Spain is even more pronounced, 31.7 percent.
Highly Qualified Workforce
The main reasons given were unemployment and slow wage growth. By reversing the phenomenon of "brain drain" with a "return plan", the government of Spain has kept the promise and persuaded the young folks (with emphasis on college students) to return home.
Implementation of a Business
With regard to the ease of setting up a business, Spain ranks at 97th position (out of 190), i.e. middle of the pack in the global rankings at Doing Business Report.
For starting a business in Spain, you have to complete the seven procedures and to complete the procedure you have to spend an average of 12.5 days while the OECD average is approximately nine days.
Spanish culture departs from the US standard as well. Usually Spaniards are quite formal about their personal relationships, although this has decreased somewhat from the last few years. Business culture is a bit like that found in France or Italy.
Hierarchical structure, family, aversion to risk and closeness are all central factors in the traditional Spanish business management approach. Business dress codes are very formal in the nation, with jackets and tie the norm whatever the weather, and women have to wear the dresses, blouses, and skirts.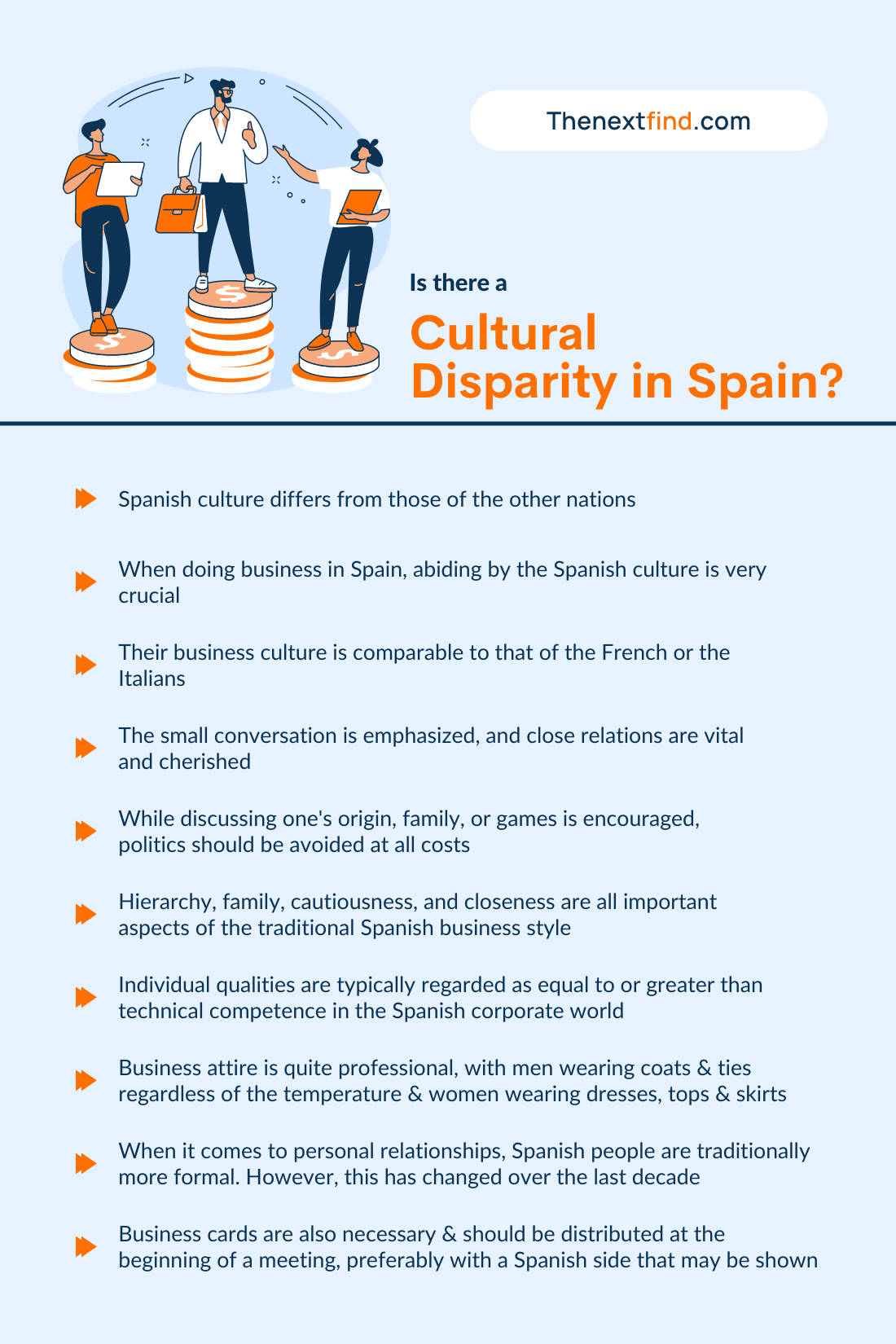 Similar Posts:
Was this article helpful?
Business, marketing, and blogging – these three words describe me the best. I am the founder of Burban Branding and Media, and a self-taught marketer with 10 years of experience. My passion lies in helping startups enhance their business through marketing, HR, leadership, and finance. I am on a mission to assist businesses in achieving their goals.