Switzerland is an esteemed country within the European countries. Its mountainous location makes it beautiful as well as resourceful. The economic graph of the country is highly stable and multiplying by the past few years.
Many successful companies and businesses have originated from the government. If you are on a search for a business location in Switzerland, then go ahead with this article, as this article highlights some benefits and drawbacks to start a business in Switzerland.
| | |
| --- | --- |
| Benefits of Doing Business in Switzerland | The Drawbacks of Doing Business in Switzerland |
| Low Crime Rate | Strict Dress code |
| Gender equality | Punctuality and stringent business behavior. |
Advantages of Doing Business in Switzerland
Switzerland has quick excesses to Eurozone countries. Most of the European countries are within 2 hours of distance travel by air. This attracts a large number of foreign companies to establish their business in the country.
Germany, France and Italy are the nearest high business power countries near Switzerland. This leads to more investors being attracted to the country and also makes it a powerful country for foreign trading.
Switzerland is well known for producing skilled minds every year. The young graduates are highly skilled and dedicated to their roles.
This leads to the fast development of business and trade. Switzerland has 60 higher education universities and 4 of them are remarkable as the best universities in the world.
This makes it clear that the country believes in a high education system and also fulfils the demand of a skilful workforce required for the business.
Switzerland has experienced a wave of technological development and has high standards of technology available. The country is equipped with 24×7 speedy internet service.
Advanced Tranportation System:
The telecommunications department and transportation department are highly advanced. The government has a sound road system which makes it easier to travel from one city to another.
The pharmaceutical industry, research industry and biotechnology sector are booming in the country.
Developing in Scientific Terms:
Around 3% of GDP is contributed to research sectors. This also improves the health care sector and leads to the development of the country in scientific terms. This attracts a large number of investors to invest in the country.
The country has a good amount of population. Moreover, the market has excess to the nearby area's population, which makes it a hotspot of trade. The government has a population of 85.7 lakhs.
This makes it easy and efficient for businesses to expand and grow. The population in the country has high purchasing power which leads to the development of luxury goods companies as well.
The high population also leads to large workforce availability. This has been a significant power for business leaders to consider Switzerland as their business site.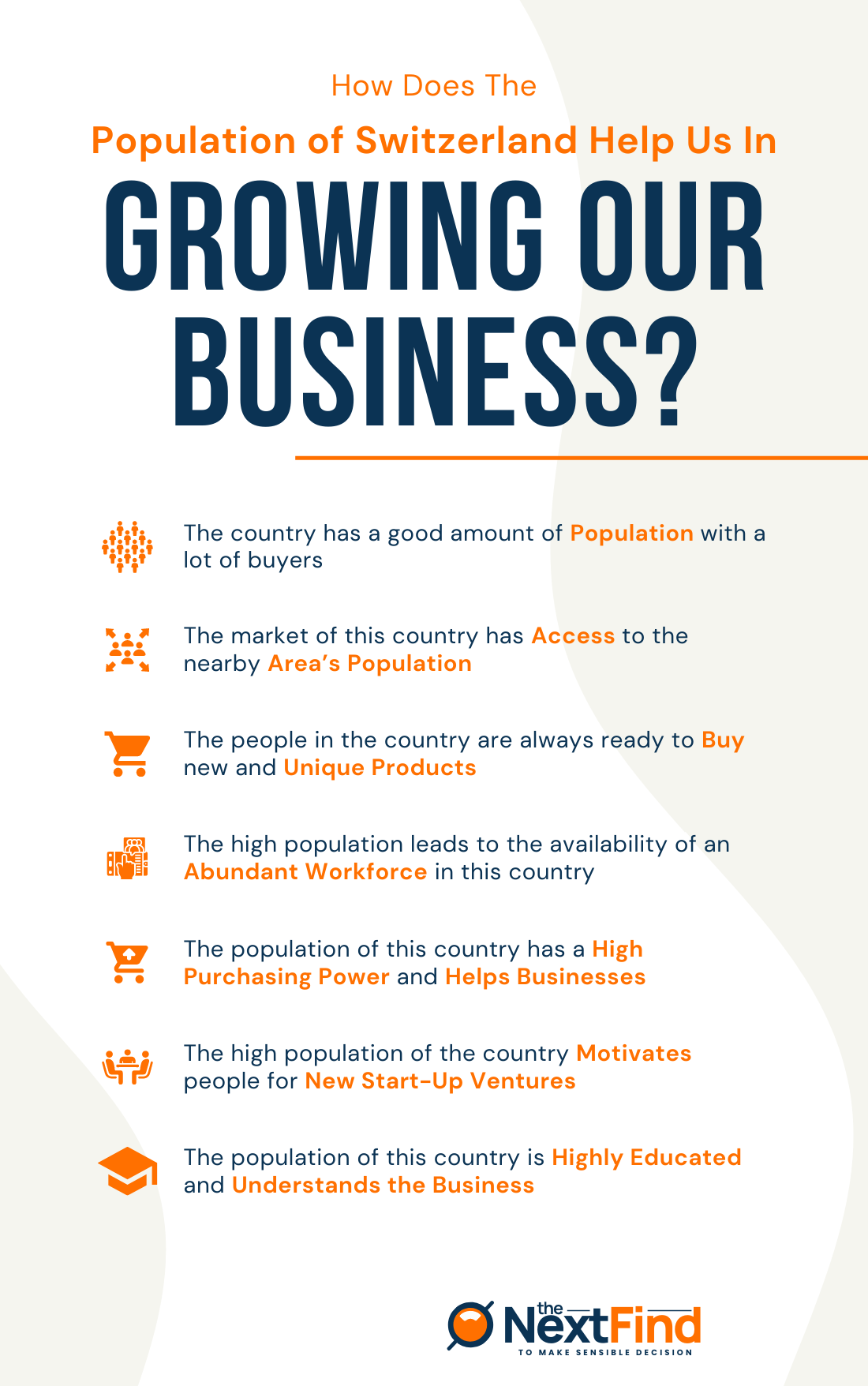 Ease of continuing with business:
The country grabs a rank at 38th position among 190 countries according to the World Bank's survey.
The economic impact on business strategies and support of the government makes it easier to continue the business in the country, once started. Hence, the country is home to many highly advanced and developed companies.
The country grabs a rank at 20th position for having business-friendly tax policies. The corporate tax is a low rate. Moreover establishing an offshore company has its own benefits in terms of tax payment.
The VAT tax, estate tax and much other tax cuts off for a start-up company. The profit tax margin is also lower as compared to other countries.
Switzerland is a hot tourist spot and grabs the attention of enormous tourists every year. Many millionaires choose Switzerland as a vacation location and also conduct business trips.
This attracts a large number of foreign investors and international players and leaders within the nation for setting up their businesses. It also leads to indirect exports and high exchange of foreign currency.
Switzerland has a highly advanced infrastructure available for starting with business. The business parks and ready to start business sites and estates are open in the country.
Getting electricity, water supply is also easy compared to other countries. The country grabs rank at 11th position for getting an electricity connection.
Disadvantages of Doing Business in Switzerland
Starting with business and startups leads to many obstacles and challenges in the country, as you have to put in a great amount of energy and time for the completion of tax payments.
Legal documents preparation and bank account opening takes a plenty of time. The government departments conduct multiple inspections for approval of documents and legalization. Many procedures should be taken in account for starting a business in the country.
Lack of awareness of entrepreneurship:
The country suffers from a lack of interest in starting a business and taking the risk because the intelligence and management skills that are required for managing the company appropriately are lacking among the citizens.
Enforcement of education on entrepreneurship is low and not a much-accepted subject among the citizens of the country.
The hierarchy system is still somewhere prevalent in the country. The country citizens are given higher opportunities to develop than non-country residents. Every company must have country citizens at higher positions in order to create their company and expand its business.
This leads to implantation of seeds of distrust, lack of confidence and jealousy among the colleagues. This leads to an unhealthy environment in the company that affects it in the longer-term.
Lifestyle in Switzerland is very costly and highly modern. Consumption of alcohol is considered to be expected.
The basic requirements for survival have high costs, and luxury goods are considered to be the pride in one's lifestyle. This somehow leads to more expenditure than savings and is economically lethal.
Similar Posts:
Was this article helpful?
Business, marketing, and blogging – these three words describe me the best. I am the founder of Burban Branding and Media, and a self-taught marketer with 10 years of experience. My passion lies in helping startups enhance their business through marketing, HR, leadership, and finance. I am on a mission to assist businesses in achieving their goals.