A startup business undoubtedly shows the future. A country's economic prosperity depends largely on the growth of these autonomous startup business ventures. Especially in a capitalist economy, several independent industries enjoy the liberty to prosper on their own without unnecessary state intervention.
As a result buying products from these startups boost their confidence and encourage them to take more risks in order to grow further. Of course, without a proper brand name it is a bit difficult and even risky to buy anything from a startup company, but what is life without a little risk?
Let us now explore some of the pros and cons of buying from a startup.
| | |
| --- | --- |
| Benefits | Drawbacks |
| Customer-friendly | Can be overpriced |
| Honest effort | Can be unreliable |
| Mostly affordable | No brand guarantee |
| Promoting growth of a small business | Limited stock |
| Perks, benefits and vouchers | Payment issues |
| Reviews and criticisms | |
| Reliable and authentic | |
Advantages of buying from a startup:
One of the biggest advantages of buying anything from a startup is that a startup is generally more customer friendly. These new business ventures begin their journeys with limited resources and employees. They have an incessant urge to prove their worth and to grow their businesses.
That is the reason why they intend to assist their customers whenever a problem occurs. They try to fix the problems meticulously so that their customers do not have any more complaints. Hence, these startup companies are mostly reliable.
If you are buying something from a startup company, then you can be rest assured of the service it provides to you. Generally, startup businessesare extremely honest so far their products, services and information are concerned. Their small scale business ideas and strategies do not fail their customers or disappoint their clients. Their honesty, clarity and perseverance stand as a testimony to their firm commitment and dedication.
In most cases, the products manufactured by these startup companies are affordable because their primary intention is to engage more customers. An unrealistic price hike may compel their customers to lose interest and they can end up buying the same products from a different store.
The basic psychology of a customer states that it is better to buy something expensive from a bigger brand than buying the same product from a startup. But, if a startup business sells affordable products, it may reach out to more number customers.
Promoting growth of a small business:
It is quite obvious that if you keep buying from a startup company, you become one of its faithful customers and also you promote its growth. This strengthens the professional relationship between the seller and the client. If you regularly buy some beauty products from a startup company, it may feature you in its advertisements and brochures. As a result, you indirectly can participate in making a startup company successful.
Perks, benefits and vouchers:
If you become a faithful customer, you may enjoy certain perks and benefits. A startup company is usually very friendly with its clients. Hence it may offer certain discounts on some products and may offer some exciting vouchers on special occasions.
Healthy criticisms and helpful feedbacks from customers are what a startup company looks forward to. These reviews from their clients help them work on their drawbacks. For example, if you visit a new restaurant frequently, you may suggest the owner to add some exotic cuisines to their menu. This interactive discourse between the seller and the buyer helps a company improve the quality of their products.
These startups are mostly reliable and authentic. Their service and products are usually original and unique because they know that if they practise any form of plagiarism, they cannot survive in the market.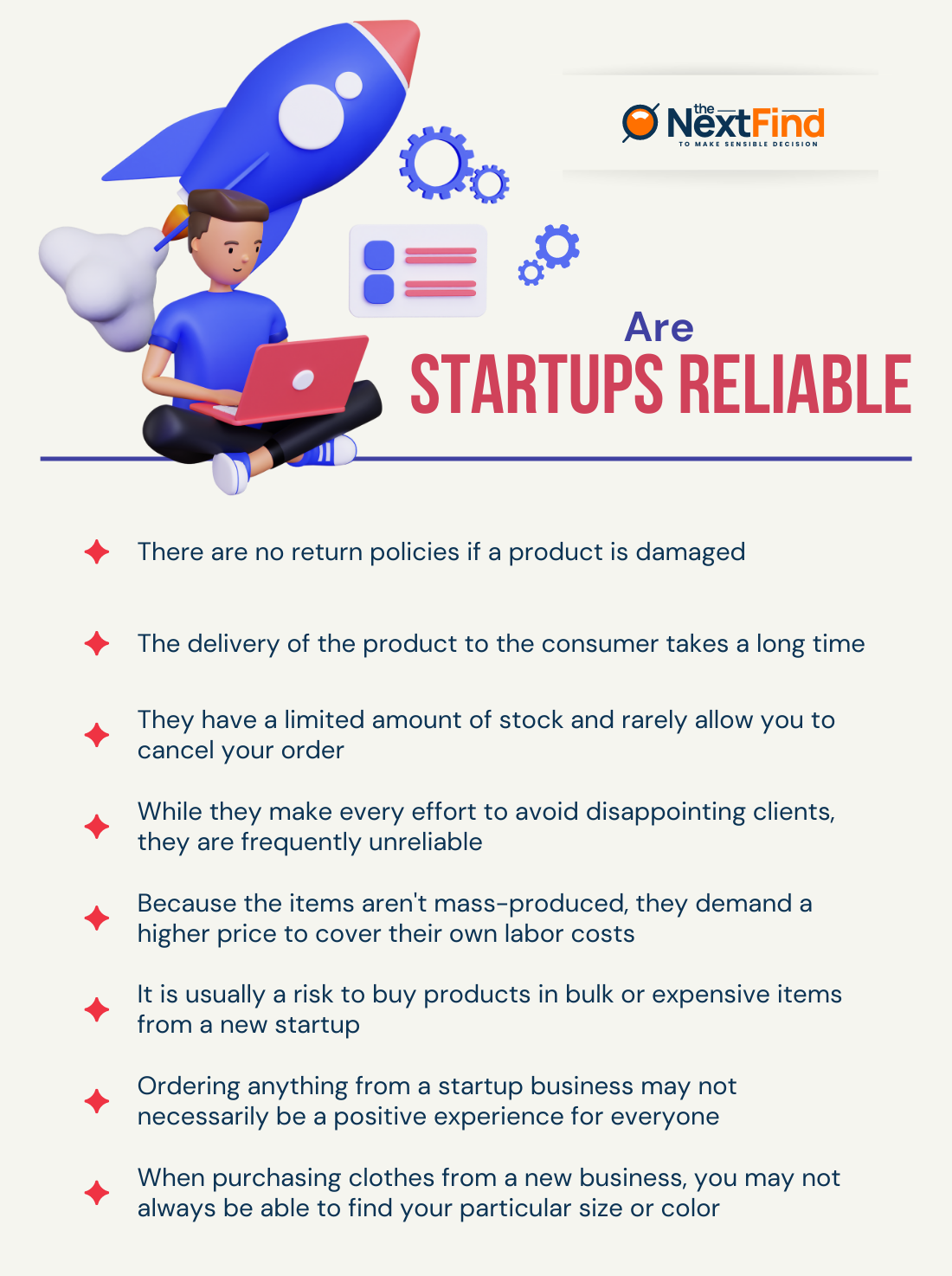 Disadvantages of buying from a startup:
In order to increase their productivity and profit margins, some startup companies can be a bit expensive and their products can be unrealistically overpriced. This not only hampers their relationship with their customers, but also they run a risk of suffering from a huge loss.
Everything cannot be utopian and your experience of buying something from a startup company may not be rosy always. Some startups can indulge in fraudulent practices and they can be unreliable. Since these autonomous startup businesses are independent, they are usually not answerable to any higher authority for their actions.
These startup companies do not work under any largeMNCs, hence they cannot afford to sell the products of any bigger brand. As a result, if you come across any defect in their products, they may not repair them or return your money. Therefore, you may not be left with any guarantee or insurance. That is the reason why, experienced buyers advice others to not purchase anything expensive from a startup company, because there is no warranty.
Some of the startups begin their business ventures with limited resources. As a result, they often end up having limited stock of products. Being a customer, you may not be offered many options and hence you may end up buying the same from another store that offers myriads of options. The startup company, as a result, may run at a loss and this whole fiasco may destroy its reputation.
Many startup companies can give you a hard time during the payment process because pertaining to insufficient information, technical aids and resources; they may not offer multiple payment options. It may happen that you can only use your credit card but the startup company does not offer online payment options except 'Cash on Delivery'.
Quite obviously buying something from a startup company has certain advantages and disadvantages. But the purchasing experience can vary. You may really enjoy the service provided by one company and may endure an unpleasant response from another company. There is no fixed rule or method that a startup company follows.
Similar Posts:
Was this article helpful?
Business, marketing, and blogging – these three words describe me the best. I am the founder of Burban Branding and Media, and a self-taught marketer with 10 years of experience. My passion lies in helping startups enhance their business through marketing, HR, leadership, and finance. I am on a mission to assist businesses in achieving their goals.