As the present world is getting overloaded with technology, information and competition, marketers are focusing on creating valuable content for their company. For support of marketing tactics good content is important as it emphasises the success of many other marketing tactics, such as social media and public relations.
This is where content writing startups come in. They help with content marketing which is essentially an act of creating valuable contents to attract people who trust your business.
Content marketing too has its own set of pros and cons, which one needs to be aware of before deciding to dive in.
BENEFITS AND DRAWBACKS OF CONTENT WRITING STARTUP
| | |
| --- | --- |
| PROS | CONS |
| Build brand awareness, trust and loyalty | Time-consuming |
| Reach audiences who avoid ads | Requires a lot of creativity and skills |
| Cost-effective method to achieve better results | Difficulty in finding content ideas |
| Increased traffic and conversions | Evaluation |
| Helps in building authority | Hidden costs |
| Become a reliable source of information | Complexity of implementing strategy |
ADVANTAGES OF CONTENT WRITING STARTUP
• Build brand awareness, trust and loyalty
A content writing startup can influence the people consuming the content and start building an impression of the brand. Publishing informative, well-researched content means the business will be seen as authoritative and trustworthy.
The more your audience rely on you for information, the more likely it is going to increase the sales and the subsequent revenue from it.
• Reach audiences who avoid ads
The use of content rather than traditional advertising can help reach potential customers who may use ad-blocking software. This is where content writing startups come in, providing those who actively avoid or ignore traditional advertising with relevant information thus driving up traffic and viewers.
• Cost-effective method to achieve better results
Content marketing is a cost-effective method which provides better results than the conventional methods of marketing. It can be said content marketing is suitable for modern age marketing which is more customer and search engine driven. It also helps generate revenue in short sales cycles. Subsequently, this means that the total spend will be on the lower side.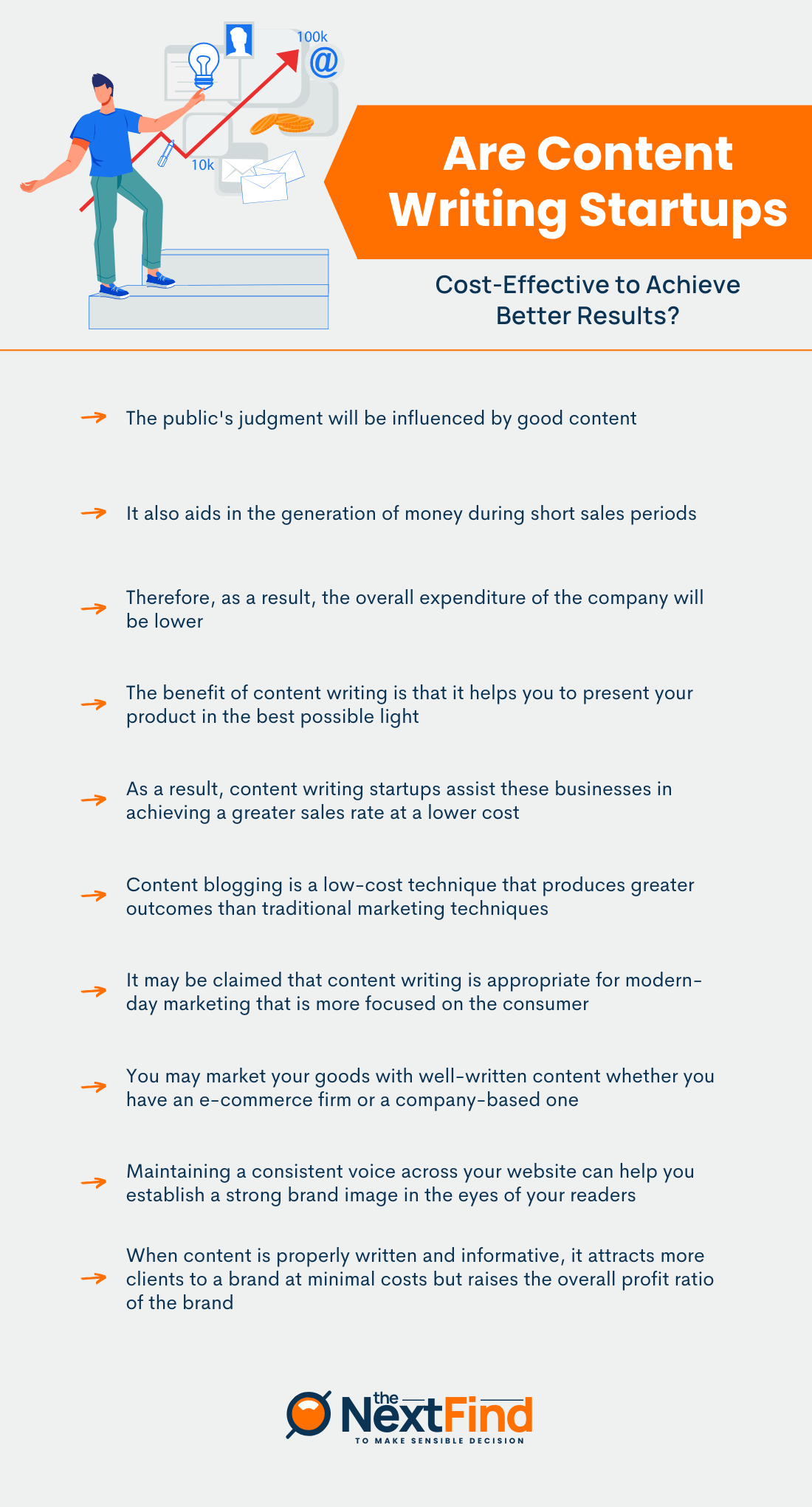 • Increased traffic and conversions
For a content writing startup to be successful, publishing quality content is not an option. Such niche content draws the audience to your website, boosting web traffic. Once they are on your site, you can persuade them to register or make a purchase (i.e incentivise response.)
• Helps in building authority
Content marketing helps increase sales, but the right, informative, and valuable content can boost the authority of the business within an industry. The qualitative posts can establish you as an expert and a market leader. While producing high-end and niche information often doesn't come easy, but once succeeded it is worth the price.
• Become a reliable source for information
This emphasises the company's devotion to producing strong content on a consistent basis to maintain loyalty of your following. If continuous content can be published that moves people, you will make a formidable reputation for yourself as a thought and/or industry leader.
However, it is time-consuming to perfect the precision and craft of understanding the needs of your target audience. But it should be the ultimate goal should that a content writing startup should aim to achieve.
DISADVANTAGES OF CONTENT WRITING STARTUP
• Time Consuming
Content marketing can be a long and tedious process. There is normally a period of trial and error to identify what works best. Creating good quality content always takes time. To attract your customers, you need to spend time understanding their problem and situation. It will take time but eventually will allow you to hit your target audience.
• Requires a lot of creativity and skills
Content marketing can be time-consuming as one needs to create content, publish it across your marketing channels and analyse the impact real-time. To create certain kinds of content such as infographics and videos various skilled professionals are required to deliver quality content. In such a scenario, a content writing startup may also need to outsource or develop in-house skills.
• Difficulty in finding content ideas
While it is tricky to come up with ideas for effective new topics and formats, it gradually becomes easier as you go along and can analyse the impact of previous content. It can be complex for you to come up with creative ideas and effective topics for your content. On the contrary, it can be easier if you, through a lot of research can succeed and analyze the impact of the previous topic.
• Evaluation
With the massive amount of content being published, after a point of time it can be harder to determine the impact of your content on brand reputation, awareness and loyalty. One needs to be extremely critical and analytical while tabulating such values. However, it's relatively easy to measure the effect your content marketing has on web traffic and online conversions.
• Hidden costs
Creating a strong campaign means financially investing in the people and tools that can help propel your content. However, this is not restricted to content creators, curators and directors but also includes online marketers, social media managers, and sales representatives to ensure that quality content moves forward to a large and relevant audience.
• Complexity of implementing strategy

This is probably the biggest drawback that is the various challenges which comes your way while implementing content strategy. It requires professionals because you need to formulate the concept of promotion, select relevant sites, create engaging content, monitor performance and adjust the content plan. In addition, it will be difficult to monitor the work of a specialist. But if you contact any agency, you can get a guaranteed result for a fixed fee.
While the drawbacks of content marketing are indeed challenging, they are a part and parcel of every business organisation and should not be a reason to cause hindrances. The efforts that are required to succeed using this method of marketing and communication are well worth the costs!
Similar Posts:
Was this article helpful?
Business, marketing, and blogging – these three words describe me the best. I am the founder of Burban Branding and Media, and a self-taught marketer with 10 years of experience. My passion lies in helping startups enhance their business through marketing, HR, leadership, and finance. I am on a mission to assist businesses in achieving their goals.