There are people who are passionate about music and know how to play more than one musical instrument. It is ideal for these people to start a musician business from home.
They can transform their talents into a business idea and earn a handsome amount of money. Music teachers in schools and band members also have the experience and credentials to connect to people who love music.
People are interested in listening as well as learning music or how to play an instrument.
A music lessons business from home gives an opportunity to novice musicians to learn how to play an instrument or learn how to sing. It also helps seasoned, trained musicians to improve their musical abilities.
Here are steps to start Music Career
Business Plan and Mission Statement
Work hard to craft a business plan before you start. Write down all your priorities in a piece of paper, operational plans, marketing, and promotional plans, investment plans etc.
A timeline should be there according to which the business will proceed.
Also, have your mission statement ready, this will help you in reminding your passion and also help others in aligning to your cause. This will make your business more reliable to the clients.
Moreover, having a business plan ready will help you to focus on your day-to-day operations and also to sustain your business.
#BonusTip: Instead of focusing all of your efforts on reaching out to all your fans individually focus a lot more of your efforts on building up good relationships with other music lover groups.
Target Group
Your target groups should include those who have a passion for music and are interested in learning it.
Mostly they will be school or college students, they have the free time to spend on practicing. There are parents who want their children to indulge in some extracurricular activity other than studying, they want their children to learn to sing or playing an instrument.
Many college students dream of becoming Rockstar and you can teach them how to play the guitar or other instruments.
You can also get clients in the film industry if you are focusing on a career as a music producer, music recording/publishing.
#BonusTip: With so many new acts coming out every day, it can be hard to stay top-of-mind. Yes, someone might hear one of your songs and like what you're doing, keep them entertained in some form of another, this is the real chance to remember them about you.
Costs Involved in Starting the Business
The start-up costs are quite low in a musician business. You have to spend mostly on buying the instruments, this can be expensive.
You also need other equipment like music stands, speakers, amplifiers etc.
You have to research the market and find out where you can get them at cheap prices. If you have to rent space for your business, then it will increase your operating costs.
#BonusTip: To get more delight ness in your Students. Make sure to include their ideas into your act, and take into consideration the likes and dislikes of their particular music choice. These way you can increase the happiness Level of Every Students.
Choose Your Niche
You have to determine your niche in a musician business. This will help you to plan the business efficiently. Focus on a particular area and develop your expertise on it.
You can focus on teaching people how to sing, play a particular instrument like guitar, flute, table, etc.
You can also start the business as a music producer or audio engineer, sound designer music publishing/licensing etc.
#BonusTip: If you don't make great music, nothing will ever change in your music career. As an independent musician, you're fighting an uphill battle by default. You're competing for the attention of people and Customers. make one Song which Could be your Signature.
Build a Team
As a business owner, you need to hire well-trained professional musicians to work in your company. Your staff should be certified, this will help in building trust among the clients who don't want to spend money on a freelancer.
Work as a team and communicate with each other, hire an accountant to maintain the financial records, pay taxes on time and also help you to apply for loans.
#BonusTip: You can Lower your cost of services or You can Purchase such Items which is renewable. one-time expense such as drums, or are they handouts and giveaways such as music-related items to create satisfaction
Charging the Customers
Research the market and find out what other musician companies are charging from their clients. Adjust your charges according to that, try to charge less than your competitors when you are starting.
First, try to gain a foothold in the business, once you get popular then you can fix higher charges without having to worry about losing your clients to others who charge less.
Your clients will definitely remain loyal to you if the quality of your services is good. Have a look at the average income of people staying in your locality and fix the charges according to it.
Avoid charging high amounts if the people staying in your locality can't afford it. Charge according to hours.
#BonusTip: Remember the benefit of posting Music-related content on your site. By talking about other acts and your genre of music in general, not only do you have more content to share with your audience, but you'll have more things which you can rank for in search engines.
Marketing
Marketize your business using various techniques. Music businesses grow by word of mouth. Distribute business cards among your customers, post ads in newspapers, advertise the name of your business in banners, distribute pamphlets in crowded areas.
Try posting ads in places where you have your potential customer base like schools, colleges, instrument shops etc. Also, use social media websites to promote your business.
Create a page in popular social media platforms that are dedicated to your business so that you can reach out to the online crowd.
#BonusTip: Everyone is on Social media. One of the most effective ways to spread awareness about your Musician Business is to inform your audience about it on social media. You can Try Facebook or Instagram to Showcase your Services.
Licensing and other Legal Requirements
You will need a few state permits and licenses before launching the business. Learn about the licensing requirements in your state and hire a lawyer who can help you in getting acquainted with all the laws affecting your business.
Music businesses are governed by service agreements, sign a service agreement with your clients before starting any new project.
The agreement should clarify the expectations of the clients and all the payment terms and conditions.
#BonusTip: Word of mouth publicity matters a lot for startups whose marketing budget is small. Try your Student or fans to share their voice on different Media, so Through that you can Create a word of mouth of your Musician Service. Try this
Space
You should have a proper space in your home dedicated to your business. Built an office room in your home from where you can direct and manage the day-to-day activities of the business.
Decorate the space based on themes related to music, make it look attractive to clients.
Avoid renting space at the beginning as this will increase your startup costs, you can rent a space in government buildings, schools, and community halls when you start expanding your business and setting up branches in different areas.
#BonusTip: Video content is really valuable, and you need not to be professional to make it. Take your Phone and start best video of your Musician Services and start uploading the same on different Media.
Create a Website
Create a professional website for your business even if it is offline. This will help you in interacting with your clients easily anytime, anywhere. The website should provide the clients with all the information regarding your business and also the mission statement.
It will also help you in receiving important and valuable feedback from your clients. A website also helps in making the business more manageable.
Hence starting a musician business at home can be profitable if you have the management skills and patience to build your business step by step.
Hire talented musicians who can play more than one instrument, hire them based on the demand of your clients. Provide quality services to your clients as this will help you in creating a loyal customer base.
Marketing is the Core thing for Every Business. If you have an effective marketing plan then you can achieve good profits and selling. Here we Collected an Infographic which gives you Insight about how to Market your Business. Read it to know more and Apply the same on Business.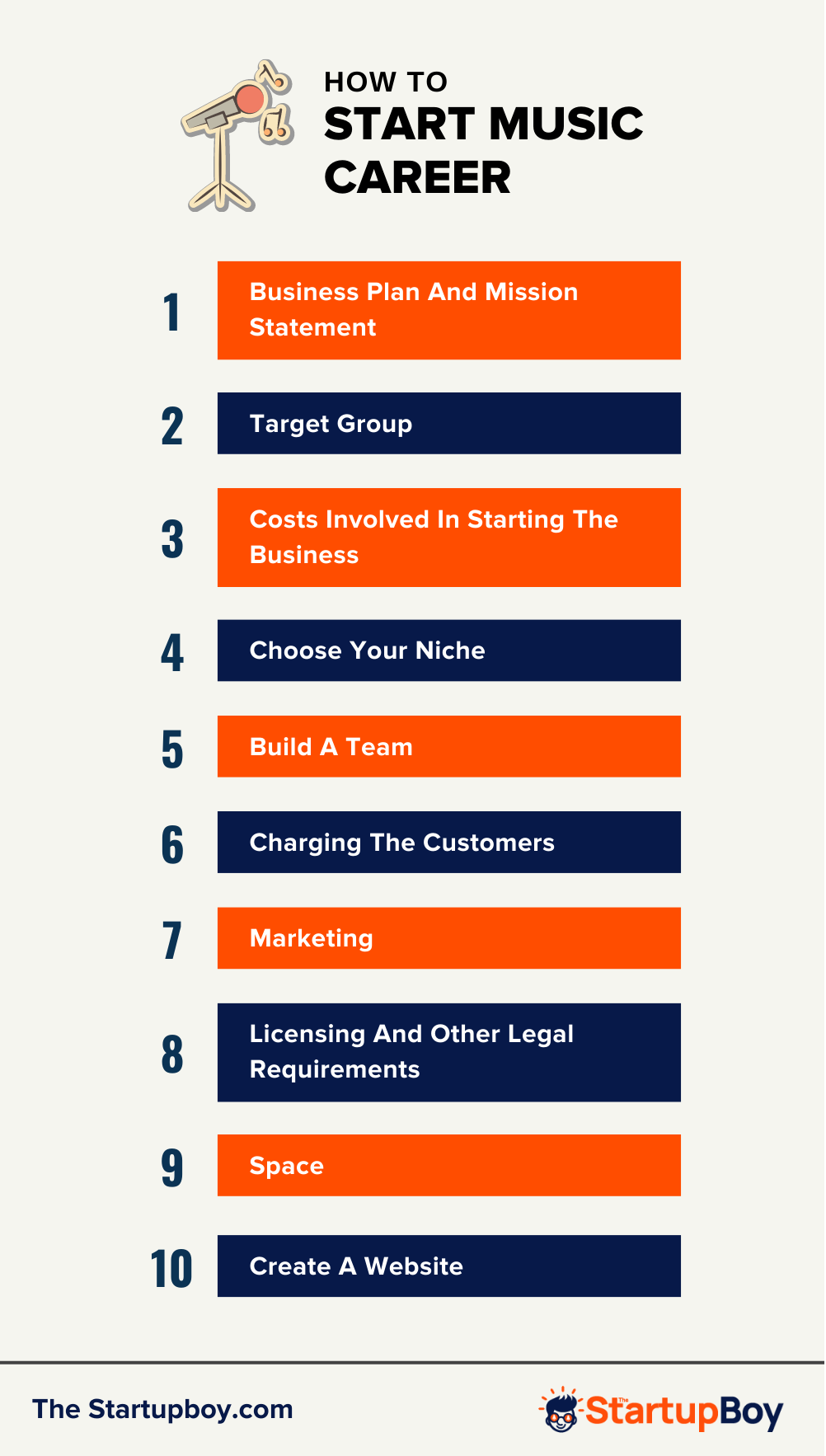 Similar Posts:
Was this article helpful?
Business, marketing, and blogging – these three words describe me the best. I am the founder of Burban Branding and Media, and a self-taught marketer with 10 years of experience. My passion lies in helping startups enhance their business through marketing, HR, leadership, and finance. I am on a mission to assist businesses in achieving their goals.