Airbnb is a popular platform for short-term home rental which provides unique opportunities for the guest as well as the host.
Started in 2007, Airbnb expanded to include almost every country. There are more than 6 million listings in 191 different countries, and on 10th August 2019, the platform achieved unparalleled growth.
And as of 2020, September there are around 9 million hosts and 5. 6 active listings along with over 800 million guest stays.
Airbnb provides the ability for essentially everyone who has a spare room or entire house to provide rental space and earn extra income, or even turn this into a full-time business.
However, if you are starting this new, then this ultimate guide will help you to start your Airbnb business.
How This Actually Works And Is That Worth It?
Starting your business on Airbnb, these might be your first few questions.
Is Airbnb the right choice for you?
Is It Worth the effort?
And how does this even work?
Well, these are common and not something that you only think about. There is no doubt that starting your business on Airbnb is not a walk in the park. There are lots of things you should be concerned about.
But before that, it's important to make sure that you are ready to start and have knowledge about how this site works.
Is Airbnb The Right Choice For You?
Before you jump to work right away, this is an important question to ask.
A great host requires to have hospitality knowledge, business acumen, good communication, and organization skills.
Airbnb depends on their customer satisfaction, so if you are not someone who can be a people person this might be a troublesome profession to choose.
There are lots of people who started their business on Airbnb as a side hustle. This might be your solution as well as a good way to start.
Image source: Skift
It also includes why you want to be a host here and what influenced you. It's not always driven by money as lots of people leave their job to start full time. It can be a need of taking control of their workday or flexibility to the work hours.
But if you are considering this because of replacing the high income with your Airbnb revenue, then it's important for you to know the challenges and realities first.
Is It Worth The Effort?
Airbnb is a business, it's worth it but again it's not for everyone. There is no doubt that it's profitable, and you can earn money from using your property.
According to Price Economics research, they found that Airbnb is the biggest platform in an economy that has the highest profitability as compared to Uber, Doordash, and Lyft.
Airbnb is considered as an easy way of earning money but it's not a route of getting rich faster.
Image source: eatwanderexplore
The host here earns on average $929 a month with a median of $440.
However, these numbers include the occasional host or part-timers.
There are only 10 % of all hosts that have an earning of $2000 or more per month. However, there is a right strategy that can be used to improve the income.
Airbnb requires the amount of risk that you are willing to take. It determines how much you might be able to scale your business.
And How Does This Even Work?
Well to start on Airbnb requires creating the listing first. There are steps that you require to take, it includes adding the details and information, photos, and giving a reason what makes your place unique.
The host decides the charge and can vary the rate depending on the day of the week or time of the year.
Here you get the smart pricing tool that helps in adjusting your listing rates automatically based on demand, seasonality, and other different factors.
However for starting it's free to list, but once you get the reservation you require to pay a 3 or 5% service fee.
Here you get the Host guarantee that provides more than $1 million in protection for property damage. Along with that, it provides Host protection insurance, its liability coverage.
What Are The Basic Research That Will Help?
Before you start your business, it's important to do your research. The insurance depends on the countries and state you live in. The rules can be changed, and that's why you are required to do the research so you know what you are dealing with.
However, here are some of the basic questions that you might want to research:
Is Airbnb Legal?
Starting your business here and this might be the first question you have. This is important to know if the site is legal or not. You don't want to rent your property without having the permission of the owners.
Law can differ based on your locality. That's why you should do research on the legalities of renting small terms in your city as well as the state.
However, if you own a multi-family building, make sure you look carefully through the rules first of the housing associations.
What's Your Right Market?
Here you need to do extensive research to understand your market first. You need to find the worth of your property and the average occupancy rate in your local area.
However, you get the tools on Airbnb that scope in earning potentials. But that should not stop you from doing your own research.
If you live near places which are famous for tourists, it can be easier for you to earn a decent profit.
Also, the seasonal markets can have a big impact on how much you will earn throughout the year.
Who Is Your Right Customer?
Similar to any other business, you need a customer to start and earn profit.
And that requires you to do the research on who might be your targeted customers. This depends on the type of property and location that affects the type of people you can look for as your customer.
Your customers can be families, couples, or even business travelers. That's why you need to do the research.
It also helps in doing the furnishing and adding amenities according to the type of customer you are targeting.
How To Start: Plan Your Business First
Starting a business on Airbnb includes a four-stage process. Every phase is equally important and if you are planning to start a profitable business, this will help.
Well to start, the first thing you need to do is the planning. It's important to know that not all property is for Airbnb.
There are several things that might be stopping you, it can be the property, local regulation, or financial variability. Or it can be your neighborhood.
That's why it's crucial to understand more about the property and things that might be the hassle.
Check The Airbnb Regulated Related Your Area
Before you decide to become the host, you need to check the local regulations of your city. The platform expanded over the years but it's also getting lousy press due to the hosts which are irresponsible.
There are some cities that have laws restricting the ability to host paying guests for a shorter period of time.
It can be the city's zoning or administrative codes.
Also, there are some cities where you need to have the permit or license before you list the property or even accept the guest.
It might have penalties and even other enforcement. This is why you need to check the Airbnb rules, along with your area as well as state and countries too.
Make sure you are operating your business as per law. Not just for your business to keep it safe but also to protect the guest.
Financial Viability On Airbnb
If you are renting your primary residence, you are required to list it on the site. However, if you are renting the entire property, this can be a whole new thing to handle.
Image source: millionmilesecrte
There are different viabilities you get that you can rent on Airbnb, it includes:
Rent Holiday Home – You can rent your holiday home for periodic rent instead of a traditional long-term rental.
Long-term rental might not work as the tenant requires the assured time, and it might not be suitable for your holiday plans.
Using it on Airbnb, you can block the dates when you want to use the holiday home. And when you are not using it, you can simply rent it here.
Rent Second Home – If you have a second property, you can rent it on Airbnb, however you might need a detailed financial analysis to know if you are getting better returns in long-term tenancy or not.
Suitability Of Property
The next planning you need to do is to see if your property is suitable for Airbnb or not. Also, there are different factors that depend.
There are some of the important factors that you consider, it includes :
Exterior – It's important to add photos of how your property looks from the outside. It gives a sense of safety and the guest feels much better about security.
Interiors – The place should be clean, fresh, and have natural light.
Accessibility – it should have easy access to the property, including a well-lit path, step-free, or wheelchair accessibility.
Safety – The place should be safe and secure. It should have a fire-safe, fire alarm, and carbon monoxide alarm.
Privacy – The place should have privacy, which includes dark curtains to bedrooms, tinted glass in the bathroom, etc.
Cleanliness – The place should be clutter-free, with no bad odor, bugs, damp or dust. If the guest complains about bugs in your property to Airbnb, they will shut down your business.
Identifying The Complete Process
There are lots of things you require to do, it includes cleaning your property, key handover, guest check-in or out, etc. This process takes time, that's why you need to have an understanding of how much time it will take.
Including Who will clean the room and property after the guest checks out or before the check-in. Inspecting the place to make sure everything is right, you might need a small team to handle the different processes.
As for identifying the check-ins and outs procedure, there are some questions that you should ask :
How is your guest going to collect the keys?
Where should they leave the keys after they check out?
What will be the time for check-ins and outs?
Do you want them to clean the dishes or leave them?
Apart from this, here are some of the major settings and process you should identify first :
Your Property Availability
When you visit the Airbnb site, you will find the availability settings. These are the key timings that have a direct impact on your whole operation.
It includes :
Advance Notice – This helps in avoiding the booking at the last minute, so you can set how the guest will notify you before they arrive.
Same Day Unit – This one is for setting the time of the day when the guest can do the last-minute booking.
Preparation Time – You can set a 1 or 2-day block on Airbnb after each booking, so you can prepare the place for the next one.
Booking Window – This shows how much advance that you want the calendar open for booking.
Your Communication Ways
As soon the booking stats to place, you are going to need communication strategies so you can have the information on each stage of booking that includes :
Booking information
Check in instarcution
Message for the first morning
Check out message
the standard response in early check-in
Last check out standard
Discount request
Response to queries
Your Pricing Strategy
The next includes the pricing strategy of your property. You can start your research by searching similar properties on Airbnb and see how much other hosts are charging for that.
However, there are three pricing models that you can consider.
Static Pricing – It's one standard price for the bookable night. Most of the hosts set this manually, depending on the local knowledge as well as demand. You can set the price for each night, and increase the price on popular days or weekends.
However, it's not a great idea to consider as you get the profit during high demands. During low demand, you might not get the booking at all.
Dynamic Pricing – It's a sophisticated pricing strategy that most of the airline and hotel industry use.
It calculates the price on each day of an individual year based on past data, occupancy, local demand, etc.
This one considers the best idea as if you use it correctly, this can help you in boosting the profitability.
Airbnb Smart Pricing – It's a tool that you can consider to opt-in. This will help in knowing about the price per night based on the calculations.
This tool uses the minimum to maximum, based price that you can set for the price setting.
It might suggest the lowest or cheaper than others in your area, that's why it's not recommended for a long way.
Your Payments
Well, Airbnb releases your payment after 24 hours when the guest checks-in. There are the majority of countries where the host receives the payment on the same day.
You can set the payment method on Airbnb, visit your profile and choose a setting. Now go to the payment & payouts.
Here you can :
Add the multiple payment methods. However, you are required to choose one method as default that can be used for Airbnb payouts.
If you want to receive the minimum payout amount, then you can set the price.
You can also set payout routing to split payout into various methods for payment. However, it's handy if you have more properties. This can help in mapping them to different options in the payout method.
How To Start: Setting Up Your Business
Once you are done with the planning, you can now switch to phase 2 which is setting up your business on Airbnb.
To start, here is what you will need :
Furnishing Your Property
Here you are going to make sure that your property is good enough for your guest to stay comfortable.
It's important that your property is properly furnished, as it will affect the reviews too. If your house has rusty hinges, outdated furniture, kitchen, or creaking floorboards, there are higher chances of getting bad or negative reviews.
And it will eventually lead to Airbnb shutting down your listing.
When you are listing, it's important to look for the items that you should be providing as a host.
For Bathroom – Make sure you are adding all items such as toilet roll, body wash, hot water, shampoo, hand towel, and hand wash.
For Kitchen – Your kitchen should have a toaster, individuals packs of tea bags, instant coffee, pepper, salt, knife, cutlery, stove, and refrigerator.
For Miscellaneous – Your property should have free Wifi for guests, a Carbon Monoxide or CO alarm, and a Fire alarm.
For Bedrooms – The bedrooms should have a mattress protector, comfortable mattress, pillows per person, shades for darkening the room, blanket, or duvet.
If you are not sure what color to choose in bed linens and towels, keep it white. There are two basic reasons, first, it gives a professional vibe. Also, it's easy to take off the stains as you can simply bleach them.
Take Beautiful Shots Of Property
Now, when your property is ready and comfortable for your guest to stay in, it's time to get the photographs.
For increasing the booking, you should have beautiful shots of the property. Make sure It shows exactly what you are offering.
However you can hire a professional, but if you don't want to, then it is not mandatory. You just need a good camera or if you have a smartphone that can click good photos, then you can use it as well.
When you are clicking the shots, make sure it looks welcoming and clean. Show all the amenities that the guest will use.
Close the toilet seat when you click the bathroom photos.
Your photo resolution is also crucial, take the highest resolution that can be possible.
Creating The Listing On Airbnb
By now you have planned all things from setting up your property to taking beautiful shots to showcase the best.
The next step to follow is to create a listing on Airbnb. To create the profile, you are going to need :
Email address
Access to mobile
Passport or driving license
However, when you are creating the listing, make sure to use the computer. It will be much easier as you will get access to all options.
Key Handover Process Setup
This will help in keeping the key handover process simple as if you don't have it clear ways, then it can be messy.
Well, there are four common options that you will get here :
Manual Pass – If you live near the property then this one you can consider. However, most travelers don't prefer a manual pass on the keys as they like self-check-in.
Smart Locks – Here the guest don't require to have the keys, you can share the code or phone app, by which they can get access to the smart locks.
Installing Lockbox – If you are looking for the cheapest option, this one is best to consider. You can install the lockbox near the entrance and the guest can drop or get the keys from there.
Service Provider – you can use this as a key handover service provider which can be an option too.
Ensuring The Safety Of Property
It is important to make sure that your property is safe regardless of how big or small it is.
There are different things that you require to make sure, however, the prime one that should never overlook is fire safety.
You should have the complaint in local regulation. Also, the property should have equipped safety items and needed stuff such as
Fire alarm
Fire ad kit
Carbon monoxide alarm
Fire blanket in the kitchen
Ensuring The Cleaning Team
Cleanliness is the utmost standard that you should have.
It's not something that can be overlooked or gotten away.
Also when you are starting a business, cleanliness ensures that your business will work or not.
There are some of the basic things that you are going to focus on, and it's preferable if you have the team for that. It includes :
Keeping tabs on supplies and toiletries
Make the bed
Cleaning the dishes
Sweeping and mopping the floors
Taking out the trash and keeping it clean
Vacuuming the rugs and carpets
Cleaning the showers, bathtubs, and toilets
Checking if there is any kind of damage
Reporting the inventory
Wiping the door handles, light switches, and countertops
Apart from this, your property will need periodic deep cleaning, at least do it once a year. It should include :
Cleaning closet corners
Cleaning the cabinets
Shampooing and drying carpets
Cleaning under refrigerator and over
Wiping the baseboards
Cleaning the appliances such as coffee maker, toaster, etc
Cleaning walls
Taking animal waste
Mold removal
Cleaning fans, light bulbs, etc.
Upholstery cleaning
Cleaning windows and doors
Payment Process Setup
To make sure your accounting is manageable and easy, you are going to streamline the process of sending and receiving the payments.
It's much better to have a separate account when you are doing business on Airbnb.
How To Start: Setting Up The Operations
The third and crucial phase in the operation,
to make sure it's going smoothly and without any hassle, you need to take care of this from the beginning.
Setting Up Communication Strategy
It's an important part of starting your business that you provide the right information when it's needed.
Also, it's crucial to understand the difference between over and under communication. Both do harm to your business.
You need to know the stage when you should send the message to the guest. And what information you will add to that message.
Well, make sure you are sending the message outside Airbnb. However, it's the expectation if it's really important.
The best way is to use Airbnb messaging.
When you send the message via Airbnb messaging, the site sends to email, phone app, and text of the guest.
So there is no reason to use direct email.
Make Sure Your communication Strategy Have a Purpose
You can send the extra information as long as it suits the right time. When you are making the strategy, it should serve the purpose such as :
Providing the information that the guest will need during the stay.
Making the guest feel comfortable and accessible
Reducing the queries from the guest.
Make sure You Have Save Message Ready
It will save time when you do the interactions. Also, there will be a lot of chances and a saved message can be convenient.
Airbnb introduced the feature so the host can answer much faster.
Cleaning Arrangements
Well as mentioned earlier, cleaning is the utmost part of your business. Here you can either get professional help or you can do it yourself.
In both cases, there are some important key points that you require to do it. It includes :
Same Day Cleaning – Around 30% of the Airbnb reservations made within the last 24 hours. That's why make sure that the property is ready for your guest to stay. It's better to have same-day cleaning when your previous guest checks out.
Keep Extra Sets – When you purchase the set of towels, always buy three sets. . The one will be used for the purpose, and one for washing. The extra will be for continence.
Set Up For Maximum – If you don't have the reservation for immediate. You can make sure your team sets the property for the maximum number of guests. It will help in saving time and hassle if you get a last-minute booking.
Keep Everything Stocked – Make sure the cleaning supplies are stocked and easy to access. Also, keep the lock to protect from unauthorized use.
Maintain A Checklist – To save time and remind yourself what you will need, make sure you have a checklist.
Keep Dirty Laundry Away – When you are cleaning the place, make sure nothing is left behind. No dirty laundry should lie around and unwashed items left overnight.
Managing The Check-Ins & Outs
Well, it happens most of the time and no hosts are immune to such cases when the guest asks for early check-ins. Also, the request for late checkouts is quite obvious.
Image source: quora
Also as a host, providing this helps you in offering convenient service to the guest. And this helps in providing a better and respectful review.
For those guests who ask for the early check-ins, you can offer to drop the luggage anytime after the previous one check out.
Also, they can come back when their check-in starts.
As for those who request late checkouts, you can ask them to leave their luggage behind and come back before the next guest does their check-ins.
However, make sure that they don't use the facilities once they leave the property. Also, avoid asking about the previous checkouts and new guest check-ins on the same day.
You should always prioritize your incoming guests.
How To Start: Maintaining The Property
The last phase is maintaining the property, and it will make sure that your business keeps going in the right direction.
Airbnb is strict when it comes to maintenance and cleanliness. If your guest doesn't feel that your property is properly maintained and leave negative reviews.
This will harm your business. Also, the next guest will check the same thing. so you don't want to ignore this phase when you are planning for Airbnb's successful business.
Regular Checks Cleaning
When you start the business, make sure you have the cleaning checklist from Airbnb.
No matter if you have the team or contract the company or maybe doing it yourself. Make sure you are doing frequent cleaning.
When you do the regular checks for cleaning, the property stays safe, clean, and follows the audience. Here are some of the areas where you need to focus :
Dining Rooms – Wipe the baseboards, clean windows, dust tables, bar, and tables.
All Rooms – Use a scented candle or freshen flowers
Bathroom – Wash the mirrors, windows, scrub the bathtub and toilets. Dust the shelves, counters. Make sure to wipe down the counters, sinks, and faucets.
Bedrooms – Dust blinds, fans, and clean windows as well as under beds. Keep display items tidy, wash the mattress protectors.
Make Sure To Check on Regular Supplies
It's important to do the check on your regular supplies. If you have a team or company to handle ­­­­this, make sure you are not leaving all work on them.
It's important that you check it personally as well.
The supplies can quickly get consumed. Here are some of the items that you should keep a tab includes:
Mop
Mopping liquid
Windows cleaner
All purpose cleaner
Foaming shower cleaner
Broom
Bucket
Duster
Vacuum bags
Paper towels
Wood cleaner
Sponges
Scrubbish brush
Laundry basket
Washing up liquid
Detergent
Get The Reviews
The best way to know how you are doing is to ask the guest. That's why you should take the reviews seriously.
Check the reviews at least the six months of your starting period. Make sure you listen to what your guest is saying.
If you are receiving some of the negative reviews,
Image source: businessinsider
Do not ignore it. It can be difficult and harsh but still, that will help you improve.
When you respond, keep it graceful and understanding. Those who give you suggestions, make sure to thank them and appreciate their efforts.
How To Create The Airbnb Listing?
Your Airbnb Listing is important, and the sales page for your business. This is what you consider as a marketing channel.
Your listing can make or break the business, so it's accrual to implement the right ways to ensure success and more booking in the future.
The search snippet consists of four parts I.e. photo, title, listing type, and reviews. The snippet determines the first impression of your space.
The Photo Section On Airbnb
Once you have the space ready to welcome the guest, here you need to request for a free professional photo shoot of your house.
Well, the service is provided by Airbnb to most marketers, however, it's not for all.
If you don't want to wait for the photographer to show up, you can do it on your own. And you can start your listing process.
Take at least two or three photos of your spaces, add a bedroom, toilet, living space, bathroom, and any spaces that you want to add.
Take few photos of the entire space of your apartment
Image source: thewanderingwanderluster
Add the photos of local favorite spots, highlight the famous activities, and what else the guest can enjoy.
How To Create The Effective Photo Section On Airbnb?
Once you get the photos that satisfy you, you can move ahead to upload your listing.
However, it's important that your photos follow certain orders. To know more about this, you can do the search on your own and see how other hosts upload the photos.
If your photos are not appealing enough, you might end up losing the guest. That's why I put the most appealing one in the first picture.
Keep your first 5 to 6 photos for providing an accurate yet appealing overview.
The Title Section On Airbnb
The second thing that comes in the search snippet is the title. It's one of the things that are important yet overlooked by most of the hosts.
Image source: getpaidforyourpad
When you are new to Airbnb, there are chances that you want to add generic titles. And it's a common mistake.
To make sure you do it in the right way, follow these points :
Keep the title around 40 characters.
Keep it in your mind that longer titles won't fit the search snippet, so it's better to shorten it.
To start, add the best two features that you want to highlight.
Be creative and use different characters
Know your target audience, if you have more groups of married couples, you can add " couple getaway" to attract more attention.
The Listing Description On Airbnb
Well, there are high chances that most of the guests don't give enough time to read the whole description.
There are lots of hosts that have complained, the guest asks the same questions that are already answered in the description.
To solve that, some hoes even add the secret codewords and ask the guest to add them to their inquiry message. It's for understanding if they actually read the description.
However, the main concern is why don't the host read the descriptions.
The main reason might be the combination of not having enough attention span and being less readable.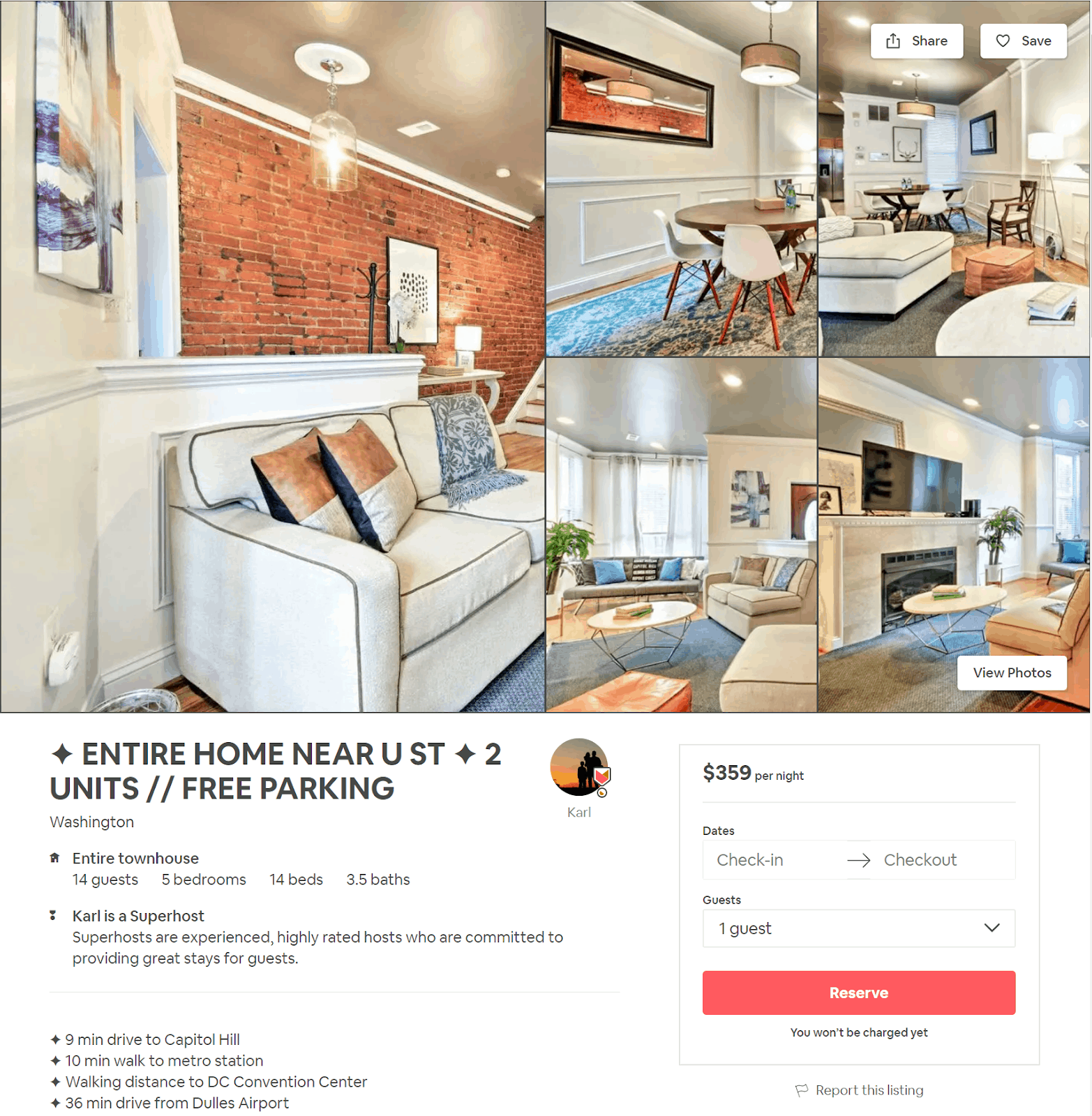 Image source: greatdwellings
That's why you should add paragraphs of three or five sentences instead of adding the long stretch. It will improve the readability.
Use bullet points, avoid using generic words, and focus on adding descriptions that add experience.
How To Create Your Airbnb Profile?
The last thing you should be concerned with here is the Airbnb profile. This is also one of the overlooked sections, especially for the hosted hosts. They are those who share a similar space with the guest.
Image source: thriftynomads
It's important that your guest knows about your before they confirm the booking.
To make sure you are having the most epic Airbnb profile, here are few points to follow :
Make sure to add a photo of yours with a genuine smile.
Add three or four paragraphs talking about yourself.
Keep it upbeat and positive.
Also, make sure that your profile is verified.
You can add some references.
You can add more and more verification if you have.
To Protect Yourself On Airbnb
There are fewer chances that your identity gets stolen, but it's better to protect yourself instead of waiting for things to happen.
For making sure that you are protected well as a host. You need to make sure not to add anything that's your personal identity such as passport, bank statement, social security cards, etc.
Don't upload any document that has your full name.
Keep the password hard to guess.
To Protect The Property From Squatters
For any host, having squatters it's the worst nightmare. However it is not that frequent, and unlikely won't happen. But to make sure that you are protecting your property from squatters.
For that follow these points :
Avoid stays that are longer than 30 days.
Keep the communication protected in the app.
It's best to listen to your guts. And make sure that you refuse the guest when you are feeling a bad vibe.
Be cautious of the guest that is not having or providing the contact information.
What Are The Useful Tips For Running An Airbnb Business?
To make your business successful, you are going to need some extra help. There are lots of businesses on Airbnb, and you can understand more how you can improve your business too.
Well here are some of the useful tips that you can consider :
Add The Local Information
The guests are probably new to the place, and there are high chances that they don't know the surroundings.
You can add the tourist maps, brochure for local activities or recommendation of the best restaurant they can consider in local.
Image source: airbnb
This can be helpful and there is no downside to doing so. You can add the bulletin board, marking the best areas where they can visit.
Quality Photos Do Make a Difference
The first thing your guest sees is the photos of the place. If they don't find it attractive enough, they can move to the next host.
That's why it's important to invest in improving your quality photos. Not just it should be attractive but also information.
Image source: travelnest
Show the lifestyle that the guest will be living if they choose your property. The images can be a huge factor in increasing your booking.
Document Every Single Thing
There is a lot of work to do when you are the host. It can be demanding and exhausting to maintain everything.
However, the best way to tackle this is to document every single thing you do. The more you have written, the better understanding you get. Also, you will know what to do and when.
Don't trust your memory too much on this. It's easier to forget things when you have too much on your plate.
Be The Bigger Person
There will be chances that you get the extremely rude and displeasing guest. If you respond in the same way, it will make them feel more agitated.
This can lead to asking for unsubstantiated claims for a refund. And this can turn the situation out of control.
However, it doesn't mean to ignore if something is not right. Son instead of showing anger, breath and then address whatever the issue is.
Don't give a chance to your guest so they can harm the business. Here you have to be the bigger person.
Always Ask For Feedbacks
Feedbacks and reviews are an important part of your business. If you know what your guest felt while staying, or what they prefer to upgrade, this will keep your work easier.
Image source: getpaidforyourpad
Also if there is anything they appreciate, it can help you in getting more hosts. Not to mention, that it feels good to receive appreciation after the hard work you do.
The point is, don't forget to ask for feedback and reviews from your guests.
Start Conversation Instead Of Responding
Instead of being the host that quickly responds, focus on how you are commuting. Make sure that they have all the information about their stay.
Also, 80% of messages are prewritten on Airbnb and you can send it when you find it perfect.
Take A Trip On Your Own
The best way to know what else you should be doing to make your guest comfortable is to take a trip on your own.
Go somewhere and book an Airbnb or some other host. Make sure that you are taking notes on things that they did, offer and services.
This will help you in getting the feeling of being a guest.
Do The Follow Up
A guest always looks for multiple options when they are using Airbnb until they confirm it.
So when you get the request, they properly want to hear back from you. Also, they have a lot of queries at this point to know about the property and feedback on if they are going with someone else too.
Well if you approved the request, and you haven't heard from them in 2 or 3 days. Make sure you reach out to them.
Offer special discounts as everyone wants to have a deal. Also, you can help in understanding that their trip will be worth it.
Add The Little Things For Guest
To make your guests feel at home, you don't have to do big things. It can be adding a couple of chocolates for welcoming the guest or adding vegetables to the garden.
These are not something too much but it does have the effect. It makes your guest feel at home. You can offer homemade food, bottles of wine, olive oil, etc.
Image source: Pinterest
There are some hosts who offer rides so the guests don't have to go through any trouble while finding the property.
Doing small things can help you stand out among the other hosts.
What To Send As Message To Your Guest During Stay?
Communication is an integral part of your business, also it makes you a ' good' host.
Well to improve the communication and make it much faster, Airbnb has the saved message functionality.
However, it's important to know what to send to your guest as there might be a lot of queries that they have at different stages.
Inquiry Related To Booking
Well, as a host it's obvious to get the queries related to the booking from the guest. Even if you have an instant booking, still you might get some guests asking the questions that are mentioned in the description of the listing.
Image source: airbnbcommunity
To avoid more queries, make sure you have a detailed listing. Well, some of the common queries that you might get are :
Where can they check in early or drop the luggage off?
Can they check out late?
Asking about discounting the Airbnb cleaning fee?
Asking about recommendations for restaurants or attractions areas?
Asking the distance from some specific place?
What amenities will they get?
Booking Confirmation
When the guest does the booking confirmations, there are some basic and important details that you must share. It is important that your guest are well informed so they don't have any kind of confusion.
It includes :
Mentioning that booking is confirmed
What is the number of people who are going to stay
When the reservation date is starting
What is the number of nights
What is the address of the property
When they can do the detailed check-in and get instructions from the host including the keys etc.
Guest's Check-In Instruction
The check-in instruction is to help the guest understand when they can start the stay along with details that will help in keeping their check-in smooth.
Image source: vacationrentalcleaning
Here are some important detail images that your message should have :
Date for check-in
Time for check-in start and check-in end
Address of the property
How the guest can collect the keys
Contact number if they are not able to find the place
Contact number for emergencies like hospital or fire
Sharing the link of your property on google map
Detailed instruction if they are driving or walking from the nearest public places
Reminding the house rules
Reminding the fire exit plan
Guest's First Morning
The first-morning message is asking if they settled alright or had any problem
This message is generally for showing courtesy. And guests appreciate you as you do the follow-up.
Also, you can remind them that they can ask for help as you are around.
Here you don't have to add detailing to your message. Generally, you can skip this too if the guest is staying for one night.
Instructions For Checkouts
When the guests are all set to leave, you can send the message as a courtesy. However here you should add some of the points as details such as :
Reminding them the check out time
Where the guest should leave the keys
If you have extra instructions like making sure they clean the dishes, add that too
If the person booked for one night, you can send this message in the morning.
Guest Reminder For Reviews
Well, there are some of the hosts on Airbnb that like to send the message for leaving the review.
However, it depends on you if you want that or not.
Airbnb reminds the guest automatically after they check out.
So it's completely optional but you can go with it if you want to.
How To Handle Situations That Don't Go As Planned?
There are higher chances that there will be something that will go beyond what you planned.
Unfortyeney, there are chances of getting things wrong all the time.
Best to make sure that you have better control over such situations, it's better to be prepared beforehand.
Image source: Tnw
There are some of the key emergency stages where you need to respond, including :
When Guests Notify The Problem
Check your message frequently if you don't, the faster you respond the best you can solve the hassle.
If you don't have the habit of checking the frequent message, make sure to set the reminder.
Understanding What They Want
your guest is new to the town, place, and even the country. They might feel uncomfortable as they are not comfortable. It's important that you make sure of what they want.
Solve The Need Fast
Best way to know how fast you should be solving the problem is by putting yourself in their shoes.
Understand What Happened
nobody wants to be a part of an emergency or accident. It mostly happens due to some mistake, it's important that you handle the situation and understand what caused it.
Prevent For Future
make the note so you know how not to cause the same thing in the future. Do the best so it can be present for the future guest.
Compensate If It's Needed
As an apology, you can compensate by offering a discount or adding offers. Do something extra to make up for the mistakes.
Situations To Handle Before They Stay
To understand how you can handle the situations, it's important to consider the points where things might go wrong.
The first thing you need to focus on is the time before they stay. It includes :
When they don't have check-in instructions – The common situation is when they don't have to receive the check-in instructions. It's better to make sure that they have access to the internet.
If not, send the instruction to the Airbnb app or you can send it to email. Include the rules, emergency information that will be needed.
When they are not able to open the lockbox – Send the photo of the location where they can find the lockbox along with the photos of your property.
Image source: getpaidforyourpad
To make sure they find it easily, highlight the photos. If there is a language barrier, ask them to pass the phone to someone who can help them.
When they want to cancel a request and want a refund – sometimes guests cancel the request just a few days or hours before they arrive. Ask the guest to do it on their own and ask the Airbnb customer service
Never do it on their behalf. If you feel convinced with the genuine reason, you can refund it. Bu contacts the customer service and explains what happened.
Also, don't cancel the booking on the website or app, call Airbnb.
Situations To Handle During Their Stay
Well now the guest arrived Successfully, but still, there are a lot of situations where you can find the hassle. It includes :
When the smart lock is not working – Make sure you have the physical key as a backup, there are chances that your guest is not good with handling technology.
If the smart lock is not working, you can do it remotely as most of the smart locks offer the host to change code. Always keep them online, so they know what you are doing.
When something is not working – there can be anything, maybe it's a shower or main door lock.
Make sure the guest knows that the problem will be sorted right away. Apologies first and then find the solution.
When the place is not what is expected – this can be the situation when the guest complains that the place is not what they are hoping for. This might be due to two main reasons, the photos you are listed are better than an actual place or you lacked in adding details.
Make sure you add details as much as possible. Even if they do complain, check if there is anything they didn't get while reading the details. However, if it's not in control, offer a refund.
When they are locked out – That's why you should have the emergency key. It's best to have the backup always ready, so it can be close to the property. If it's the guest's fault, you can charge for the emergency call out.
Situations To Handle After They Leaves
It does not just end when the guest successfully stays and leaves. But there are a lot of things you need to make sure of when they leave.
To make sure you are able to handle the situations, here are some of the solutions for help.
When items are misplaced or stolen – most of the household items that get stolen or misplaced are towels, toilet supplies, and decorative items. Make sure you ask politely and look around before the accusation.
If things are expensive, you can charge for the recovery. But if it's not, then you can mention it to the guest.
When they leave a bad review – Unfortunately, there will be some guests who will not mention anything during the stay but when they leave, they will give a bad review.
Image source: tokeet
Give a good-hearted apology, and keep yourself calm. That's why it's important for you to respond with positivity regardless of what kind of review you are getting.
However, in certain situations, you can also remove the negative review from Airbnb.
When the property gets damaged – not all guests treat the property respectfully, some might do the damage.
They might drop something on the sofa that leaves a stain or do unreasonable damage. Lots of guest contact in the last-minute, it's important to notify them and what they have to offer for paying.
Always communicate using Airbnb, so when they are not willing to pay for the damage. The conversation can be easily tracked by Airbnb.
What To Avoid As A New Airbnb Host?
Starting as a new Airbnb host, there might be a lot of things you want to do. This is why it's important to understand the mistakes first.
Lots of hosts get too carried away when they start, which leads them to some of the common mistakes. To know that and to avoid it, here are some of the points that will help.
Painting The Overly Rosy Picture Of Property
The new host wants the guest to get attracted to the property and they do everything for that. However, it is not wrong to make your property attractive enough.
But showing it's rosy when it's not can lead to wrong expectations. Also, the guests book the Airbnb by looking at the pictures, so they trust what you put out there.
But when they arrive at the property and see that it's not what they expected, this makes them disappointed. Also, you can lose trust.
Most of the time it happens when :
The pictures of the property are misrepresenting or wrong.
Pictures are not the latest as it was taken when it was in better condition.
The property is not clean.
Items don't work properly.
Having A Design That Appeal No One
There are different people out there with their own taste, what your property represents and attracts is important to get the most bookings.
When your property has décor that is simply too out there, it will not appeal to anyone. That's why make sure the design has broad appeal and is functional.
For this, you can consider :
Using white paint for the wall as it's easy to paint and make your room look bigger.
Adding a touch of color using a few tasteful pictures or paintings.
Adding neutral-colored furniture and adding cushions to give it some life.
Adding wooden tables and chairs
Poor Information Or Inaccurate Detailing In Listing
Your listing information is crucial. It's important that you add all the needed information along with extra detailing so the guest doesn't have any kind of confusion.
It includes adding :
Number and size of the bedrooms
Equipment in kitchen
Times for check-in and check-out
Number of bathrooms
Apart from this, it's important to mention what things are not allowed for the guest to do. For example, it can be a party or stag weekend.
And the services which are not included, the guest might have to pay extra for that.
Frequently Asked Questions (FAQs)
Why Owning Airbnb Is Profitable?
Lots of people are owning Airbnb because of its lucrative. They have higher chances as compare to the traditional method. As you can change the price depending on the popularity. 
How To Increase Profit For Your Airbnb Business?
To gain the extra benefit, you should add more to the guest experience. You can simply add small things like extra knowledge about places they can visit or welcome gifts to add more chances to grow revenue. 
How To Boost The Visibility Of Airbnb?
Make sure you update your calendar and keep the price competitive. Also increase the instant booking, flexibility and use the better photos.
Similar Posts:
Was this article helpful?
Business, marketing, and blogging – these three words describe me the best. I am the founder of Burban Branding and Media, and a self-taught marketer with 10 years of experience. My passion lies in helping startups enhance their business through marketing, HR, leadership, and finance. I am on a mission to assist businesses in achieving their goals.