A bed and breakfast business offer travelers an alternative to hotels and motels, by combining sleeping quarters with a full breakfast. Most bread and breakfast businesses also promise unique, intimate settings than other lodging options.
People dream of opening a cozy bed and breakfast. As an owner of a bed and breakfast business, you can meet an ever-rotating cast of visitors and earn a good income while essentially working from home.
Steps to Start Bed & Breakfast Business
Start-up Costs
Opening a bed and breakfast business may require a substantial start-up fund for renovations and updates, and you also need to pay for a business license, zoning permits, inspections, and possibly a notary, depending on where you live.
The regulations will vary from state to state. The largest expense, by far, is the price of purchasing a property.
Some of the factors that affect the price include the condition of the building, the size of the property, its location and how established the business is. Alternatively, you can also purchase old mansions and farmhouses.
You also need to spend in furnishing and decorating the property and buying breakfast-making supplies.
Find Right Customer
Anyone who enjoys hosting others may be well-suited for owning a bed and breakfast business. Guests will come to you expecting a level of hospitality that hotels and motels don't provide. You should like talking to people, cooking meals, and making guests feel comfortable.
You should have a flexible schedule, meeting guests during the day and taking care of any issues related to the business at night. You cannot close down during the holidays, because these are busy travel times.
Target Market
An ideal customer is someone who travels a lot, usually for pleasure, and has discretionary income. Vacationers are more likely to choose the intimate setting of a bed and breakfast business than business travelers.
Mainly, there are five different types of guests you should try to appeal- tourists, business travelers, romantic getaways, college/university visitors, locals needing extra lodging.
Skills and Experiences Required
A successful bed and breakfast business owner should know how to decorate rooms, cook a good breakfast. If you don't have an eye for interior decoration, then you should ask a friend or family member for help. You can also enroll yourself in local cooking classes or hire a local chef as a consultant for a day.
You should also know how to perform routine building maintenance and make basic repairs, this will save you from hiring a professional to fix everything.
Evaluate your Location and Facilities
You need to honestly evaluate your location and facilities. Your B&B business needs to be located in a community where there is a basic demand for B&B facilities. It should not be situated in an under-saturated market, where B&Bs already exist.
It should have a functional dining room, bedroom and bathroom accessible to all guests, a working kitchen that is good enough to cook for maximum number of guests, sufficient space to accommodate maximum number of guests on a given day, a bathroom space that is extremely clean and well-ventilated, steady supply of toilet papers, tissues and soaps and plenty of clean, brand-new linens.
Invest in quality beds and fabrics
You should furnish each of your guest rooms with beds. You need to invest in high-quality bedding, pillows, and towels for each room right in the beginning, this will save you money in the future as you don't need to replace them frequently.
Don't forget to take allergies into account while choosing bedding. Some people are allergic to feathers, wool, and other materials.
Buy Guest Amenities
The amenities you provide should cover both lodging necessities and finishing touches. Keep a decorative vase full of fresh, local, flowers, hang plants in the windows and decorate the rooms with a variety of books and magazines of general interest.
Also offer a computer and wi-fi access to guests, and a printer or fax machine. Decorate the rooms in a way that the guests feel warm and welcoming.
Hiring Staff
If you and your family members or friend believe that you can operate the business on your own, then it will cut down on the costs of hiring staff. But, depending on the size of your business, the number of customers, the health condition of you and your family, you may need to hire additional staff.
Don't forget to hire an attorney and an accountant to help you with your finances. You may need to hire staff to manage tasks on a daily basis like laundry, daily cleaning, meal preparation, restocking guest rooms after they have vacated and so on.
Plan the Meals
The kind of breakfast you offer will depend on your culinary facilities, kitchen space, your budget and the law regulating food preparation in your region.
You can offer simple continental breakfast like coffee, juice, milk, fruit or a more gourmet meal like omelets, tofu scrambles, or a quiche. The meals should suit the requirements of your guests.
Create a Website
Hire a professional to create a website for your business. The website should contain all the information about your business. Upload photos of the rooms and delicious dishes that you prepare in the site.
The website will help you to reach out to a large number of customers and interact with them. Customers can book rooms easily at any time and anywhere through the website.
The website will also provide you with valuable reviews and feedbacks that will help you to improve the quality of your services.
Marketize the Business
An effective marketing strategy will contribute a lot towards the success of your business. Your marketing efforts should be focused on where vacationers look for lodging information.
Get listed on bed and breakfast websites, use flyers and business cards and word of mouth technique to promote your business. Use popular social media platforms to promote your business and increase your web presence.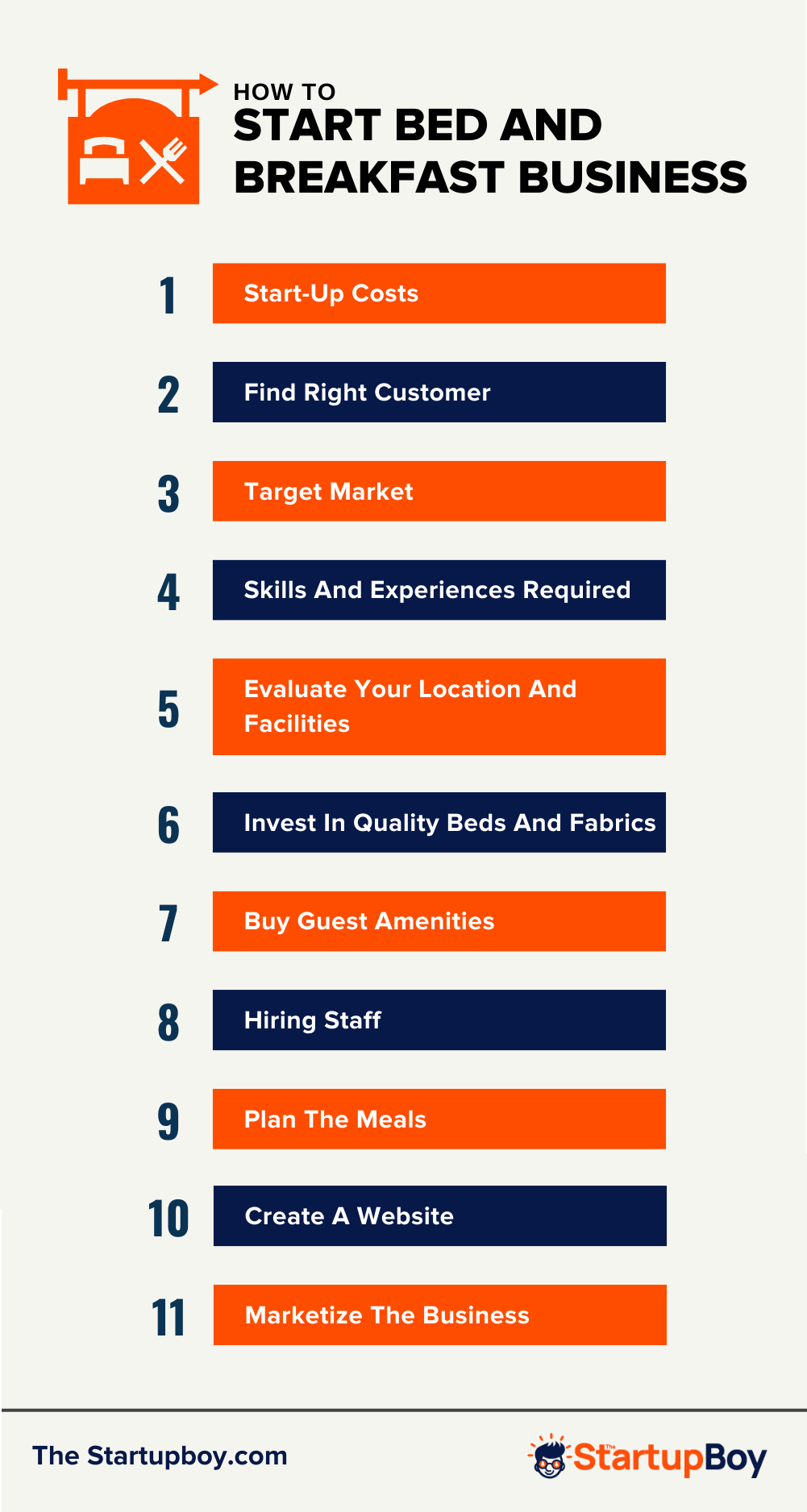 At Last
Hence, a bed and breakfast business can prove to be a successful and profitable venture if you follow the above-mentioned steps. Have a business plan ready before you start, set your goals and vision statement and work hard to achieve those goals.
Your business should offer services of the top quality that makes you stand out in the market. Price your service after researching the market, don't keep the prices too high or too low. Offer discounts to repeat customers and also during festive seasons.
Obtain all the permits and licenses required for the business. Stay patient and manage your business efficiently to achieve success.
Similar Posts:
Was this article helpful?
Business, marketing, and blogging – these three words describe me the best. I am the founder of Burban Branding and Media, and a self-taught marketer with 10 years of experience. My passion lies in helping startups enhance their business through marketing, HR, leadership, and finance. I am on a mission to assist businesses in achieving their goals.