The 21st century is all about personality, fitness, and health. Today people have largely shifted their focus towards their standards of lifestyle in which health maintenance is their prime objective.
They are constantly looking for ways that can put their physical well-being one step closer to them. As such, many home businesses like the one of a massage therapist are on the rise.
If you have an inclination towards human interaction and you want to contribute substantially towards the ideas of a healthy living, then try being a massage therapist. You can gain customer satisfaction by providing them relief from knotted muscles after physical activity, conditions of daily stress, and finally induce into them a sense of calmness.
This business allows you to expand within a short frame of time giving you full opportunities for business autonomy and growth.
Start a Massage Therapist Business
Dive deep into the whole conceptualization of massage therapist online home business by reading this article and extract some outstanding novel recommendations on 'how to begin your venture.'
Begin Your Flight with a Business Plan
Everything that surrounds your business is captured in a rational business plan. Laying the foundation of a higher-level business policy is like fabricating a plan for an airplane ride. Without its proper preparation, the plane takeoff can turn into a nightmare. The top-notch highlights of your business plan should encircle
Your Specific Niche
If you think you can be the 'jack of all trades' in a business, then you are quite mistaken. Selecting an impactful area of expertise is your drive for a spectacular success. You can plan to set up a spa-like atmosphere that guarantees respite and relaxation to the customers.
On the other hand, your business plan can also integrate thoughts of being a sports therapist.
A Responsible Marketing Strategy
Providing a maximum space for a concrete marketing strategy in your business plan is your key to allure the customers. It is one of those finest steps that are going to establish your name in the market.
Future Financial Requirements
The need for a business is money. The expenses that can appear from nowhere in future can be a matter of pressure for you. Therefore, studying logically the upcoming money wants can put you in a stable state for a longer time.
Obtain Monetary Sources for Your Startup
You may not be spending too much once your massage therapist business takes a desirable shape. But, initially, there may be some obvious expenses for your startup. The principal portion of your investments is going to get:-
Numerous aromatic oils and lotions for massage therapies

A massage table

A well-grounded transportation facility

Items that introduce an aura in your message centre
If you think of securing funds for your startup, then put some of your precious time in reading about the sources of funds for the startups including the credit cards, friends, family, and of course the conventional banks.
Tip
Crowdfunding platform is an emerging way to raise funds for your startups. It is here that you can expect support from the big community of investors by presenting your business ideas tactfully.
Implement an Appointment Booking Structure
Within a few months of your startup, you are sure to face the problem of remembering the appointments of every customer. It is indeed a hard task to accumulate every single minute information into our brain. As such, going for a genuine appointment booking system is your way out of this memorizing mess.
There are plenty of software and application programs that have been created exclusively for your assistance in attending your clients on-time. The top three appointment booking software of 2021 are:-
Square Appointments

Acuity Scheduling

Bookeo Appointments
Tip
Another awesome way to hasten your appointment procedures is trusting the ServiceTask. This phenomenal alternative merges with the QuickBooks that leads to quick booking as well as helps to keep smooth financial accounts, and both of these can remain in touch with each other very meticulously.
Know How to Battle the Everyday Challenges
Every business set up on this planet has its own rules, competitions, and everyday challenges. This is where the art of survival becomes significant. These hurdles in business can be seen as motivators rather than real adversities!
The massage therapist business due to its unique characteristics stands out from the array of normal market businesses. Here the prime concern is –

'customer fitness'

, which cannot be compromised at any point in time. A tag of carelessness on your business name can go against its character.
Since the home business of a massage therapist is not very hard to enter into, the chances of a competitive environment get raised by a huge margin.
To witness your business prosperity for a larger part of the clock you need to concentrate on your strengths and carve out the best out of your arena of specialty.
Fine promotions and discounts among your regular line of customers can be a great way to carry your services to new people. Additionally, you should be especially loud in your mind about your target market and stick to it. After all, getting a line of loyal followers can be constructive for your timeless deep pockets.
When those days of longer queues of customers get closer to you, you may feel the need to enlarge your staff. Here, special care should be taken as to who you are appointing as a home business employee. The process of massaging involves a close contact to the body and can be a matter of risk for some clientele. So, you need to aptly investigate into the experience level of the employees in the field of health care and massage therapies.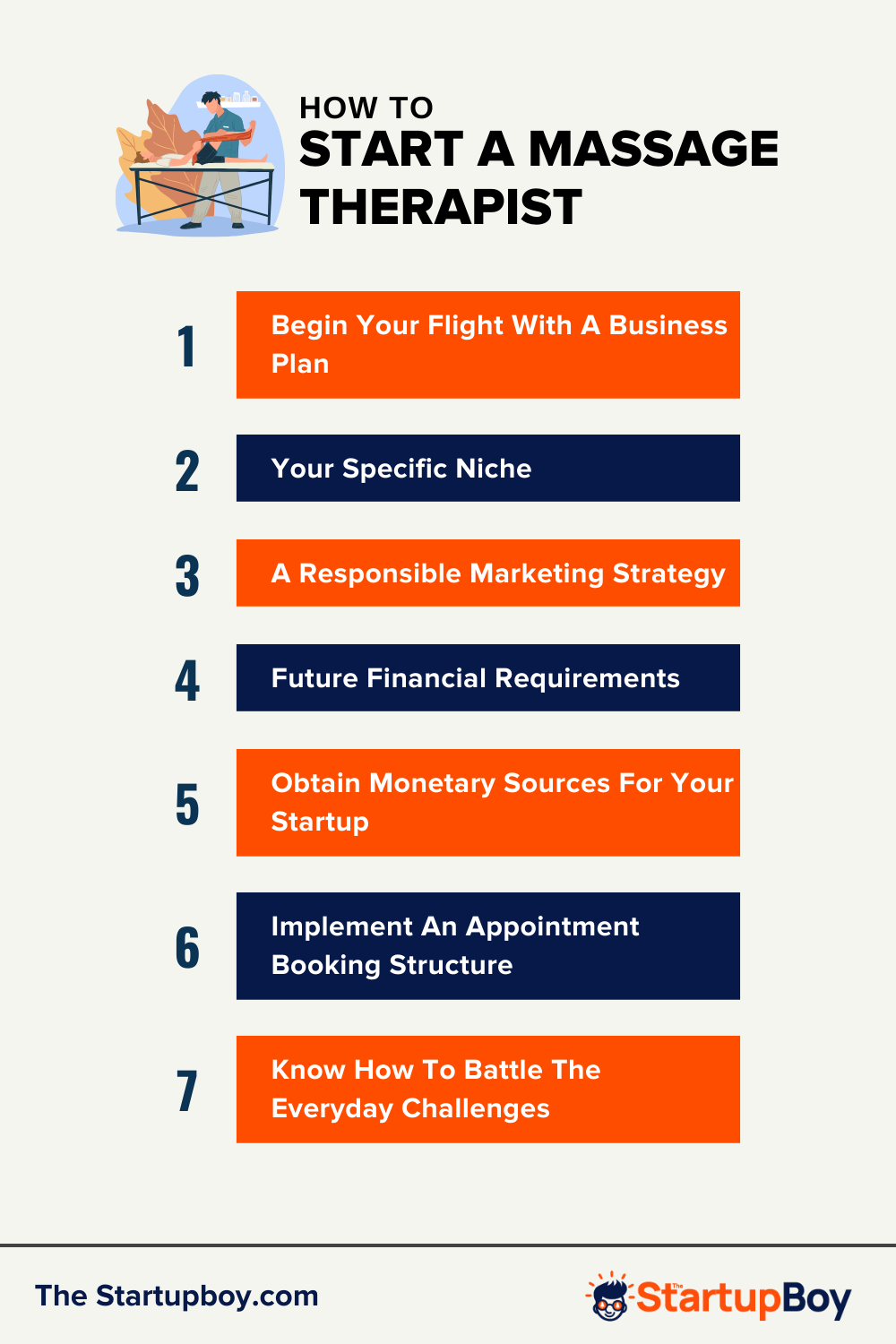 Conclusion
While generating up to the minute outlook remains the major pillar of the massage therapist home business, the spirit of vanquishing the obstacles cannot be undermined. Success is never a one day story but requires a deeper evaluation of your business notions time and again.
All these principles when implemented decently can have far-reaching out-turns for your business of a massage therapist.
What can be better than lifting your mood by getting a soothing and relaxing spa or massage therapy after a tiresome schedule? People go to massage therapists to reduce stress and anxiety, to relax their muscles and to rehabilitate any injured muscles or any other areas of their body.
People love to be able to stay away from the incessant traffic, the noise and regular chaos and take some time out to relax and thus the number of people seeking regular escape from urban living is on the rise and that is why spas are even more popular than before.
A massage therapist enhances a person's health and well-being manually by manipulating their soft body tissues. Massage businesses are becoming very popular these days as people now understand the benefits of a regular massage session to their health and well-being. There are few things more relaxing than a massage, so as long as there is stress, people will need a massage therapist.
So are you much into massage therapy and want to turn it into a home based business? Then you must need to know that it is not just all about how your hands can provide a therapeutic touch to give your clients a soothing comfort and relief from muscle plain and cramps, tension, stress, body pain etc.
There are some legal procedures and vital factors you must consider first to effectively set up a home business, maintain it and achieve a beaming success in the long run.
You may have it all in you as a massage therapist but a legal certification is a must for starting a business. After you become certified, here are some several points mentioned, which you may need to follow up before stepping into the world of spas and massages as a business owner:
Calculate your expenses
Prepare your budget
Purchase the right massage products and equipments
Set up relaxing space for the massage sessions
Get a business license and a liability insurance
Advertise your business
Once you are done with the basic set-up of the business and have a thorough knowledge of how to get started, you might need to find your niche that may be the most profitable for you and can attract investors and they might pursue in the spa and massage business industry.
So here are some ideas for you regarding a massage therapy home based business:
Shiatsu massage: this is an imported massage treatment that is a favourite of many. It has lot of healing benefits and you can make good money if you choose this niche.
Manicure and pedicure: people love to pamper themselves with manicure and pedicure sessions and if you start a business such as this, you will never fall short on customers visiting you.
Neonatal massage: another massage niche that you can choose for yourself is neonatal massage. It is said that newly born babies ought to be massaged after they are born for their well-being. Neonatal massage is also offered to new mothers who just delivered their babies to help them cope with the post delivery stresses.
Antenatal massage: pregnant women go through pains and stresses sometimes and one of the techniques they use to reduce these pains is to get a massage. So if you have the required skills and certification for an antenatal massage, you can surely go for it and make a handsome amount of money out of it.
Sports Massage: Another good idea is to start a sports-themed massage business because footballers and other sportsmen often require massage services.
Honeymoon Spa: New couples often need somewhere nice and cool to spend their honeymoons. You can start a spa with nice packages and facilities for new couples.
Deep tissue massage: deep tissue massage is a type of massage that is focused on relieving muscles in the body. This can be another lucrative massage niche for you.
Massage training schools: If you want to do something different but equally lucrative, you can consider setting up your own massage school at your home itself and teach people who may want to learn how to offer massages.
Corporate massage: You can also consider offering corporate massage services, targeting business organizations and offices. You may become the in-house massage therapist for such organizations.
Party massage: Target bridal showers, baby showers, birthday parties and other similar events. Party hosts sometimes love to offer something different to their guests.
Thai massage: this is a special kind of massage that you can offer. Thai massages are popularly offered as spas. If you can understand the techniques behind giving a Thai massage, you can specialize in giving this to your clients.
Onsen massage: onsen massage therapy can be another home business niche for you. Onsen massage therapy is Japanese themed therapy that helps to promote relaxation and comfort.
Compress therapy: This is service which is great for helping people relive stress, and helps to improve health. You can start a business that specializes in offering this type of massage to your clients.
Hot stone massage services: hot stone massage is another commonly offered spa and massage service that you can specialise in. It is very relaxing and one of the most highly preferred services for the spa visitors.
If you want to stand out from the other massage therapists, you need to show your personality and individuality to your clients and build relationships with them. Try a fun, playful and casual tone that transforms you from a business man to a friend.
While it is vital to establish yourself on various standard social media, visual marketing is also of great importance and it allows you to develop your business.
No matter what industry you're in, attracting new business always needs to be on top of mind. Fortunately for you, massage therapy lends itself to a variety of creative marketing strategies. Try the techniques listed above and you're sure to see more clients booking appointments.
Marketing is the Core thing for Every Business. If you have an effective marketing plan then you can achieve good profits and selling. Here we Collected an Infographic which gives you Insight about how to Market your Business. Read it to know more and Apply the same on Business.
Similar Posts:
Was this article helpful?
Business, marketing, and blogging – these three words describe me the best. I am the founder of Burban Branding and Media, and a self-taught marketer with 10 years of experience. My passion lies in helping startups enhance their business through marketing, HR, leadership, and finance. I am on a mission to assist businesses in achieving their goals.