Application software or an app is computer software that is designed to perform a group of coordinated actions, activities for the benefit of the user. Apps make many tasks simpler for users and this is the reason why they have got popular these days.
You need to access applications for a host of purposes like learning, listening to music, paying bills, chatting with friends, playing games etc.
If you are planning to start an online app development store, then you have to follow certain steps mentioned below to make it popular.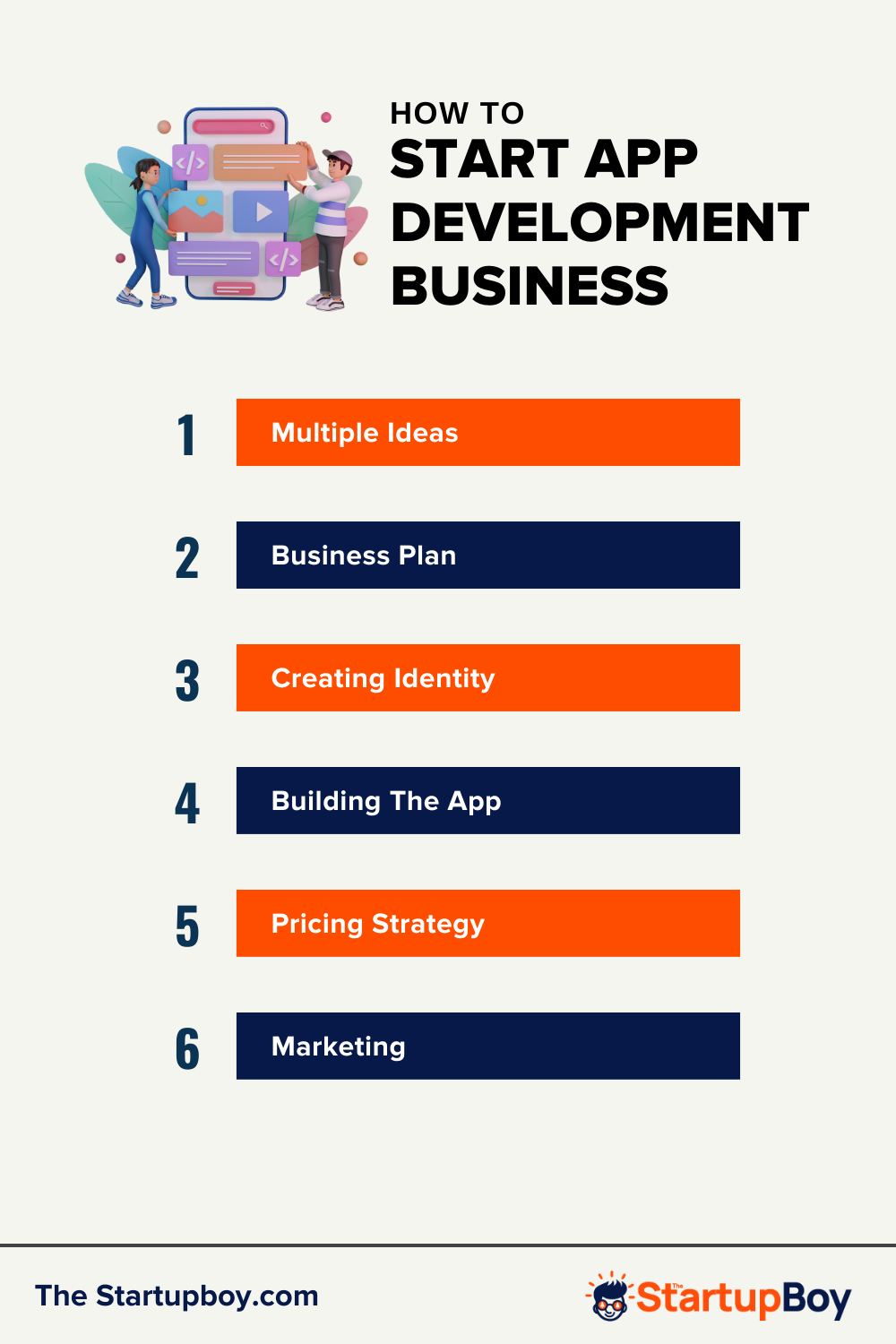 Steps To Start An App Development Business
Multiple Ideas
In order to become a successful entrepreneur, you have to build your business through multiple ideas. Don't limit your business to a single or few apps. You should give each app some time, four to six months after they are launched.
If you see that a particular app is growing popular among the users, then try to narrow your focus on that and make it more attractive.
If the app is unable to draw a growing customer base, then you should move on to the next idea. You never know which app which will make your business popular. This is the reason for which you should observe the popularity of your app for some time and then move forward with the idea.
You can do a trial launch for a limited period of time and ask for ratings and feedback from the customers.
Business Plan
You have to put all your ideas on paper before you start the business. You should plan your business according to the budget. The budget will include all the operational costs of the business.
You should be clear about the requirements of your app and find a company that will design and develop it for you. You should consult with established app developers about your products and learn how to be a successful app seller by utilizing their experience.
You have to get down in the market fast with a prototype of your app. You don't need to build a complete app with all the outstanding features instead of that you build only the core features and see whether the customers are interested to buy it or not.
If they are ready to buy, then you will receive a lot of important feedback about the product from them.
You have to collaborate with the e-commerce businesses and help them in developing their apps through which they sell their products.
Creating Identity
You have to create an exclusive identity for your business that stands out in the market. There are a number of online applications these days and they focus on various needs of the people.
Popular genres include shopping apps that are marketplaces for several clothing products for both men and women, musical apps, learning apps, gaming apps, and social media apps.
You have to determine your focus on specific genres and build your popularity around it. You should fix the target groups and build your products accordingly. If your target group includes students then you can grow your expertise in building learning apps, clothing apps can also help you to reach out to a large number of audiences.
Name your app intelligently, the name should be related to the service that the app will provide.
If you have to innovative and skillful when it comes to building apps. The apps should have unique features that differentiate it from others and the customers should be able to access them easily even if they are not tech-savvy.
The apps should be accessible from mobile because websites do not offer the same experience in phones as they do in laptops. Hence your app has to be mobile-oriented that only needs a proper internet connection with a decent speed.
Building the App
Many popular apps have been built through outsourcing in the initial period. Outsourcing helps to keep the costs low in the initial days of the business.
The outsourced app builder should be able to understand your business requirements. This also helps your products to reach the customers faster.
Once you observe a real demand for the product in the market then you can take over the responsibility of developing and maintaining it.
The maintenance costs are nominal as you don't have to store them in warehouses like physical products.
Pricing Strategy
You should be clear with your monetization strategy right from the word go. This is very essential to build a business. At the outset you shouldn't keep the price high, you can even consider it to launch free.
The price should be determined according to the value of the application.
If the customers consider it to be a valuable product then you can keep the price high but if it is a normal musical or video app then it is prudent to keep a standard price.
Marketing
You can sell your apps through your own website as well as through third-party endorsements. You can sell your apps directly that helps you to maintain direct contact with the customers or you can sell them in reputed marketplaces or app stores.
You should prefer reviews from tech bloggers and also try to get press coverage for your products as well as television ads.
Promotion in social media platforms is a must as this makes your product visible to a large number of people all over the world. Customers from all over the world should be able to access your apps in different languages.
Customers should receive notification whenever there is an update available for your application.
Discounts can be offered in subscription packs when the app gets popular. Your app should provide 24×7 customer service.
Hence an app development store can be a good business idea if you are able to survive the competition in the market because there are many established app stores in the market that are already very popular among people. Uniqueness will be the key to your success, the apps should provide services that are not yet covered by the established ones.
Research the market to find out the gaps and exploit them by applying your skills. The app should make the life of your customers more convenient through its services.
Don't forget to register for copyright and trademark for your product to avoid fraud and theft. The website or store should be attractive and have a secured payment channel.
Digital products like applications are getting popular day by day, even banks and other government services can be accessed through their applications. This helps them to reach out to a large number of people and decrease their workload. The grievances of customers can be solved through the apps.
Apps make accessing websites for every small purpose redundant. If you have experience of developing apps then it will make your job as an entrepreneur easier as you know the probabilities of making the business successful and plan it accordingly or else, you have to hire an experienced software developer for your business.
Starting an App Development Business, you need to have good knowledge of Different Languages of Computer. There is huge potentiality in this business as every business are going online and engaging customer.
Similar Posts:
Was this article helpful?
Business, marketing, and blogging – these three words describe me the best. I am the founder of Burban Branding and Media, and a self-taught marketer with 10 years of experience. My passion lies in helping startups enhance their business through marketing, HR, leadership, and finance. I am on a mission to assist businesses in achieving their goals.