Businesses and start-ups these days have started opting for a new way to get funds for their project, it is known as crowdfunding. With such an arrangement, people send money to a business so that they can start their plan.
The idea is to use money from the crowd to establish a start-up or a business or maybe any social cause. If you are planning to open your own business then this is the best time to diversify your domain and get into crowdfunding.
You can start your online crowdfunding business and earn profits from it because people are involved in online crowdfunding more than any other form of crowdfunding. Certain tips and ideas to keep in mind are mentioned below
Steps To Start Crowdfunding Business Perfectly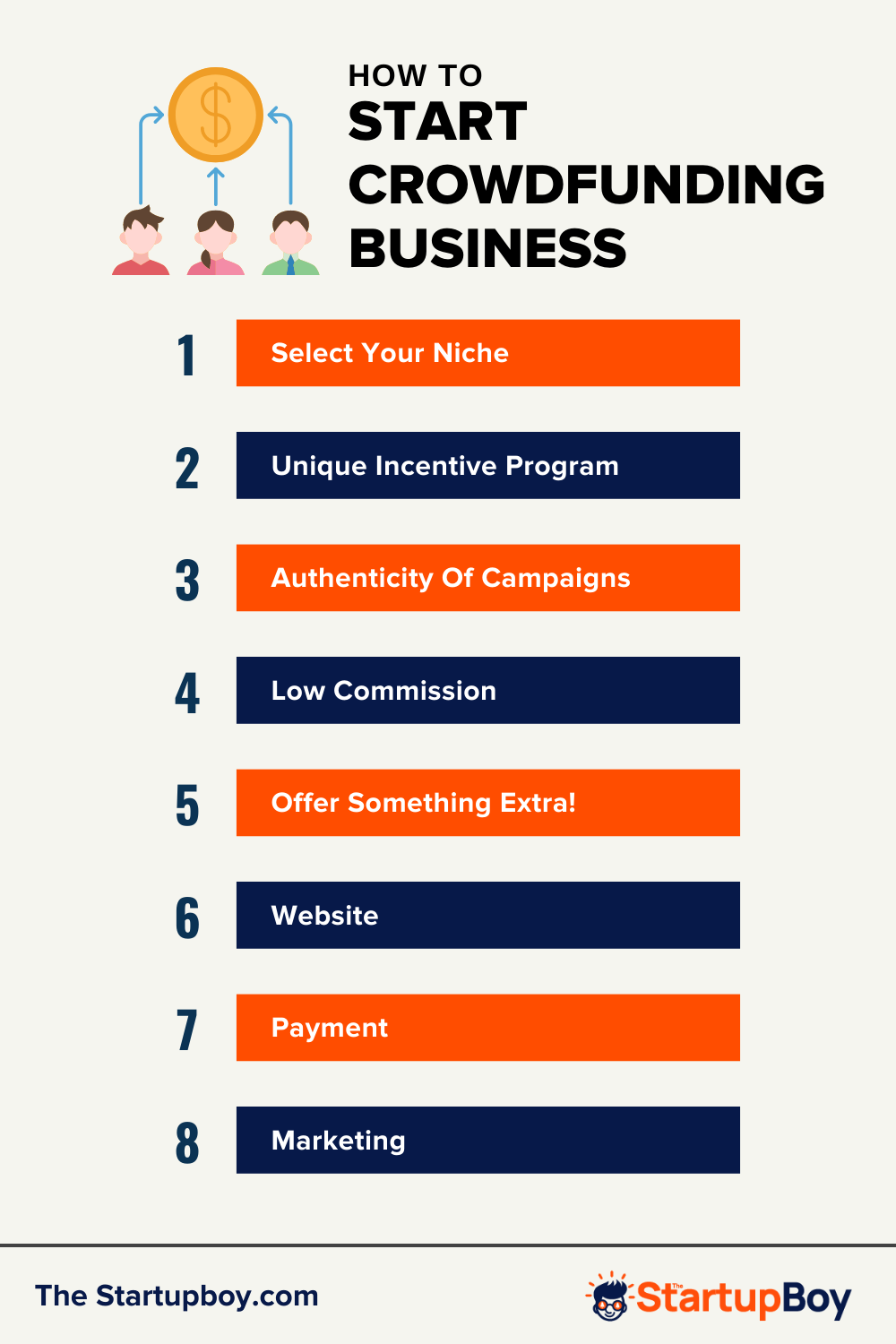 Step:1 Select your niche
Your crowd funding site must cater to a selected niche so as to enter a specific market. It is always advised that you start the business small so as to gain ground easily and then spread wings.
Some of the popular niches that can be catered to are mentioned below-
Crowd funding for social projects or causes

Crowd funding for start ups

Crowd funding for indie films
These are some of the niches and they have huge demand in the market and can help you gain popularity immensely!
#BonusTip: Before doing anything, The First Steps is, you need to study hard about crowdfunding and do some research about it. What is the Nature of your Business and project analyze the same for the right audience? Right Audience means right fund.
Step:2 Unique incentive program
People who shall be investing and donating money for the projects on your website shall expect for something in return. The returns can be both monetary and non-monetary in nature.
While equity and shares is directly financial incentive for the investor, for certain projects such as films or books, you may consider about a special mention page for each of them and also a pre-order program for them. Giving away merchandise is also effective and it indirectly promotes the project as well.
#BonusTip: The success of your campaign, to a great extent, depends on the which crowdfunding platform you have picked. There are many platforms and each has certain advantages and disadvantages.
Step:3 Authenticity of campaigns
Remember, crowdfunding is for ventures that are genuine and have some target or goal to achieve. People shall invest their hard-earned money, hence it needs to be noted that each of the projects that are listed on your website is genuine.
There are various fraudsters who may enroll on your website, gather the money, and vanish! Such projects will degrade your reputation in the market.
Therefore, before listing any project on your crowdfunding site, properly take check all the documents they have and the authenticity of their primary goal.
#BonusTip: Be Ready with your Innovative Website which is enough responsive to Funding. Design the best website or a landing page. Until your campaign page goes live, let this website serve as your central hub for all of your operations. This is an important step.
Step:4 Low commission
At the start of the business, it is advised that you keep the commissions low for yourself. Try and gather more projects and a respectable consumer base before you think of huge profits. Keeping the shared low will bring more people to the website.
Once it gets popular, you can raise the commission or may even opt for various other methods of monetization.
Keeping the bar low at the initial days will ensure that the idea of a crowd-finding store online appeals to the people and they visit the store with their queries or suggestions.
#BonusTip: Ready to Connect with the Emotions of Customers. Emotions Create Connect and Connection Creates Buzz. So Crowdfunding is all about capturing the personal ethos of the campaign — a connection between message and emotion matters.
Step:5 Offer something extra!
There are many popular websites that also offer such services. Your aim is to stand out amongst all of them. In order to be able to do that you need to offer your clients something extra! You can create a platform where the people who own the project can communicate or interact directly with their investors.
Real-time communication is essential these days and you can make it your USP.
Also, you can add features through which the businesses can sell their upcoming products or a special pre-order version to their investors and other people who visit the website.
#BonusTip: Before you live your Campaign of Funding, You should be more Concern about its Uniqueness. The object of the campaign has to come across as special or unique. It should embody an element of innovation, need or scarcity in any market. That Things will Create a Sense of need.
Step:6 Website
The website you have should have a theme and appearance that imbibes trust and confidence. People will not even invest a penny if the host website of any of the projects is a dull-looking site. Hence, get hold of a professional web designer who shall guide you so as to how to design and set the layout of the website.
Make sure that the website is optimized for mobile viewing because people these days prefer to browse the internet through their phones for most of the time.
#BonusTip: Everyone loves Social Media. Social media is one of your most effective weapons for Crowdfunding. Start with as many social media platforms as you can manage. Its Better if you go with Facebook. Even a hundred followers can take you nearer to your goal.
Step:7 Payment
A crowd funding website is all about money. People shall invest their money and make the payment on your website for any selected project.
The payment methods must be highly secure so as to ensure that the people do not face any hassle regarding the use of their credit or debit card.
The website should have details about each of the projects so that the people get clarity before they opt to invest the money.
Properly written web content and the relevant information regarding each of the projects and related images is important to gain trust of the people.
#BonusTip: Be Ready to do More Innovation in your Marketing Plan. Email marketing greatly energizes marketing. People Loves to read email. You can promote your contents, coming events, or any special deals through email marketing.
Step:8 Marketing
Gather buzz around your crowdfunding website so as to get more projects and more investors in the website. Take up proper marketing activities and promotions to get the most out of the business.
Hire an SEO expert to drive in more traffic to the website, they shall target keywords with relevant blog posts and enable the website to rank better on the various search engines.
Open social media accounts on your business name and regularly update the followers regarding your business and various promotional content. This will keep your brand on the top whenever people hear or think of anything related to crowdfunding.
Also, send out promotional emails so as to get the people directly to visit your website from their mailbox!
#BonusTip: Apart from this, You can go with other platforms for Crowdfunding. Popular crowdfunding platforms like Kickstarter have made their apps run open source on android and iOS devices in order to help entrepreneurs or campaign creators.
Crowdfunding is a noble business and requires immense honesty on the part of the owner so as to make sure that every penny that is invested by the people go to the respective projects without any hindrance.
Dedicate yourself entirely and hold patience because such a business takes time to come off as a success.
However, if you follow the aforementioned tips then success is inevitable, it is essential that you remain true to the ultimate idea and push harder to achieve the goals!
Starting a Startup is the Trending Activity. Many Aspirant Entrepreneurs came up with Creative and Innovative Ideas to Start their Career. We Know that Many startups gets Enough Crowdfunding. Here is the Infographic which gives you insight about how they can get funds and how many? Read more Below
Similar Posts:
Was this article helpful?
Business, marketing, and blogging – these three words describe me the best. I am the founder of Burban Branding and Media, and a self-taught marketer with 10 years of experience. My passion lies in helping startups enhance their business through marketing, HR, leadership, and finance. I am on a mission to assist businesses in achieving their goals.