Do you have a flair for writing? Do you often assist your mates with your writing tips to enhance the way they prepare their resumes? If "yes," then it is the best time that you start thinking of making a full-time career out of it.
There are numerous people out there in the market who want to get their resume written by people who are good at it.
If you seem to have the skill, then you should start thinking about starting your online resume-writing service!
How To Start Resume Writing Business
Self retrospection
Before you opt to start your own business, you need to know where to lay your strength and weakness. Every person has certain aspects that need further improvements.
As a writer, you will need to enhance your skill and increase the urge to write more because of the customer demand that may arise in your business.
Try and get certified as a resume writer so that people find you credible enough to write their respective resumes!
There is no end to learning, and if you are a writer, then you must evolve constantly.
Select your niche
Your resume writing service needs to cater to certain niches so as to gain confidence among the consumer base.
Having a niche enables your business to target a consumer base that is willing to pay to get the services done. It is always recommended that you start your business in a small domain and then spread out the cover with time.
It helps you to establish an identity of the brand among prospective customers. You can select the following popular niches-
Career changers resume

Graphically designed resume

Fresher resume

Civilian job

Resume for any specific industry
While these are some of the popular niches, there are a host of other niches that you may select with your unique style of presentation!
Legalities
You need to establish a name for your business and get a legal license to operate the business online.
You need to ensure that the business has gone through all the legalities and taxation processes, so it is absolutely ready to roll out! Select a name that is unique so that it attracts customers.
Register the name and also get a domain of the same name so as to operate the business on the online platform.
Account
You need to open a separate bank account for the business so that all the transactions are done through it.
Having a separate business account for your online resume writing service is essential as it will help you keep track of the financial transactions you will make.
Also, it will help you keep track of the monetary advances made through your business or towards your business by the clients or any other organization, such as banks.
Website
The website of your online resume writing service is the only representation of the same for the clients.
You need to design the website in a way that suits the nature of the business and represents the service that you have on offer. Hire a professional web designer who can get the job done for you.
You need to mention what you require, and then the same shall be implemented by the person while building your website.
You can also opt for getting the website done from Shopify or WordPress. These sites have a greater choice of themes that you can buy and implement on your business website.
Testimonials
You need to earn the trust of people so as to get orders for writing their resumes. Your website should have reviews of the customers that showcase the high quality of resumes that you have delivered to them.
You can also make a section where you can find success stories for those people who cracked a job with your resume or may have received compliments for their attractive and crisp resume.
People will only place an order when they will see such testimonials and witness the positive reviews they have left on your page.
Payment
Your online business will receive payments from the clients for the orders and it is essential that the website is equipped with all the payment methods so as to make the process simpler for people.
Accept all the major credit and debit cards and get a strong payment gateway that gives added security to the clients regarding the payment methods they take up.
Accept PayPal wallets on your website because it is a popular means to make payments and its popularity will add to the credibility and accountability of the site for its users.
Marketing
You need to promote the business to the maximum extent so as to get the best output. People should be made aware of the service that you have on offer.
Hire an SEO expert who shall bring in traffic to the website and make it popular among people. An SEO expert will target keywords to rake in traffic and also bring rank to your website on various search engines.
You also need to connect with the consumer base through social media profiles to inform them of the offers you may regularly have. Communicating with them on social media platforms will help you to keep your business registered in the minds of the consumer base.
You can also opt to send direct emails to the people to grab their attention regarding your online resume-writing business.
Your online resume writing business shall end up becoming successful, but you need to have patience and must dedicate yourself wholly to the project.
Such businesses are driven by quality and hence make sure that each of the clients is given utmost priority and equal quality of service.
Once established, it will incur you enough financial gains to sustain yourself and also the entire setup of the business! All the best!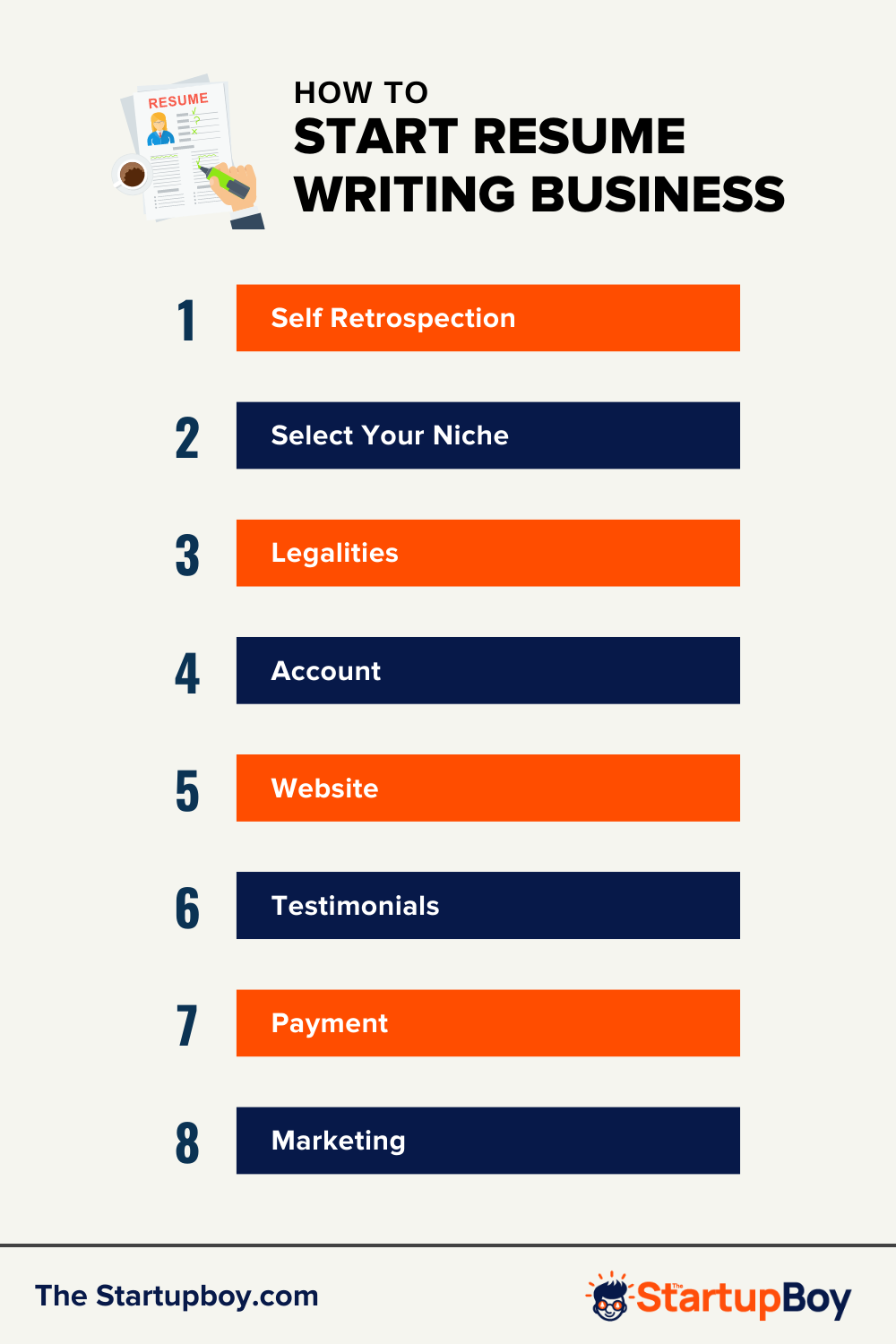 Tips for Resume Writing Business
Resumes are often the first and last chance a job seeker has to make an impression on a potential employer. The services of qualified resume writers are in demand, especially when the economy rebounds from a slump and more people begin looking for work.
Take Experience
If you have experience writing resumes or an interest in becoming a certified resume writer, there are opportunities to launch a new career or supplement your existing income. It is work that can easily be done at home or anywhere.
Start a resume writing service at home by becoming certified, attracting clients, and effectively writing great resumes for the people who hire you. As a home-based Resume Writer, you can help clients gain successful employment by crafting a resume that stands out from the crowd.
Update your Language Skill
You can create a powerful image that sells your candidate to an employer by using persuasive words, creative phrases, and formatting.
There's not a college degree specifically for resume writers, but English, journalism, communications, and business degrees tend to offer the necessary skills that are needed for this career, which are strong written communication skills and the ability to write persuasively. Sometimes your work experience may be enough to give you the necessary proficiency for this career. There are a couple of routes you can take with resume writing.
One, you can work for a resume-writing company as an employee or freelancer, or you can start your own resume-writing business from home.
Once you're ready to start your resume writing business, follow these steps to ensure that your business is legally compliant and avoid wasting time and money as your business grows.
Start A Business by Forming Legally
A clear plan is essential for success as an entrepreneur. A few important topics to consider are your initial costs, your target market, and how long it will take you to break even.
Establishing a legal business entity prevents you from being personally liable if your resume-writing business is sued.
You will need to register for various state and federal taxes before opening for business.
Open a Business Bank Account
A dedicated checking account for your resume-writing business keeps your finances organized and makes your business appear more professional to your customers.
Set up Business Accounting
Recording your various expenses and sources of income is critical to understanding the financial performance of your business. Keeping accurate and detailed accounts also greatly simplifies your annual tax filing.
Obtain Necessary Permits And Licenses
Failure to acquire necessary permits and licenses can result in hefty fines or even cause your business to be shut down.
Insurance is highly recommended for all business owners. If you hire employees, workers' compensation insurance may be a legal requirement in your state.
Establish a Web Presence.
A business website allows customers to learn more about your company and the products or services you offer. You can also use social media to attract new clients or customers.
In terms of starting a resume service specifically, you should have or know:
Writing skills. Lean, punchy,

and correct writing gets resume reading

. Resumes are marketing tools, so the ability to "sell" the candidate is crucial.
Good interviewing skills to assess your client's background, skills, experiences, and abilities.
What types of resumes you'll write? Will you focus on a specific niche or market?
Develop your business and marketing plans.
Create your marketing tools, including business cards, websites, and other items you can use to attract your target market.
All you need is a computer, a good printer, a CD burner, resume-quality stationery, templates you can create yourself, and an Internet connection.
Important Tips for Resume Writers
1. Think of The Resume as A Marketing Tool:
It's easy to think of the resume as a summary of one's work experience. But a resume isn't just about listing all the professional history. Rather, it's a strategic tool for marketing an individual brand.
2. identify Accomplishments, Not Just Job Descriptions:
Hiring managers, especially in technical fields like engineering, seek candidates that can help them solve a problem or satisfy a need within their company. Consequently, one can't be a solution to his or her problems without stating how he or she solved similar problems in other companies and situations.
3. Tailor Your Resume to Each New Job:
Along similar lines, you won't have much luck sending off dozens of the same resumes to lots of different employers. Instead of treating your resume like a form letter, tailor it to each new role.
4. Quantify Your Accomplishments:
A: Making too many general claims and using too much industry jargon that does not market the candidate. Remember that a resume is a marketing document designed to sell your skills and strengths rather than just portray a bio of the candidate.
5. Replace Your Objective" with A "career Summary":
Spend time developing a summary that immediately gets people's attention and accurately and powerfully describes you as a solution to their problems
6. Put Emphasis on Resume Keywords:
Many recruitment agencies and some larger companies use special software to scan applications for certain words and phrases, which are called 'keywords'.
To maximize your resume's chances of being found, it's a good idea to make sure your resume contains keywords from the job description or from your role and industry to ensure it passes the first round of checks.
A resume writer may have to perform the following tasks on any given day:
Conduct interviews with job candidates over the phone or in person

Write and edit resumes or interview correspondence

Research new hiring trends

Market services to new clients via physical and virtual media

Maintain social media listings and a website

Adapt a resume to a particular market
Entrepreneurs who want to enter this field are looking for clients who understand that a resume-writing service could be the difference between a high-paying job and months of unemployment.
Your clients will be pragmatic, long-term thinkers who understand the value of a strong investment today for the future of tomorrow.
Similar Posts:
Let your voice be heard! Rate our article and guide us towards delivering the best content for you
Business, marketing, and blogging – these three words describe me the best. I am the founder of Burban Branding and Media, and a self-taught marketer with 10 years of experience. My passion lies in helping startups enhance their business through marketing, HR, leadership, and finance. I am on a mission to assist businesses in achieving their goals.