It's not enough for pests just to be gross and freaky. No, pests need to make even more problems for humans. Pests are kind of overachievers that way. Some of these problems can be a major annoyance–not to mention expensive!
Pests like mice, moths, earwigs, stink bugs, etc. are the most common pests and can do its own unique form of damage to your home and health.
Start Pest Control Business
Take Ideas
Starting a pest control service does require some careful planning and a license in most areas of the country. However, for an enterprising entrepreneur, this can be a small sacrifice to make, as a pest control service can be extremely profitable to own and operate.
It seems like it should be easy to get new customers—especially since every homeowner will most likely need your services at least once in their lifetime. But, if you're short on pest control marketing ideas, you aren't alone.
The marketing industry itself has changed drastically in the past few years, and what worked to get you pest control leads in 2015 probably won't work next year.
Find Different Niche
There are various types of pest controls that can form the basis of the business, such as insect or rodent control, or the business can specialize in providing all pest control services.
There are also various methods now being used to control pests, such as chemical-based sprays and organic-based sprays. This will also have to be a consideration in terms of the types of methods your business will utilize.
Find Income Sources
A home-based pest control business has the potential to provide you with a healthy income, but going the freelance route takes commitment and marketing know-how.
Many of those who run their own pest control businesses get their start working for an established pest control services company.
Sell Extra things
Pest control businesses often have a seasonal nature. There may be a strong demand for controlling yellow jackets, flies and carpenter ants in the warmer months in the Northeast, while rodents like mice and rats are often a problem in the cooler months when they seek warm shelter and nesting places indoors.
You can offer monthly, quarterly and annual pest control packages to help generate a steady income stream. Exterminators eliminate mice, rats, roaches, termites and other pests, protecting homes and businesses from further infestation.
They set traps with poison or natural baits and seal off entryways. They may have to fumigate entire homes and businesses while educating clients on how they can better control pests.
Here are some top examples of pesticides that you can use to eradicate the problem of pests:
Acetamiprid
Acetamiprid is a traditional and popular pesticide in India. The product has also domestic usage against bed bugs. The product has a great popularity in the cotton field. It is an Insecticide belonging to the modern Neonicotinoid group of Insecticides.
Atrazine
Atrazine is effective in controlling the annual grasses and broad-leaved Weeds in Maize, Sugarcane, Sorghum, Coffee, Grape Vine, Oil Palm, Banana, Pineapple, and Guava. The commercial form of this item is wettable powder.
Sulphur 80WP
The product is effective in controlling powdery mildew of apple, grapes, cowpea, moong, urad, pea, chilies, okra, mango, and citrus; tikka leaf spot of groundnut and rust of pea crop.
Glyphosate
Glyphosate is an effective weedicide worldwide. It is used to kill weeds, especially annual broadleaf weeds and grasses that compete with crops.
Mancozeb
Mancozeb comes with the fungicide group. Also, it is a popular item among the farmers of paddy, wheat, chillis and other field crops.
Acephate
Acephate is a versatile organophosphate insecticide with both contact and systemic action. It is particularly effective on severe infestations of sucking and chewing insects of tobacco, sugarcane, cotton, chilies, vegetables, fruits, and cereals.
Chlorpyriphos
Chlorpyriphos is one of the highest selling pesticides in our country. Additionally, the item is effective for the controlling of different pests and insects. The list includes Fruit Borers, Stem Borers and Leaf Eating Caterpillars in the Crops like Cotton, Pulses, Oilseeds, Rice etc.
Hexaconazole
This is a very effective fungicide for chilies and potatoes. It controls the diseases in both preventive and curative action. However, you have to select the most popular formulation percentage of this product.
Copper Oxychloride
Copper Oxychloride is one of the highest selling fungicides in India. However, the product has the maximum demand in the winter season. Additionally, the product is effective in controlling diseases on the field, garden, and Plantation Crops.
Tricyclazole
Tricyclazole is another effective fungicide for the several crops. Additionally, it effectively controls paddy both leaf blast & neck blast disease in all stages.
Dimethoate
Dimethoate is highly effective in controlling the sucking and caterpillar pests. Additionally, the product is highly compatible with other insecticides and fungicides.
Primary things to consider before starting pest control business:
First of all, do some market research. Talk to the farmers. Identify what items are the most popular in the market. And then figure out the molecules.
It is advisable to start with at least 2 to 3 items to get the better profitability of the unit.
You will need to apply in the right process to get the permission.
After getting the permission, contact with the state Plant Protection Officers.
Establish the factory premises with a laboratory. This is mandatory.
Apply for the NOC from the Pollution Control Board. You have to take the both 'Consent to Establish' and 'Consent to Operate' from the board.
Apply for the commercial electricity, Trade License, and VAT.
Select the name of the products and register with Trademark
Finally, procure the pesticide technical (raw Material) from the reliable source and start operation.
Your expertise may be needed at your own address — you run the risk of bringing pests home with you, as well as carrying in harmful chemicals you've been exposed to.
You'll need safe storage for chemicals and supplies and must meet state and local requirements for their storage and for transporting them in highways or in tunnels.
You run the risk of legal liability for misapplication of chemicals that might result in injury or property damage. Your work conditions will be occasionally unpleasant, such as in an attic on a hot summer day.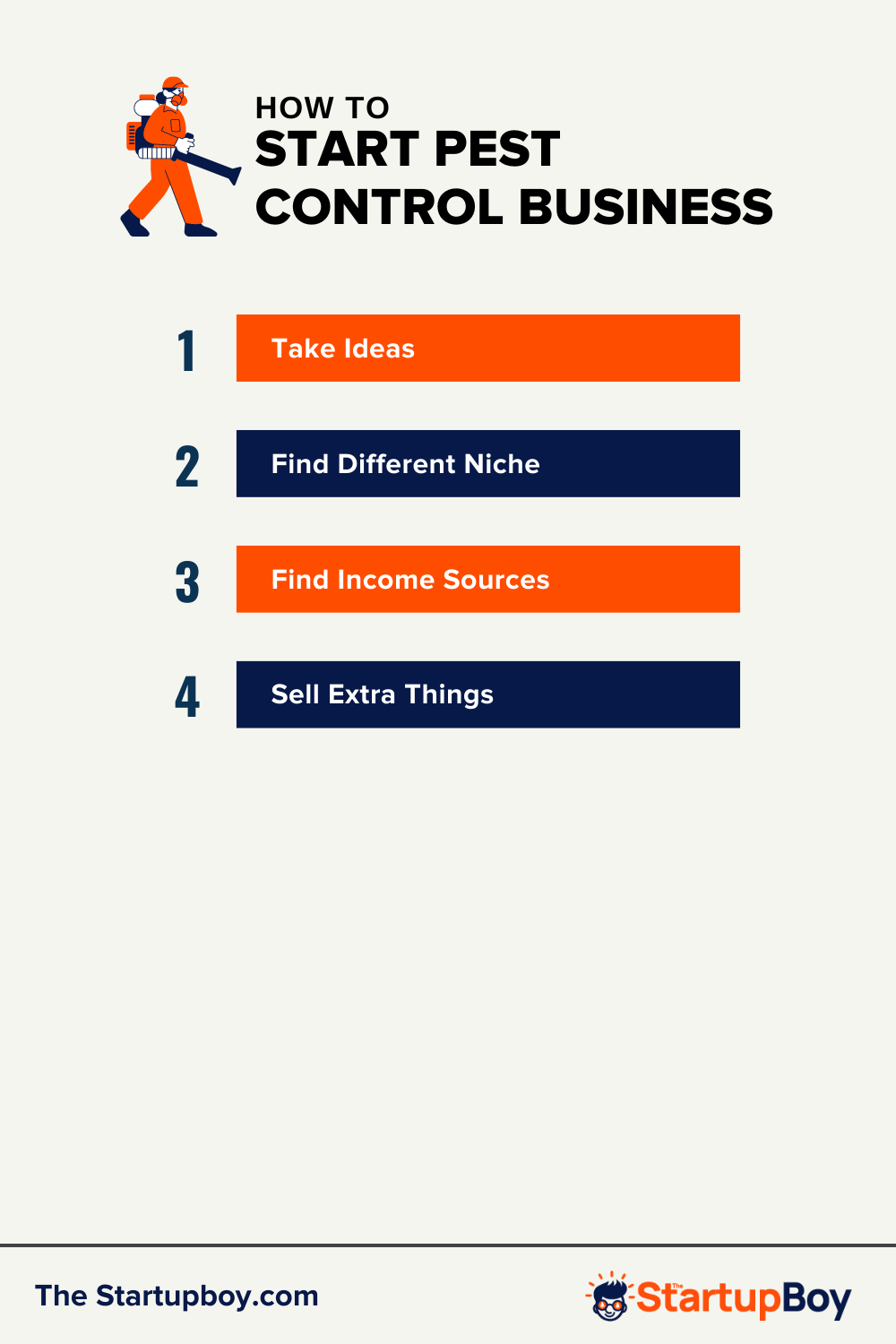 Similar Posts:
Was this article helpful?
Business, marketing, and blogging – these three words describe me the best. I am the founder of Burban Branding and Media, and a self-taught marketer with 10 years of experience. My passion lies in helping startups enhance their business through marketing, HR, leadership, and finance. I am on a mission to assist businesses in achieving their goals.