T-shirts are the staples among the variety of casual wear that are widely available in the market. They have been accepted wholeheartedly by not only men but also women all over the world.
Apart from being the best possible casual wear that is available in the market, a t-shirt is a canvas for the entrepreneurs and artists.
This is one of the main reasons why people are looking forward to starting their business and develop their unique identity. If you are starting an online t-shirt brand, it is the greatest way of taking a step towards establishing your name in the world of the fashion business.
Furthermore, it is not very expensive as compared to the other businesses, and you do not have to worry about spending a lot of capital.
T-shirt businesses are gaining immense popularity over time, and it is true that you will be facing a huge competition. In order to be different and unique, you should be capable of providing t-shirt designs that your customers will absolutely love. Once they start finding your design unique, they will start trusting your brand.
When you are concentrating on the design, do not compromise with the quality, because the quality is what will attract the people to the garment. It is not a simple job to start your own business without taking any help or guidance from people who have already been through this phase.
This is why the most important steps that are involved in starting your own t-shirt business have been listed below. You should definitely consider them if you are starting your own business.
Steps To Start T-Shirt Business Perfectly
Setting a Budget
The first and most important thing that you have to decide on is the budget. Without this, you will not be able to delve deeper into the other aspects of starting your business.
When you have a proper budget, you have a better freedom to decide about the quality that you will provide for all your t-shirts, the kind of printing that you will prefer, whether you should hire designers, how to market the products, and much more.
It is best to consult with someone who is already in this business to understand the budget that you should have. With a proper budget and idea, you will find the entire path smooth and cover it without any hassles.
Finding and Deciding on a Niche
It is true that you have heard the phrase "Choose a niche" every time you decide to do something, but probably, choosing a niche is the most important and crucial part of the t-shirt industry.
An important factor in building a strong identity in the t-shirt business is being capable of standing out from the numerous competitors, who already have a stronghold in the online t-shirt business. To do this, you have to choose a particular niche and cater to that specific niche.
E-commerce is an extremely competitive niche, and when you find a niche, you will be able to stand out from the crowd in the future. If you can create an online t-shirt store that is unique both as a brand as well as the products that you are selling, the chances of being successful becomes higher.
When you decide to create a niche t-shirt store, you have to spend quite a lot of time researching on what your competitors are selling. Browse through the numerous other stores, and try to brainstorm different ideas. In the end, you have the freedom of targeting any niche that you want.
If you feel that an untapped market is present, you have the full freedom of taking advantage of this situation. You will find it easy to make a place in the market if there is little or no competition, and to your surprise, it will be extremely easy as well.
Designing Your T-shirts
When a customer decides to shop online, it is obvious that he is going through a number of other online shops as well. He will definitely leave your website if he finds a copy of the similar design, which he has already spotted in some other online t-shirt store.
Therefore, the designs that you choose and pick matters the most in this business.
If you are interested in launching the business successfully, the design of all the t-shirts is critical. If the products have a wonderful design, there is no doubt about the fact that you are already ahead in this competition.
You should be creative and think in a unique manner. You can try a number of designs that are related to the brand, and select the ones that are best suitable for the t-shirts.
If you are not a great designer, you can hire the local designers, who will provide the best designing services. However, designers should be hired only if you have enough budget. You can also hire freelance designers who will work at affordable budgets.
Validating the Designs
After you have assembled a few of the best designs for the online t-shirt business, you have to ask for validation from your family or friends.
There are chances that you think that a particular design is ready for print, but others can help by pointing out a few vital improvements, which will be extremely helpful for your products as well as your business.
If you do not know anyone who can validate the designs that you have selected, you can post them on a few online forums. It is important that your designs are watermarked so that your competitors do not end up stealing them.
Taking Care of the Quality
Another important factor, which is crucial for determining the sustainability and success of your online t-shirt business, is the quality of the materials that you are selecting.
It is easy to fool your customers once but you cannot keep fooling them time and again.
Any pattern that will fade or a crack on the t-shirt will not create loyal customers for your brand. This is why you should take care of the quality of the t-shirts as much as you are concentrating on the designs.
Printing the Designs
High-quality prints are essential for your business to become successful. If your customers find out that the designs on the t-shirts are fading or cracking only after washing them for two or three times, they will not purchase the t-shirts from you ever again.
A bad reputation right at the beginning of your business is not something that you will like.
You should be in touch with the local printing companies, that will permit you to constantly check the print quality before they are being shipped to the customers.
However, it is important to keep in mind that this can be an extremely expensive process, especially when the business continues to grow.
Setting the Price
Price is an important factor that helps the customers to determine whether or not they should make a purchase.
You should set a nominal price for all the t-shirts because customers will not purchase those products that are very expensive.
Setting a proper price range will also help you to go ahead of your competitors in the long run.
Selling the T-Shirts on Various Online Forums
If you have finalized your decision of starting your own business, you can sell these t-shirts on various shopping sites like Amazon, Flipkart, eBay, and other reputed online shopping destinations.
This will give a push to your business, especially if the customers are happy with the products and they leave positive reviews.
Starting Your Website
Starting a website requires money and it is advisable that you do not rush into creating your website right at the beginning of the business.
It is important that you allow your business to flourish a little and then you spend the required amount of money for creating your website when the demand for the products increases.
If you get enough love from your customers on the shopping sites, it is good to take a step forward by hiring a website designer, who will make your website as interesting and unique as your t-shirts.
Marketing the Products
When your customers show a love for your t-shirts, chances are, they will refer your business to other potential customers as well. However, your business should not be dependent on this only.
You have to advertise your products so that more and more people can know about your business.
You can also make use of social media marketing if your budget is tight. Social media is undoubtedly one of the best places for marketing the products, as you will be able to target a particular demographic population.
Furthermore, you do not have to think about spending a large amount of money if you are using social media for advertising the products.
Delivering the Products
One of the most important aspects of running your online t-shirt business is that you have to take care of delivering the product safely to your customers.
You should tie up with a courier system that is not only reputed but will also take care of the products when they are being delivered to the customers.
Also ensure that the products are being delivered timely, or you may end up losing customers because nobody likes to wait for two or three weeks for receiving one or two t-shirts that have been ordered.
No matter what business you have decided to start, it is not an easy job. You have to take care of a number of things single-handedly if you want your business to be successful.
If you have already decided to start your online t-shirt business, consider all the tips that are mentioned above and reach new heights of success.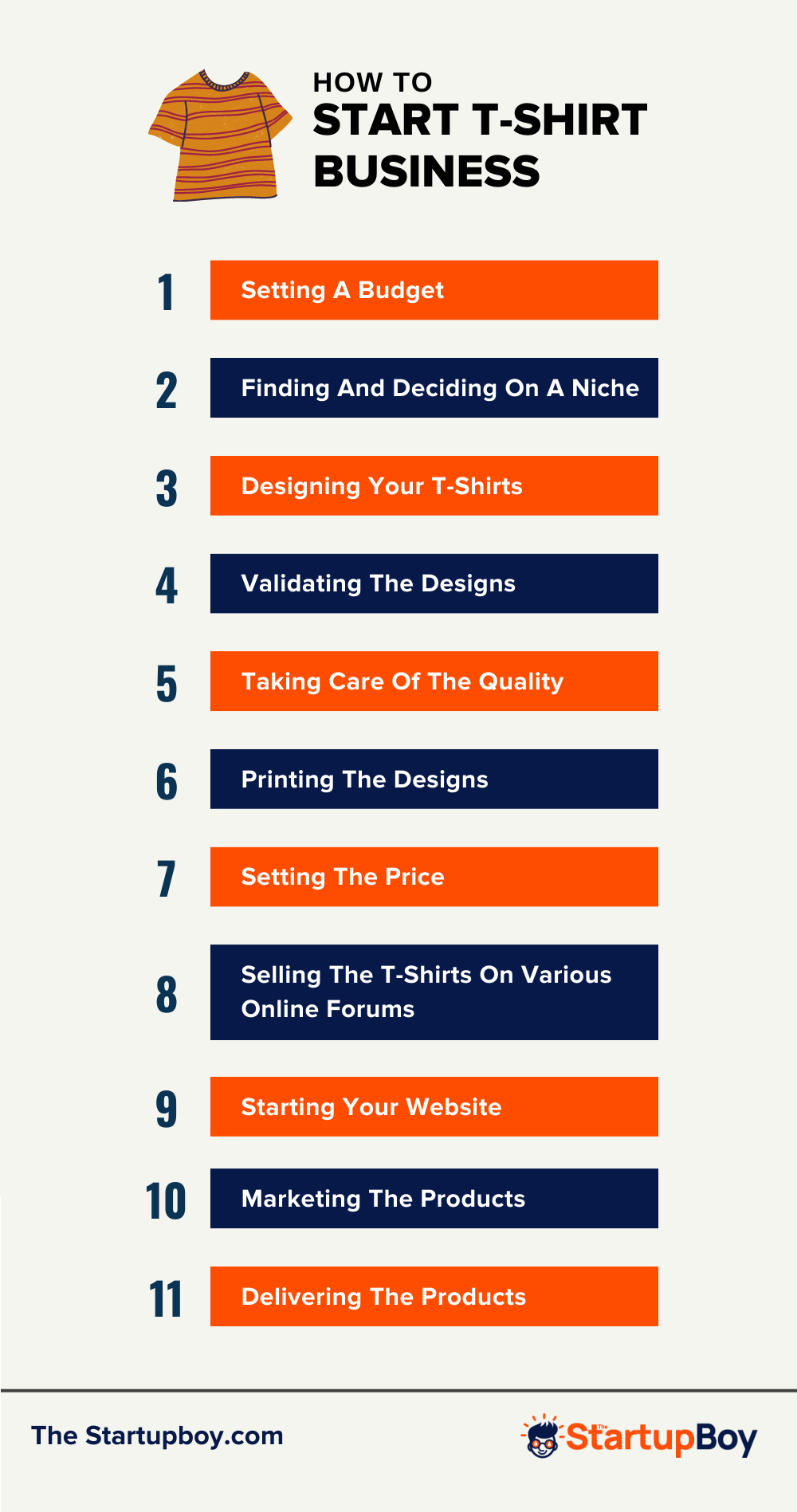 Here is one of a lucrative infographic which contains effective and proven ideas to start a Tshirt business from the pros. Read below for more inspiration.
Similar Posts:
Let your voice be heard! Rate our article and guide us towards delivering the best content for you
Business, marketing, and blogging – these three words describe me the best. I am the founder of Burban Branding and Media, and a self-taught marketer with 10 years of experience. My passion lies in helping startups enhance their business through marketing, HR, leadership, and finance. I am on a mission to assist businesses in achieving their goals.