How many cups of tea do you have in a day? Are you passionate about the flavor of the tea? Do you have a keen interest in everything that is related to tea? If the answer to these questions is "yes," then it is obvious that you are passionate about the tea that you drink.
Such a passion can help you a great deal to start an online tea business of your own. If you have the expertise, make your money with the skill.
Tea is one of the most loved beverages among people, and the market is huge for such a business. As people are increasingly opting for online purchases, starting a tea business online can be an instant success and rake in the great moolah.
Also, the idea is substantiated by a solid fact that the tea industry is growing enormously around the world and is here to stay for a long.
Some tips that shall help you achieve the tag of a successful entrepreneur are discussed below.
Fast Facts

Investment range: $3,050 – $7,100

Build time: 1 – 3 months

Revenue: $78,000 – $780,000 p.a.

Profit: $55,000 – $156,000 p.a.

Commitment: Flexible

Industry trend: Growing
Describe The Business Is Right For You
Pros And Cons Of Starting A Tea Business
| Pros | Cons |
| --- | --- |
| High demand: Tea is a popular beverage consumed worldwide and has a steady demand. | Competition: There is intense competition in the tea industry from established brands and new startups. |
| Low startup costs: Starting a tea business can be relatively inexpensive compared to other food and beverage businesses. | Seasonal fluctuations: Sales of hot tea may decline during warm weather, leading to seasonal fluctuations in revenue. |
| Versatility: Tea can be sold in various forms, such as loose-leaf, bagged, iced, and specialty blends, providing opportunities for product differentiation. | Complex supply chain: Sourcing quality tea leaves and ingredients can be challenging, and establishing a reliable supply chain can take time and resources. |
| Growing health consciousness: With the growing awareness of the health benefits of tea, there is a potential for increased demand for tea products. | Regulation: The tea industry is regulated, and complying with food safety, labeling, and packaging regulations can be complex and time-consuming. |
Tea industry trends
Trends and Challenges
Trends in the tea industry:
Sustainability: There is a growing trend towards sustainability in the tea industry, with consumers seeking environmentally friendly and ethically-sourced tea products.
Health and wellness: The growing interest in health and wellness is driving demand for functional teas, such as herbal teas marketed for specific health benefits.
Specialty blends: Consumers are seeking unique and exotic tea blends, leading to an increase in the popularity of specialty teas, such as matcha, turmeric, and hibiscus tea.
Convenient packaging: The rise of on-the-go lifestyles is driving demand for convenient packagings, such as tea bags and single-serve sachets.
Innovative flavors: Companies are introducing new and innovative flavors to appeal to a wider range of consumers and stay ahead of the competition.
Challenges in the tea industry:
Competition: The tea industry is highly competitive, with established brands and new startups vying for market share.
Sustainability: Sourcing high-quality tea leaves and ingredients can be challenging, as it requires a complex and well-established supply chain.
Regulation: The tea industry is regulated, and complying with food safety, labeling, and packaging regulations can be complex and time-consuming.
Seasonal fluctuations: Sales of hot tea may decline during warm weather, leading to seasonal fluctuations in revenue.
Price sensitivity: Consumers are often price-sensitive when it comes to tea, and companies must strike a balance between offering affordable prices and maintaining profit margins.
Popular Products
Black tea: 50-60%
Green tea: 20-30%
Herbal tea: 10-20%
Iced tea: 5-10%
Chai tea: 2-5%
Oolong tea: 1-2%
How much does it cost to start a tea business?
| Start-up Costs | Range | Average |
| --- | --- | --- |
| Setting up a business name | $150 – $200 | $175 |
| Business licenses and permits | $100 – $300 | $200 |
| Insurance | $100-$300 | $200 |
| Business cards and brochures | $200 – $300 | $250 |
| Website setup | $1,000 – $3,000 | $2,000 |
| Initial inventory of tea | $1,000 – $2,000 | $1,500 |
| An initial order of prototypes | $500 – $1,000 | $750 |
| Total: | $3,050 – $7,100 | $5,075 |
Steps To Start Tea Business Perfectly
Find your niche
The tea market has an extensive list of niches that have further enabled many people to succeed in the domain. You have to pick a niche and work on it to stand out in the market and rake in customers for your business.
Some of the niches in the tea business are – organic teas, flavored teas, iced teas, and herbal teas that help in weight loss and detoxify the body.
You can also opt for teas that have a boost of caffeine and helps people to get energized and work for long hours at night.
There are teas that help in aiding sleep; catering to such a niche will also bring in a lot of customers to the business.
Drop Shipper
You need to get a drop shipper who will supply you with tea in varying quantities according to the order of the customer. Make sure that these drop shippers work with a white label so that you can put in the name of your business and then sell it to the customers.
Such a supply chain is essential for an online tea business to run smoothly in the market.
Drop shippers are manufacturers who provide the product at wholesale price, enabling you to reap profits from its sale further to the customer.
Buy from them in small quantities in the beginning so that you do not have to stress your pocket and can pay with the customer's money itself in case of prepaid orders.
Gain expertise
For people to trust your offerings over the internet, it is essential that you are credible enough and certified for the same.
It is advised that you get a certification of a tea expert so that people know you are really passionate about tea and have given substantial effort to gain knowledge in the domain.
Marketing
You need to create a brand for your business from early on so that people can relate to the product once it is out on the web.
Blog posts related to the various benefits of tea will attract people and make it easier for you to sell the product to them.
Marketing according to the needs of the people in your target group will help in achieving results. Your product line selection has to be completely based on the demography analysis.
Digital Presence
Proper use of the social media platforms such as Facebook, Twitter, or Instagram can drive in a lot of traffic to your website and aid in boosting sales.
Regular postings and open feedback from the customers on such a platform will enhance your brand image and intrigue people who are looking for anything related to the subject.
Blogs should be posted in the domain regularly so that people get encouraged and influenced into making a purchase on our website.
Just with the help of proper keywords, the SEO team can help build your traffic so that your business reaches the most number of people active over the internet.
Website
The website is the face of your business, and it needs to be given the highest priority. If you have a tight budget, various platforms can be used to create a website, such as WordPress, Drupal, or Magento.
These can be effectively used if you have web designing experience.
Such platforms are free, based on PHP and MySQL, and hence easier to customize.
However, if you do not have relevant web design experience, you have to opt for the service from other agencies, and a proper budget is mandatory for the same.
Product page
Make sure you have some amazing content for the product pages so that a visitor is bowled over by the presentation and instantly charmed with your online tea business.
The product description should be excellent and have a call-to-action nature so that people cannot resist and buy the product.
It is essential to have well-photographed images of the products to look attractive and lure in the customer.
Payment
Do not have only a PayPal payment option on the website; make sure that credit and debit cards are accepted. Once the business is settled, you can also start cash on delivery for the products.
A proper and secure payment gateway is essential for the business to avoid any financial fraud or loss.
Packaging and delivery
Everyone loves receiving a parcel that is unique. Utilize this opportunity and make your packaging interesting with good wishes stickers or free gifts that will become an identity for your online teas store.
You can also use stand-up zip pouches for the purpose, and make sure to add a label of your business name on top of the product that is being packed. Be innovative with the packaging design.
Get into an alliance with courier services that will deliver your product on time because people who order products online are impatient, and any delay in the delivery may repel the customer from placing an order ever again.
Remember, timeliness is the key.
With these tips in mind, you can start your planning immediately and land your business online in a month. Work hard 24/7 and be patient to make this work, and enjoy the success that comes as a reward.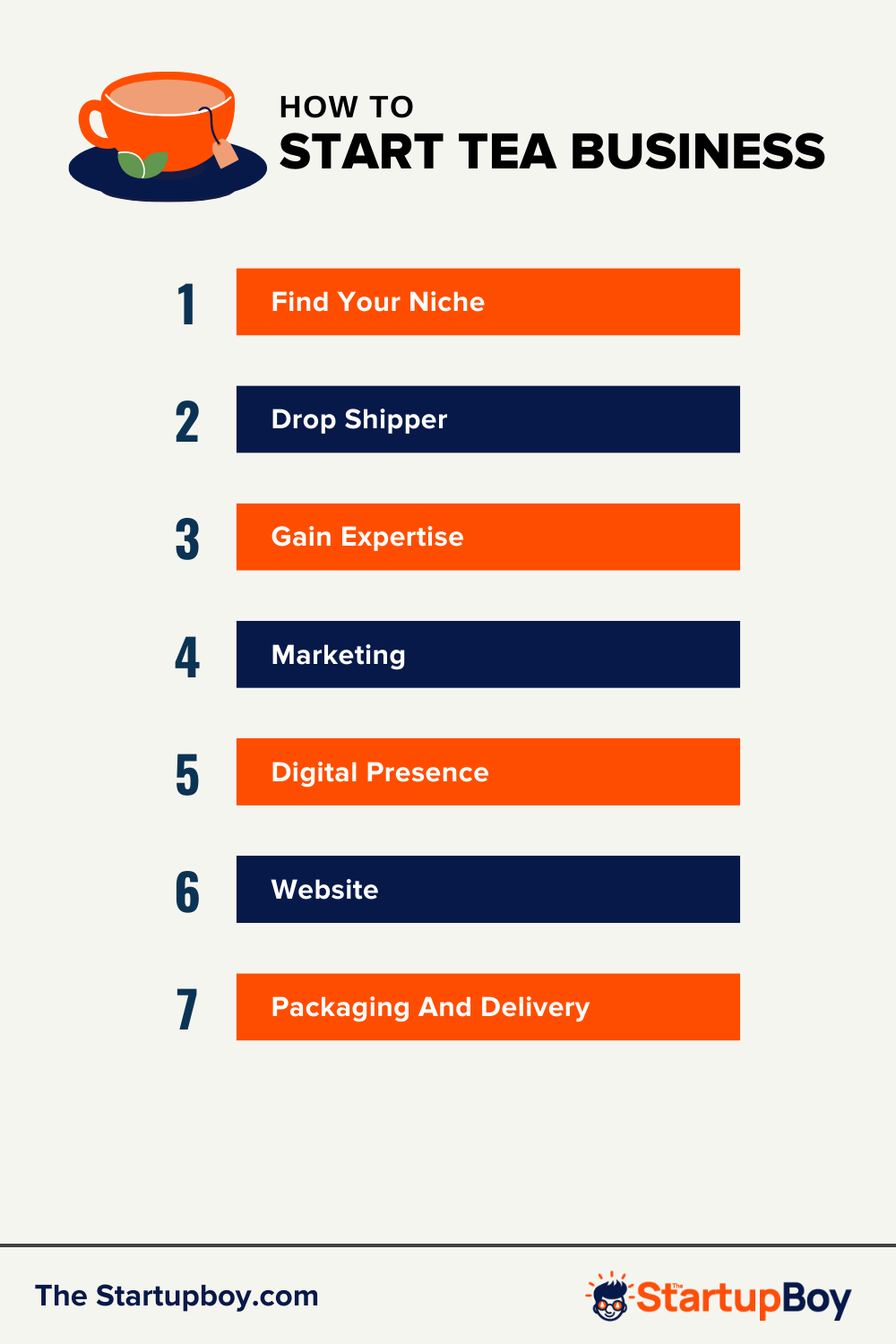 Similar Posts:
Was this article helpful?
Business, marketing, and blogging – these three words describe me the best. I am the founder of Burban Branding and Media, and a self-taught marketer with 10 years of experience. My passion lies in helping startups enhance their business through marketing, HR, leadership, and finance. I am on a mission to assist businesses in achieving their goals.