Starting a business from home can be an exciting prospect to start the journey of being an entrepreneur. It needs detailed planning and consideration so as to ensure that the business runs smoothly. There remain a lot of financial investments to be done as well as physical and mental stress to be born in order to have a successful project.
Hence, before going any further below mentioned are some of the most essentials tasks that are needed to be done before starting a home business–
Tasks To Do Before Starting A Home Business
Decide on the product or service
It is essential to know what you are about to offer to the customers through your home business. You need to decide in the kind of products or services that will be given out to the customers.
Analyse deeply regarding the product that you plan to sell from your home business. Try and understand whether the product will remain in demand in the coming days or not. Whether the product is something that will fade out of the market too soon?
Whatever you plan to sell, make sure that you are passionate about it so that you do not lose interest and keep pursuing the end goal.
Turn a hobby into business so that you can enjoy the entire process. Delve into a deeper market research so as to find whether the market has demand for the particular service or product.
Know your competition
The market will have competition regardless of any product or service that you choose to offer. Analyse deeply how the market leaders in the domain function so as to get an idea of the prevalent trends.
Competitive analysis will help you to know the gaps in the market that will be filled up by your home business.
With the help of this you can set a unique selling proposition for your business so that the consumers have an added reason to shop from your home business.
Working space
A separate space is always essential to operate the business because you need to work in solace where you can concentrate.
For your home business, you can pick any part of the house and turn it into your office space.
Consider having a separate space where you can keep your stocks, it will be your goods inventory. Get a phone line that will work as your commercial calling point and also arrange electricity in the area as it will need proper lighting.
Form of business
As you plan to start the business, it is essential that you register the business in your name and also determine the legal form of business.
Whether you will run the business as a sole proprietorship or opt for a limited liability company has to be decided in this step.
Research which forms suit you the best, and also the various kinds of taxes that accompany each of these so as to get a better idea and clarity regarding which format to select. You can also opt for partnership if there is someone who would work with you as a share holder or partner.
Legalities
Being reluctant to consider the legal factors can lead to various issues. The business can be a subject to numerous fines if you do not abide by the legalities that are to be dealt with by the business. Contact your local authorities and seek for a business license, it is inevitable. If you are opting for a business that is related to food then make sure you have the food grade license, certification and hygiene check done regularly to avoid any mishap.
Collect a sales tax license from the authorities so that you are able to sell tangible goods to the people without any inhibitions. Open a bank account on the name of your business. You definitely won't want your business finds to get mixed with your personal savings.
If you have an intellectual property on sale then make sure to get a patent or copyright done on it so that no one can claim or legally copy your product.
Insurance needs
As you step into the world of business, there will be a host of risks that shall loom over your home, family, finance and health.
Before it gets too late it is essential to get an insurance cover to reduce the effects of such risks.
Self employment comes with a lot of stress and hence it is essential to get a health insurance done for you.

Liability insurance is essential because if someone working for your business gets hurt or faces damage then the costs shall be shed by the insurance company.

If you have vehicles in the business then opt for auto insurance.

Cover your home for worst case scenarios where your house catches fire or gets robbed.
Determine the costs
Start up businesses need money and there are a host of things that shall need investments. Some of them are mentioned below-
Payments to be made to the lawyer or accountant for the home based business authorization and taxation

Office equipments and furniture

If you need to make construct a room for the office then it shall incur costs

Charges to create a website and buy a domain name for the business to be available on the internet.

Bills that shall come for calls, electricity and transportation
The success of a home business rests on the cooperation that comes from the family. As the business will be operated from the home itself, there will be serious changes to the lifestyles and other aspects of the members of the family. Communicate clearly to them what your goals are and seek for their support because without it the entire setup can become a mess.
Hard work is the utmost important factor that shall help to grow a home-based business and hence a person who looks forward at starting such a business should be completely dedicated to the cause and hold patience in order to reap positive results!
There are several things which are Important which we need to Complete before starting Business. Here is the very useful infographic which gives you an idea about How to Start any Business Smoothly. Read Below to get More Ideas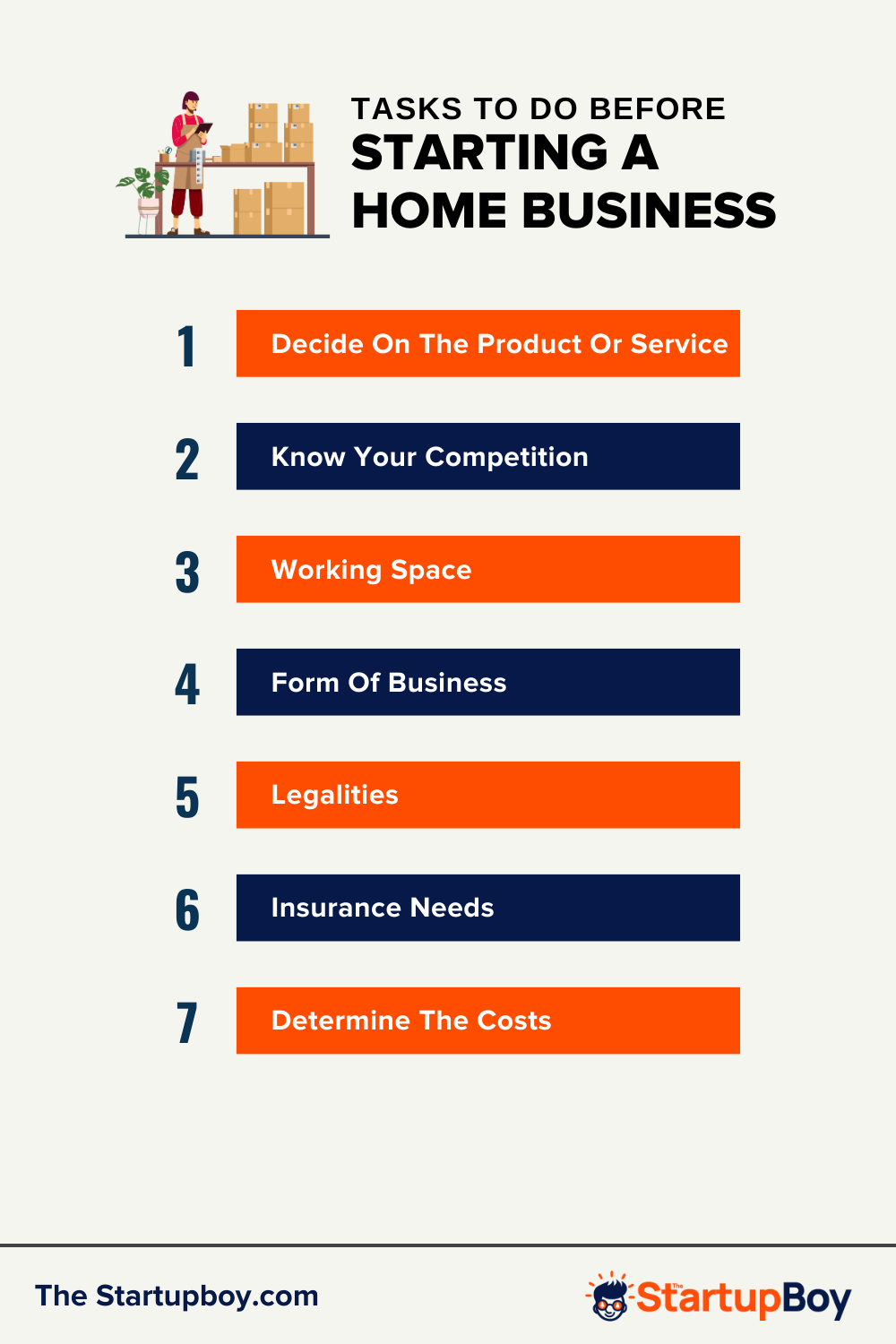 Similar Posts:
Was this article helpful?
Business, marketing, and blogging – these three words describe me the best. I am the founder of Burban Branding and Media, and a self-taught marketer with 10 years of experience. My passion lies in helping startups enhance their business through marketing, HR, leadership, and finance. I am on a mission to assist businesses in achieving their goals.